Tracking Down Tribune Articles -- Virtually
(written by Carla Swerman, Archives staff)
Have you ever wanted to re-read a sports or crime-related article that you saw in the La Crosse Tribune years ago?  Have you ever had a question about a restaurant, school, or orphanage that used to exist in La Crosse?   Have you ever wanted to learn more about a lesser-known event in La Crosse's history, such as the record flood of 1880 or the visit of Norwegian royalty in 1939?  If so, you may find what you are looking for in a unique database created by the Archives Department at the La Crosse Public Library.
Starting in 1976, Archives librarians began perusing each issue of the La Crosse Tribune and identifying articles about the city or county of La Crosse that would likely be of historical value.  These articles were then either cut from the original Tribune or photocopied so that they could inserted (i.e. "clipped") into a file folder.  Each folder is labeled with a subject heading that matches the topic of the articles inside of it.  There are hundreds of subject headings, such as Floods, Sports, Celebrity Visits, Oktoberfest, and Churches.  Most subject headings have sub-headings, too, such as "Churches-Episcopalian" or even "Churches-Catholic-Blessed Sacrament."  This is not uncommon.  Many of the subject headings narrow to specific churches, schools, organizations, or people, for example.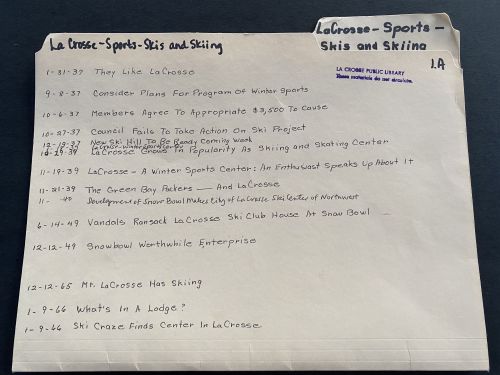 This is a clipping file folder for sports, and skiing, in particular.  The front of the file folder identifies the date and title of each clipped article.  The articles are arranged inside the folder in time order.  In this case, the articles span from 1937 to 1966.
The clipping process expanded in 1990 when Archives librarians began an online indexing system that corresponded with the clipped articles. Since then, you can enter a search term into the La Crosse Tribune Search Index to see whether the Archives has any clipped articles that are of interest to you.  But, keep in mind that the database does not include every clipped article, namely those from 1976 through September 1990. Yet, the database is available 24-7 and is easy to use.
To learn how to use the index, you could watch this video LPL Archives' Hidden Treasures: La Crosse Tribune Articles and/or read these directions.  Using both may be best since they are not identical in content and complement one another.
Directions for using the La Crosse Tribune Search Index
 1.  To get started, use this link:  http://archives.lacrosselibrary.org/local-history/newspaper-info/newspapers/   For future ease of use, you may want to bookmark this link on your device.
 2. Enter your search term with these pointers in mind:
a)  Type an asterisk after a one-word term,  such as sport*, if you want to get results with all variations of the word: sport, sports, sported, or sporting.
b)  If your search term is more than one word, use quotation marks around it so that you only get results that contain the full phrase.  For example, without these quotation marks surrounding "UW-La Crosse Football," you would get results with UW-La Crosse (only), Football (only), and UW-La Crosse Football.  Far too many results to pursue!
c)  The search term is not case sensitive.
 3.  Determine if you would like to view any resulting articles in a certain time order.  If so, change the default rank order to date descending (newest first) or date ascending (oldest first).
 4.  Click/select "Search."
 5.  If there are no results, consider using a different search term.  Or, double check your spelling.  Spelling does count!
 6.  If there are results, peruse them for any that are of interest.  Note that some entries in the index might contain citations to related articles, such as the second entry below.
 7.  For any article that you would like to read, record the date, the page number, and maybe even the subject heading(s) (in blue text), as shown below.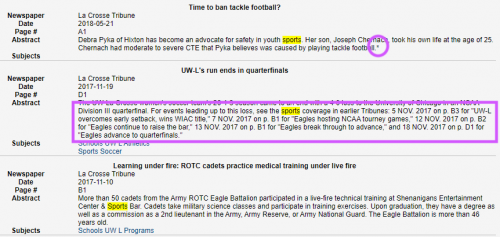 This shows three of the results when sport* is the search term.  Note that some articles are not assigned a subject heading while others can have more than one subject heading.  Click for bigger view.
Some articles in the index do not contain subject headings and/or have an asterisk at the end of the abstract, as shown in the first result above. This is a strong indication that the article was not clipped.  There are two primary reasons for articles being indexed, but not clipped.  One is that the article is so unique that it doesn't fit under any established subject headings.  Another is that the content is not La Crosse based.  It wasn't until 2004 that librarians began indexing – but still not clipping – articles from surrounding counties.
The Tribune index does cite a wealth of articles that have not been preserved on paper (i.e. clipped).  But, never fear!  Those articles can be found on microfilm.  Unlike the Tribune office, the Archives has every Tribune on microfilm since the newspaper started in May of 1904.  In addition, the Archives staff can assist you with using the microfilm readers as well as printing or saving the article to your personal flash drive.
By now, you've probably surmised that while the index can help you identify articles of interest, the articles cannot be read online.  To view an article, it would be best if you could visit the Archives on the 2nd floor of the library at 800 Main St.  While you are there, you can also find out if there are additional newspaper articles on your topic and/or if the Archives has more information in its other collections, such as photographs, ephemera, or manuscripts.  If a visit is not possible, however, you could click here http://archives.lacrosselibrary.org/about/contact-us/ to communicate with the Archives staff.
Any way you look at it, the Archives index is a great way to track down Tribune articles – virtually!