St. Rose Convent Fire of 1923
(Written by Scott Brouwer, Archives Staff)
90 years ago, on December 2, 1923, a fire destroyed the dormitory wings of the St. Rose Convent at the corner of 9th St. and Market St., the mother house of the order of Franciscan Sisters of Perpetual Adoration.  The beautiful Maria Angelorum Chapel attached to the south end convent was also threatened, but what many describe as a miracle involving a statue of St. Michael left the spectacular chapel built in 1906 untouched.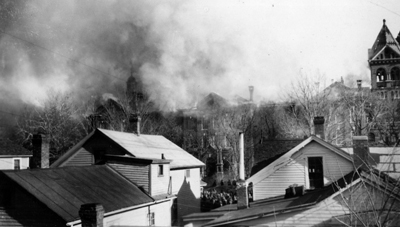 It was a Sunday, "as fair a day as could possibly be imagined for early December," according to one of the sisters' diaries.  Though the fire started small on the 9th St side of the third floor, the fire department could not contain it and it soon spread around the corner down Market St. towards the school building that was also attached to the mother house. The fire consumed the third and fourth floor of the convent and the metal roof buckled under the intense heat and collapsed.   Though 135 other sisters escaped the fire, one of which, Sister M. Pancretia, had to be carried down a ladder from the third floor after becoming trapped by smoke and flames, Sister M. Ledwina was found in the ruins, lying near the door of her room, having been overcome by smoke while trying to get to safety.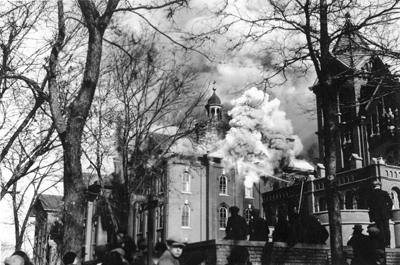 Despite the raging fire that destroyed the west wing of the St. Rose Convent, the Maria Angelorum Chapel was spared and still stands to this day.  According to the Franciscan Sisters of Perpetual Adoration website, a statue of St. Michael had been placed in the vestibule just outside the main chapel doors with instructions from an early leader, Mother Antonia Herb, to guard and protect the sacred chapels.  The fire stopped conspicuously short of the vestibule where St. Michael stood guard, and that corridor alone and the chapels beyond were untouched by the fire.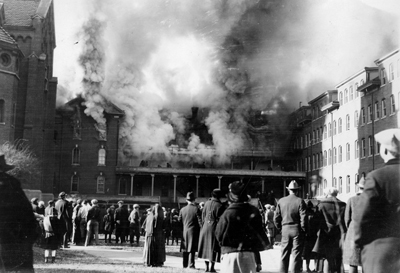 The mother house destroyed by the fire was built in 1871, with a north and south wing and small chapels added by 1878.  After the fire, the convent was rebuilt in 1924 and today is the residential and administrative center of the FSPA.  More information on the history of the Franciscan Sisters of Perpetual Adoration can be found at the La Crosse Public Library Archives and look for a large collection of photos from the La Crosse Fire Department (including the photos above) to be made available for public viewing soon.