Got a Sweet Tooth?
(written by Anita Taylor Doering, Archives Staff)
Up to the beginning of the Depression, La Crosse was home to three major candy manufacturers.  Thanks to Archives volunteer Sue Semb, the display case on the Library's second floor near the Archives reading room is full of delightful samples of these companies from her private collection.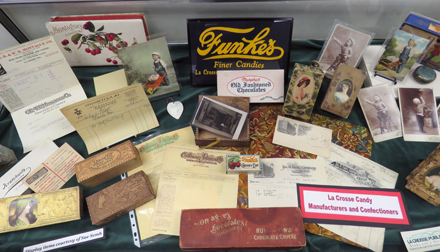 If you're familiar with the story of The Charmant, a boutique hotel located at 101 State Street, then you know that this was originally the Joseph B. Funke Candy Company's home from 1898 to its closing by 1933.  Of the three candy manufacturers, Funke was the largest.  During the 1920s, Funke made more than 160 different kinds of chocolate for fancy packages, and 500 other types of candy such as bulk chocolate, candy bars, stick candy, cream candy and hard candy.  Sales were heavy in the Midwest but shipments were made around the nation.
In 1926, the Funke plant produced more than 175 tons of fancy package candy, nearly 150 tons of bulk chocolate, and more than 8.5 million candy bars. The logo for the company was one of the Funke children with a wheelbarrow of chocolate shown below in this rare colorized view.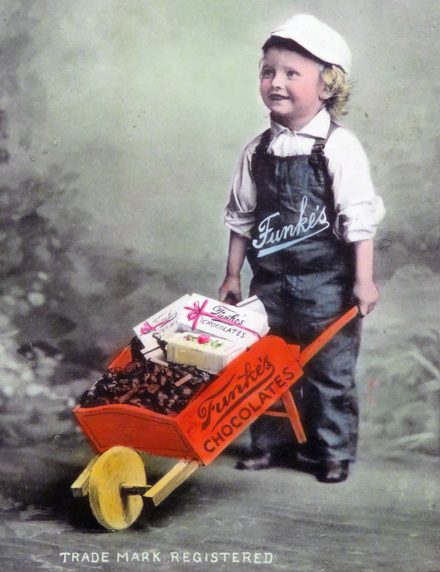 Joseph B. Funke joined partnership with candy manufacturer Jacob Schreiber in 1884 and took over his interest in the company in 1887, becoming the sole owner. Schreiber started business, however, in 1880 in partnership with Michael Kratchwil. He split from Schreiber in 1882 and started his own candy manufacturing business.  Kratchwil built a factory at 101 Pearl Street, near where the south part of the Radisson Hotel sits today.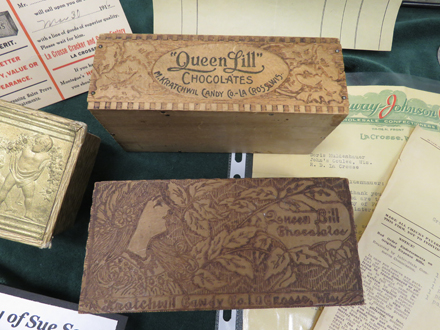 Kratchwil, the third largest candy factory, continued business until 1927 when it merged with the Montague Company.  Montague merged with a St. Paul firm in 1929 and disappears from La Crosse.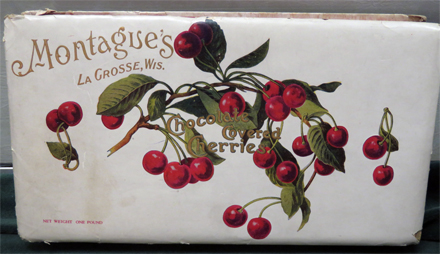 Montague was located at 417 Third Street North, on the site where the La Crosse Tribune building is today.   Originally known as the La Crosse Cracker & Candy Company, it began in the late 1880s and employed 150 to 250 people and produced up to 10,000 tons of candy a year.
Even before the Great Depression hit, Funke was the sole candy manufacturer left in La Crosse, but also closed up shop when people couldn't afford even basic foodstuffs, and candy was a luxury item.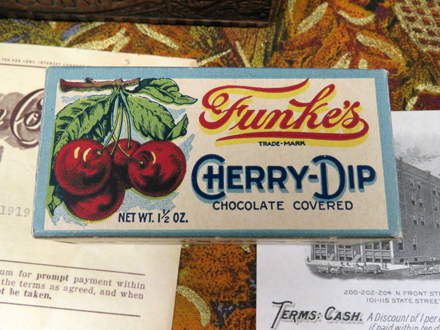 Come catch this display before February ends! And the best part is - you don't have to count calories or carbs when looking at a display.