First Balloon Ascension in La Crosse, Wis.
(written by Bill Petersen, Archives Staff)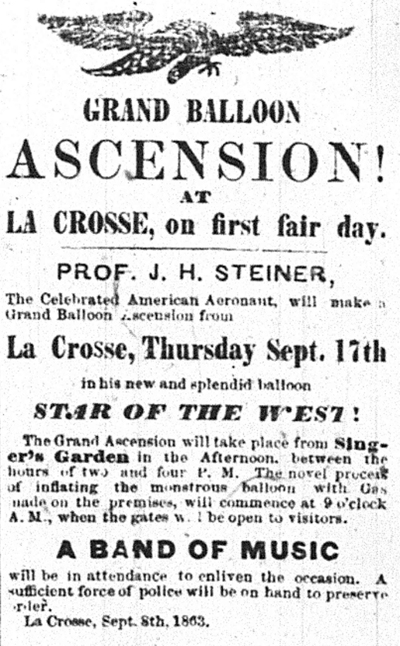 The first major aviation event in La Crosse took place on September 19, 1863, when famed German American aeronaut John H. Steiner took off from La Crosse aboard his balloon, the "Star of the West."  Steiner, who had recently returned from service with the Union Army's Balloon Corps in the Civil War, arrived in La Crosse and inflated his balloon with the intention of ascending on September 17.  Storms and windy weather forced him to postpone his launch for two days.  By that time, enough gas had escaped from his balloon that he could not use the customary willow basket to ride in.  Instead, Steiner used a small hoop, about one foot across that he sat in.
Hundreds of people were on hand to see Steiner lift off at 4:00 pm on the 19th.  According to newspaper accounts, Steiner rose to an altitude of one-and-a-half miles before sailing off toward the northeast.  Steiner and his balloon landed in some trees about eight miles northeast of La Crosse near the farm of Joshua Ridgley, one of the earliest settlers in La   Crosse County.  Steiner was unhurt but the "Star of the West" was damaged.
In an interesting historical footnote to this story, exactly one month before his flight in La Crosse, John Steiner provided a young German military officer with his first tethered balloon ride in St. Paul.  This officer's name was Ferdinand von Zeppelin and he was on leave as a military observer with the Union army.  Years later von Zeppelin would say that it was during this balloon ride that he first conceived the idea of the rigid air ships that would later bear his famous name.