Sawmills, Nails and Immigrants
(written by Dr. Les Crocker, retired art history professor and architectural historian)
In 1852 the first steam-powered sawmill opened in La Crosse.
That's one of those facts that historians love but most people respond with "So what?"
To understand why that was so important to La Crosse we need to connect it to several other facts.
Sometime in the late 1840s machine-made nails became available. Instead of a blacksmith hammering several dozen flat nails out of sheets of wrought iron every day, now round nails made from spools of wire could be produced quickly by the thousands.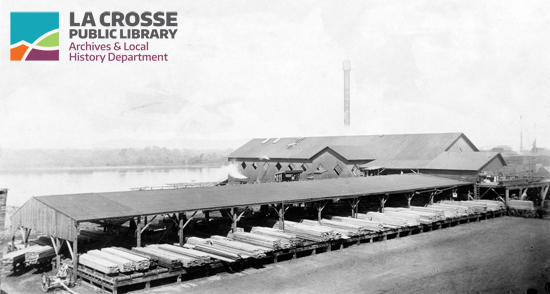 C.L. Colman Lumber Co. sawmill and sorting shed just south of downtown La Crosse
Sawmills that produced standard-sized boards, combined with nail-making machines, produced a construction sparked a revolution that swept the nation. No longer were house frames built with large-sized timbers, often four by six inches and larger. Somewhere around Chicago, probably in the mid to late 1840s, someone built a house using sawn lumber of standard dimensions, 2 x 4, 2 x 6, 2 x 8, etc., and in standard lengths of six feet, eight feet, ten feet, etc.  These boards were joined together with machine-made nails instead of the old system of mortise and tenons held together with pegs about an inch in diameter.
In 1852 the La Crosse company of Burns, Rublee, Simonton and Smith established the first steam-powered sawmill in the area, near the mouth of the La Crosse River. The forty-horsepower steam engine seems small by our standards but it operated two saws, a lathe and grist mill. The saws could cut 16,000 feet of lumber a day. That would be a board one foot wide and over three miles long.  Wisconsin boasted many large trees that were fodder for many of La Crosse's enormous sawmills.  Most of the early La Crosse economy was founded on the lumber industry.
But we are still in the "So what?" territory. We have boards, nails, and a new system for building. One more element needs to be added to our story: thousands of people needing a new house. Not necessarily a big house or a fancy house, just a house to keep off the rain and snow.
With the federal government pushing for colonization in Wisconsin and Minnesota, migrants and immigrants came by steamboat, railroad, wagon, and on foot, all looking for a new start. The newcomers needed shelter. Boards, used with nails brought up river on steamboats, allowed the rapid construction of buildings. Boards could be used for the exterior skin, the inner walls, interior partitions, floors, and the roof. The new balloon frame system was much simpler than logs, or hewn timbers, or even saw-cut timber framing. Balloon frame construction was developed at the moment when the great westward expansion began. Without that simple construction method there would have been little solid shelter for these newcomers.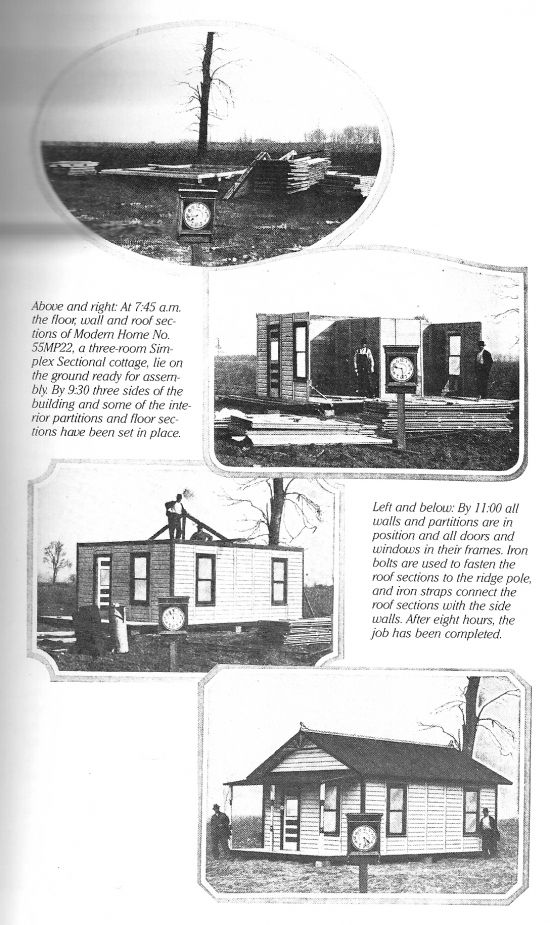 From the 1986 book "Houses by Mail: A Guide to Houses from Sears, Roebuck and Company" by Katherine Stevenson and H. Ward Jandl, p31.  Likley the ad above dates from about 1929 when Sears started a national campaign to sell mail order houses.
'Balloon frame' houses were derisively named because the house frame looked like it could blow away in the slightest wind. Balloon frames, or stud frame as we call them today, were much easier, quicker, and cheaper to build than the old timber frame buildings that had been built as far back as ancient Egyptians, at least three thousand years earlier. In Europe many timber frame houses of four and five stories high still exist and are in use. Often built on a ground floor of stone or brick, these 'half-timber' houses were covered with stucco or some other siding to protect the supporting posts and beams from the weather.
Growth in the 1850s was slow but it increased as the decade went on. One source says in April of 1851 there were five houses in what would be La Crosse but by November there were 17 dwellings and business buildings.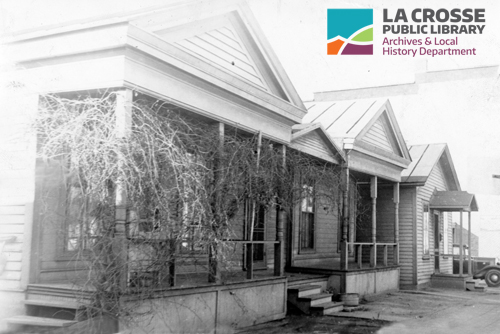 The Burnett House, located at 410 South 3rd Street, was built in 1851.  It was razed in 1986.
In his 1854 publication, Reverend Spencer Carr says there were 548 people and 79 buildings.
Late in 1856 a newspaper article estimated that between 400 and 500 houses were built in that year.
In 1856, sixty boats docked with 1,200 new immigrants. By 1857 during the seven months of open water, 102 different boats visited La Crosse with a total of 1,560 dockings.
Many others came by train after 1857 and others walked or rode wagons from Milwaukee.
In 1869 the first list of buildings constructed in La Crosse during the year appears in the newspaper. It gives dimensions of the building as well as the construction material. Below are some typical and exceptional houses of La Crosse built in 1869. Interior finishing made a great difference in the overall price. I have added the cost per square foot (psf) where the size is known. At this time most working people were paid a dollar a day in wages.
Frame one story 20 x 20 feet cost $500. Eighty cents psf.
Frame one story 16 x 24 feet cost $300. Seventy-eight cents psf.
Thomas Barber, dwelling, about 20 x 30 one story wood; cost $800. 600 square feet at $1.33 psf. This was very expensive, it must have had excellent interior finishing.
E. G. Smith, dwelling, 18 x 30 and wing, wood; cost $4500. Corner Tenth and Cass. At this time, "wings" were any shape extending from a rectangle, such as a T or L plan.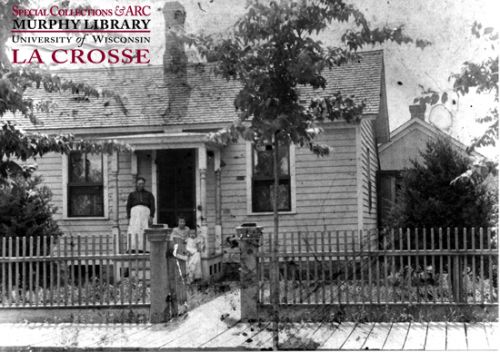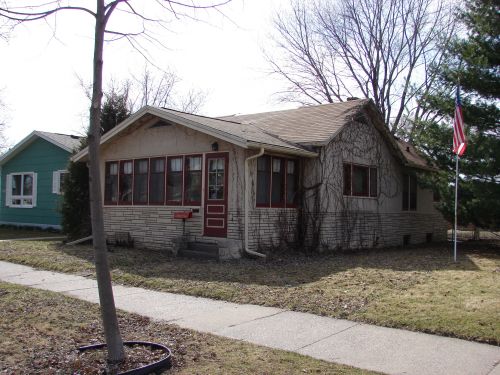 Both photos are 1212 5th Street South in 1890 and 2016.  Photo credit to UW-L Murphy Library Special Collections and the author.
A two-story house, all other things being equal, gave you twice as much space under one roof and over one basement, so was cheaper per square foot over all.
Frame house, two-stories 22 x 30 feet cost $1000. Seventy-five cents psf.
C. Rider dwelling, 25 x 48, two stories, wood, cost $2,500, 6th Street between Vine and Pine This was a large house of 2400 square feet at a cost of $1.04 psf.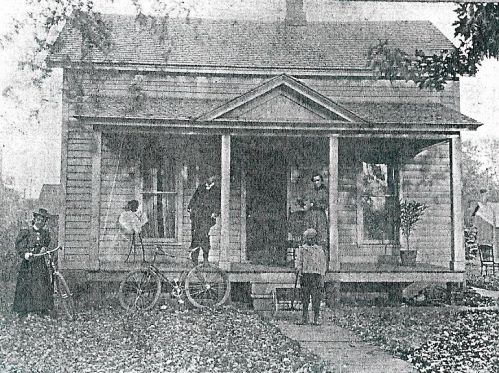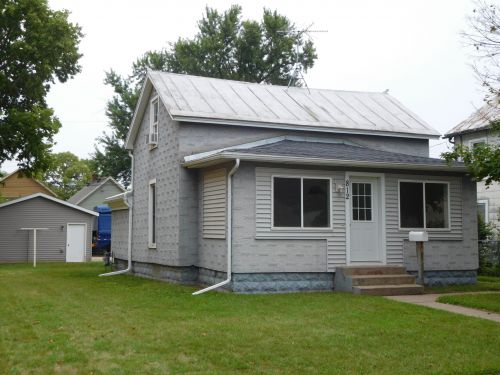 Both photos are 812 Rose Street, date unknown and 2018.  Photo credit to author.
However, not everyone was happy with the simple houses. In 1864 the architect Calvert Vaux wrote the following:
There has been latterly an immense number of buildings … going up in all parts of the United States; numberless villages have sprung into existence, and much thought has been given to the subject. A very transient visit into any part of the country shows, however, that most of the villas and cottages are erected without regard to artistic propriety, and at considerable loss to their owners from the useless outlay incurred by adopting ill-considered plans, …. Square boxes, small and large, are springing up in every direction, constructed without any attempt at proportion, or the slightest apparent desire to make them agreeable objects in the landscape.
Vaux's perspective from the east coast was very different from that of a German blacksmith that had endured an Atlantic crossing in steerage and arrived in what was little more than a wilderness.  Having fine proportions and creating "agreeable objects in the landscape" was not high on the immigrants list of needs, although these small plain houses were improved by adding a rear kitchen wing with bedrooms for the kids over it as soon as the family had a little extra money.
Of course, most of these new arrivals didn't stay in town, they went west, north and south to the new lands taken from Indigenous peoples by treaty. Where ever they went, they still needed houses and sawn lumber and mass-produced nails did the trick.
But many did stay in La Crosse and we have images of some of their houses as well as a number of surviving examples.  There are many more that you don't notice until you look carefully.