June is Dairy Month!
(written by Carole Mullen, Archives Volunteer)
La Crosse's Dolly Madison Dairy at Front and Main Streets, in business under that name from 1939-1965, grew from several local and area businesses. Dolly Madison's forerunner was Tri-State Ice Cream Corporation (1919). It combined La Crosse Ice Cream and Butter Company, founded in 1904 by Charles A.  Hoeschler and William Ennison, and La Crosse Pure Food Company, founded in 1911 by H. W. Sorge.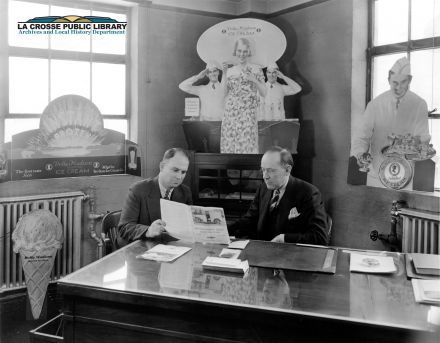 Unknown executives of the Tri-State Ice Cream Corporation are surrounded by Dolly Madison ice cream advertising, circa 1920s.
Tri-State Ice Cream Corporation grew rapidly, opening several area branches and shipping milk, ice cream, and other dairy products to markets as distant as Chicago by 1927. They expanded in 1927, adding Schmitt Ice Cream and Butter Company of Winona and Gibson Ice Cream of La Crosse.  Gibson's ice cream recipe, originally made in hand-cranked freezers on Rose Street since 1902, continued to be produced by Tri-State for many years.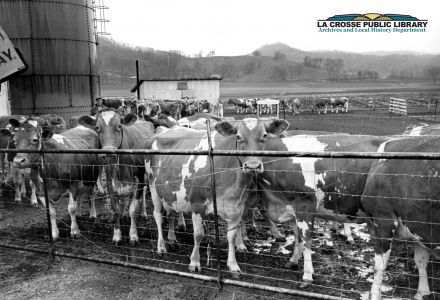 It all starts with the cows on a dairy farm - pictured here are milk cows from the Fauver Hill Farm, May 1966
Dolly Madison brand milk and ice cream began to be produced by Tri-State Ice Cream Corporation in 1928, and in 1939 Tri-State adopted the name Dolly Madison. By 1944 Dolly Madison Dairy and 22 other companies formed the Quality Chek'd Dairy Products Association, which grew to over 150 independent members in 38 states and Canada by 1964.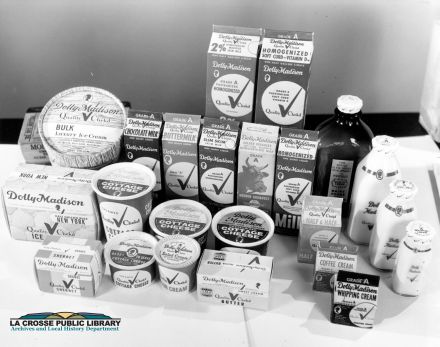 An array of food products manufactured by the Dolly Madison Dairy
In its heyday in 1964 Dolly Madison employed 90 workers and boasted a wide wholesale distribution network throughout the Midwest. The company operated 40 delivery trucks in Wisconsin, Minnesota, and Iowa, carrying a complete line of dairy products, ice creams, sherbets, butter, and eggs.  Milk and eggs came from carefully monitored local farms. Dolly Madison's La Crosse plant was notable for using the most modern and sanitary methods and machinery available.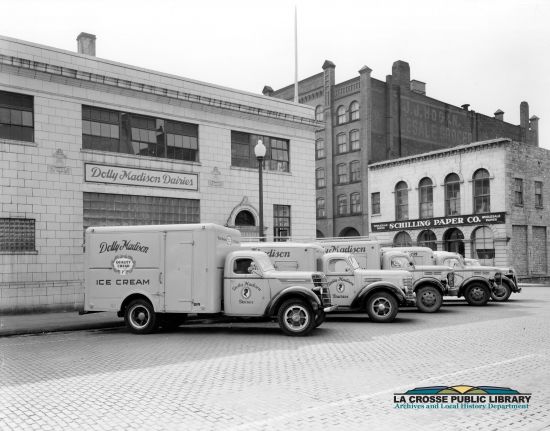 Located on the southeastern corner of Main and Front Streets, the fleet of delivery trucks is pictured here in September 1947
Given its proximity to the Mississippi River it's a wonder that the basement floor of the plant wasn't destroyed with the 1965 flood. Amazingly, the plant remained in operation during this massive natural disaster. A large pump was positioned outside of plant and the entire basement and likely first floor was adorned with sandbags.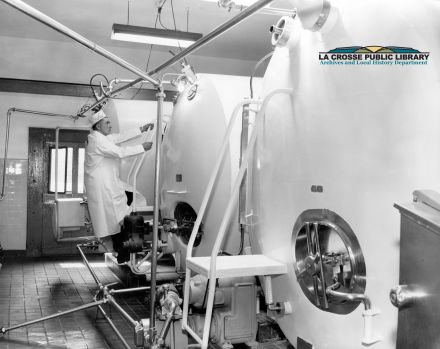 Large vats process the raw milk, circa 1966
Shortly after this, city planners began to develop an urban renewal project called Harborview which involved demolishing many historic buildings on La Crosse's riverfront.  The plant and office buildings were located in the heart of that initiative.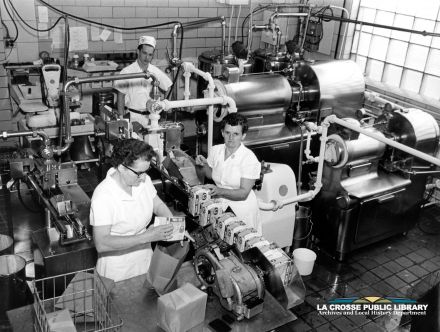 The ice cream packaging room, May 1966
The Dolly Madison Company then merged with two other Quality Chek'd members, Marigold Foods Inc. of Rochester, MN, and Kemps Ice Cream of Minneapolis, taking the corporate name of Marigold Foods.  The La Crosse headquarters moved to the Gateway Industrial Court under manager Charles Wuensch. "Dolly Madison Dairy, a Division of Marigold Foods" listings continue in La Crosse city directories through 1979.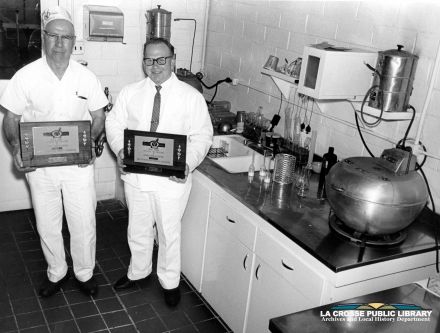 In the testing lab, Bob LaGrander and Rich Wolf hold up some awards presented to Dolly Madison from the Quality Chek'd Association, May 1966

Many La Crosse residents remember touring the Front Street Dolly Madison plant as children. The plant was a wonder of modern manufacturing, with its rooms of shining metal vats and conveyor belts, tiled walls, workers dressed in all white, the smell of fresh milk throughout, and the final reward of a single serve size ice cream carton to be eaten with a small wooden spoon or paddle at the end of the tour.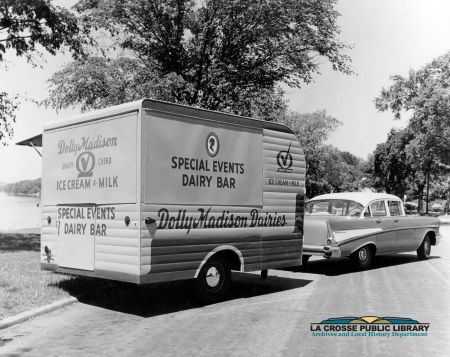 The special events dairy bar trailer, seen here in the 1950s, was probably very popular at many summer celebrations like the La Crosse Interstate Fair