A Scrapbook for your Community
(written by Cate Putirskis, Archives Staff)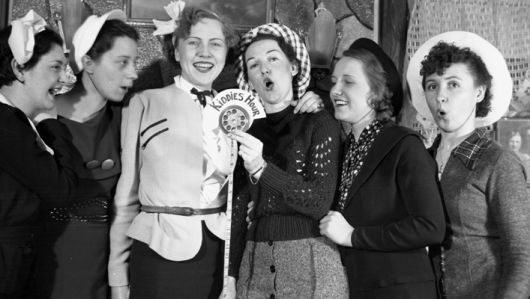 Whether in digital or hard copy, we all like to have our important family photographs stored in a safe, readily accessible place. In this scrapbook we place photographs of birthdays, weddings, graduations, family reunions, pets, new houses and all the other events that make up our family history.
But what about a scrapbook for the community where we live? Is anyone compiling the photographic history of La Crosse and keeping it in a safe, readily accessible place? The answer is an emphatic YES! The Archives and Local History Department here at the library collects and maintains the photographic history of our city, making it available for anyone to view and for future generations who may wonder what La Crosse was like in 1913...or 2013!
Donations of photographs from current and former residents of the city help immensely in obtaining photos like the one above showing a crew performing for WKBT-TV's venerable Kiddies Hour program in the early 1960s. Donors are able to keep the original photographs since all we have to do is scan them.
Please consider donating your historic photographs of our area and help preserve and protect our community's history through the Archives and Local History Department's photographic "scrapbook"! Questions? Contact us at 789-7136 or archives@lacrosselibrary.org. Thanks!