Abortion Access in La Crosse
(written and researched by Jaci Bedtka, UWL Public History Intern Fellow)
CONTENT WARNING: This article contains descriptions of unsafe abortions and the complications that followed. Please read with discretion and care.
Researching abortion is not an easy task. Before the 1973 U.S. Supreme Court Case Roe v. Wade that legalized abortions nationally, records were rarely created about abortion services. If someone received an abortion, why would they create a written record to document it? It was illegal and likely a traumatizing experience. On top of that, the people providing them were performing an illegal operation, so they wouldn't document it either. This means that the primary source evidence surrounding abortions before 1973 are typically about the procedures that went wrong.
Newspapers reported only cases that were brought to the attention of the police, usually because the patients' families pressed criminal charges against the abortionists responsible after the patient died. Coroners and hospitals underreported deaths attributed to abortions to protect the families of patients from embarrassment.1 Although these women were named in the original newspaper articles, their names are omitted from this blog to respect their privacy. Rather, this research project is meant to highlight the options people had for abortion access in La Crosse and the wider region.
We'll never know the exact number of illegal abortions performed in La Crosse, but searching the La Crosse Tribune during the span it is digitized (1904-1977), we can confirm at least four cases where La Crosse abortionists were arrested after botched procedures. One local abortion case publicized by the La Crosse Tribune involved Dr. D. F. O'Brien in 1908. Dr. O'Brien practiced in La Crosse for twenty-one years prior to his 1908 arrest for performing an illegal abortion on an 18-year-old unmarried woman from Viroqua, which resulted in her developing an infection and dying a few days after the operation.2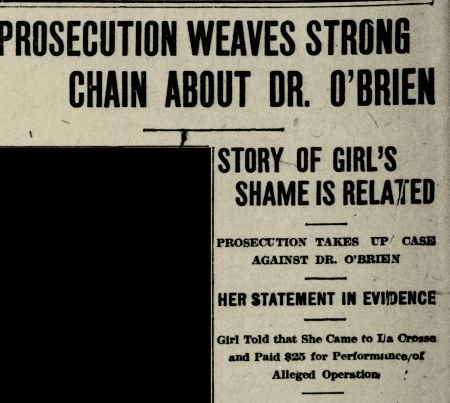 La Crosse Tribune June 10, 1908, page 1
The article emphasized that the woman suffered complications immediately after the abortion. Her friend who accompanied her on the train back to Viroqua described her appearance as "corpse-like." Six days later Dr. Lander, a La Crosse physician, was called to attend to her in Viroqua. Although initially refusing, the young woman eventually agreed to a physical examination. Dr. Lander discovered that an infection had developed from the procedure and informed her that she would likely die. This resulted in a death-bed confession that Dr. O'Brien had performed an abortion on her.3 Dr. O'Brien was arrested and sued by the State of Wisconsin and Vernon County for performing an illegal abortion that resulted in the woman's death. Dr. O'Brien pleaded guilty to performing the operation and "the administration of certain forbidden drugs."4 He was ordered to pay a fine and disappeared from La Crosse records after 1910.
In 1934, Dr. Robert Kinnear, a prominent and beloved physician of La Crosse was arrested after performing an "illegal operation" that resulted in the death of a woman. Dr. Kinnear had been a successful surgeon in La Crosse for forty-eight years prior to this incident, owning a private practice on Pearl Street. Dr. Kinnear was tried for second-degree manslaughter. The case was quickly dismissed however when Judge Clayton Van Pelt found the death bed confession of this woman to be inadmissible and "did not fulfill the requirements of dying declarations."5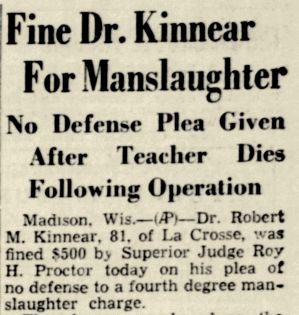 La Crosse Tribune April 2, 1941
Although the case was thrown out, Dr. Kinnear was charged again in 1941 after a schoolteacher from Monticello, WI died a month after he performed an abortion on her. He was sentenced to either paying a $500 fine or spending 60 days in the Dane County jail, and he chose to pay the fine.6 Dr. Kinnear died just three years later at the age of 87.    

La Crosse Tribune April 17, 1944, page 2
According to the oral history of Dr. Sigurd Gundersen, Dr. Kinnear was known to have performed abortions in unsanitary conditions.7 Developing complications after an illegal abortion was extremely common, especially when the procedure was done outside of a hospital. Most hospitals during this time had entire wards dedicated to caring for women suffering from complications resulting from illegal abortions.8 Women who received abortions in La Crosse, or had attempted self-induced abortions, would have likely been sent to St. Ann's maternity ward or Franciscan Skemp for emergency treatment, although this is impossible to verify given the lack of available documentation in these cases. In Adolf Gundersen's medical diary, he made note of a patient who was in his care after an unsafe abortion led to uterine bleeding more than five years later.9

An entry from the translated typescript of Adolf Gundersen's medical diary, 1894-1895. This collection is held at the La Crosse Public Library Archives.
If no doctor was willing to risk performing an abortion, or if it was too expensive, women would seek aid from other sources. Naomi Crocker, a La Crosse resident with a criminal record, was convicted of second-degree manslaughter in 1912 for performing an abortion on a local woman. The La Crosse Police Department had been suspicious of Crocker for months prior to the confession but were unable to find witnesses willing to testify against her.10 Crocker pleaded not guilty but the testimonies of several other witnesses and her past run-ins with the law contributed to the jury finding her guilty, sentencing her to five years in Waupun State Prison. Crocker remained calm during the sentencing despite deeming the trial as "unfair" and maintaining her innocence throughout.11 The case of Naomi Crocker was significant at the time since it was sensationalized as the first time in La Crosse County history that a woman was convicted of a serious crime, according to the newspaper reporters.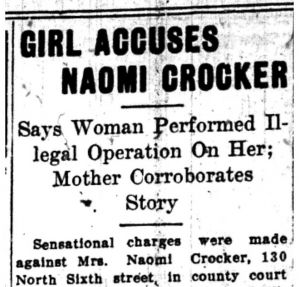 La Crosse Tribune July 17, 1912, page 1
These cases shed light on the lack of resources for these women, but it is important to remember that these cases are only a small representative of the many people who accessed illegal abortions before Roe v. Wade in the La Crosse area. The fact that there were multiple abortion providers suggests that there was a large need. It is also important to note that most of the patients reported on in these cases were not La Crosse residents. It is likely that locals seeking abortions travelled to another city where they were more anonymous, but of course that would only be possible if they had the means to do so.
After the women's liberation movement in the 1960s, conversations around birth control became more accepted and organizations to provide access to birth control became more common. We can see this is true in La Crosse in 1972, when the La Crosse Family Planning Center opened. This organization went on to be renamed Options in Reproductive Care Inc., then the Essential Health Clinic, and is now Planned Parenthood.
CITATIONS
1.  Leslie J. Reagan, When Abortion Was a Crime: Women, Medicine, and Law in the United States, 1867-1973 (Berkeley: University of California Press, 1997). Accessed online: http://ark.cdlib.org/ark:/13030/ft967nb5z5.
2.  "Jury has case of Dr. O'Brien," La Crosse Tribune, 12 June 1908, page 6.
3.  "Prosecution Weaves Strong Chain about O'Brien," La Crosse Tribune, 12 June 1908, page 1.
4.  "Dr. O'Brien is Freed with Fine," La Crosse Tribune, 10 Dec 1908, page 6.
5.  "Court Dismisses Kinnear Case on Motion of State," La Crosse Tribune, 17 May 1934, page 1.
6.  "Fine Dr. Kinnear For Manslaughter," La Crosse Tribune, 02 April 1941, page 5.
7.  Sigurd Gundersen, interviewed by Howard Fredricks, 1971, transcript, page 86, Interview of Sigurd Gundersen, UWL Oral History Program, housed at UWL Murphy Library Special Collections and Area Research Center, La Crosse, WI.
8.  Jodi Vandenberg-Daves, Modern Motherhood: An American History (New Brunswick, New Jersey: Rutgers University Press, 2014) pages 204-5.
9. "Page Thirty," Rolv K. Slungaard Translated Typescript of Adolf Gundersen Diary, 1894-1895, MISC MSS 143, La Crosse Public Library Archives, La Crosse, WI. 
10. "Girl Accuses Naomi Crocker," La Crosse Tribune, 17 July 1912, page 6.
11.  "Naomi Crocker is Found Guilty," La Crosse Tribune, 15 Nov 1912, page 1.