Sundown Towns and La Crosse
(written by Jenny DeRocher, Archives staff)
CONTENT WARNING: This blog post contains primary source images that use anti-Black language. 
In 2016, Mayor Tim Kabat signed a proclamation acknowledging and apologizing for La Crosse's history of anti-Black discrimination. This proclamation also designated La Crosse as a sundown town. This action was based on research compiled during my 2015-2016 senior capstone project at UWL, within which I identified La Crosse as a sundown town.  
A sundown town is a community that purposefully excluded Black Americans by force, law, or custom. Formal and lawful anti-Black policies are considered to be de jure discrimination, while informal anti-Black practices that existed but were not recognized by law are defined as de facto discrimination. Some sundown towns were created by white residents using both de jure and de facto discrimination; others were created from one or the other.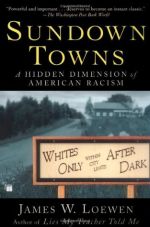 Sociologist Dr. James Loewen was a famous researcher of sundown towns and published Sundown Towns: A Hidden Dimension of American Racism. Loewen's definition of sundown towns is a bit more broad than other researchers. By his definition, any community that purposefully and knowingly maintained a culture of keeping their town white is a sundown town. Loewen lists many strategies that communities used to create sundown towns. It was this definition that I used to identify La Crosse as a sundown town. 
However, there are historians who argue that we should keep the definition of a sundown town narrower—that only communities that had a sign, ordinance, or a siren warning Black Americans to leave before dark are a sundown town. This argument often suggests that communities that used other strategies need a different term altogether.  


How is La Crosse a Sundown Town?

 
In this way, it is up to interpretation whether or not La Crosse can explicitly be designated as a sundown town, and this is a nuanced history that deserves thorough examination and continued conversation. Within this blog, I'll be discussing this history with the interpretation that La Crosse is a sundown town, and presenting the primary sources that support this interpretation. 
In November 2021, the La Crosse Public Library hosted a panel of experts to explore this history and look at it from a state and national view point. At the end of this conversation, it was agreed that whether or not we categorize La Crosse as a sundown town, the facts still remain: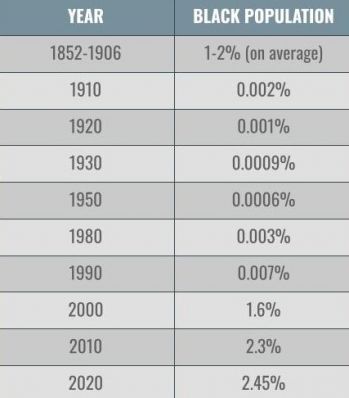 Together, these facts illustrate that very few Black Americans lived here in the 20th century, and anti-Black racism—systemic and otherwise—contributed to this phenomenon. White La Crosse residents maintained a culture that kept out community nearly all-white for almost a century. This culture was created using de facto discrimination, which is documented in primary sources. To be sure, there could have also been de jure discrimination, but I have yet to locate the records that provide evidence for this. 
The UWL Oral History Program (OHP) collected oral histories from La Crosse residents as early as the 1960s. This collection is a rich resource of what life was like in La Crosse from the late 1800s through the 20th century. Below are excerpts from two oral histories. The first exhibits a white resident who wished to keep the La Crosse community "all-white." The second depicts an example of a Black woman, Robbie Moss, expressing what it was like to live in a nearly all-white La Crosse during the 20th century.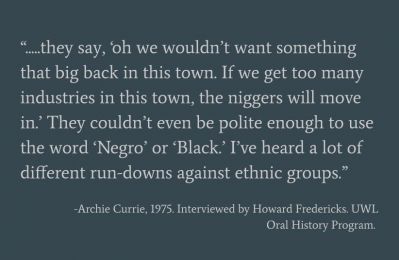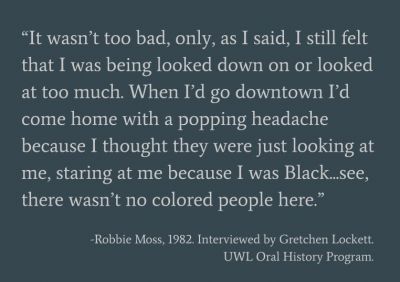 Robbie Moss' oral history interview gives us a few significant examples of anti-Black racism in La Crosse. For example, Moss discusses segregation signs that scattered our downtown in the 1940s. According to Moss, the NAACP were called in to help get these signs taken down. Moss also shared an experience during this time where she was refused service at a drug store in downtown. If that was true for a long-standing, respected African American resident, how were new residents, or travelling Black Americans treated in our city? 
In 1922, the La Crosse Tribune reported that the head of Wisconsin's KKK claimed there were 500 members in La Crosse. While this wasn't necessarily fact—it was likely an exaggeration to express power—it was still printed in the newspaper, and for some residents, this headline was a threat to their safety.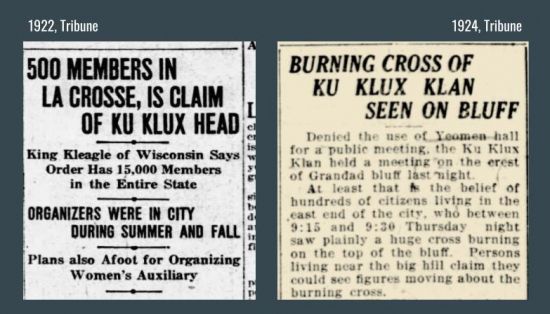 The UWL OHP collection contains a number of interviews in which white interviewees discuss their own involvement with the KKK and the night that a cross was burned on the top of Grandad Bluff. This seems to have been a real event that did indeed happen at least once. 
[click image to enlargen 1924
Tribune
story in new tab]
In 1924, a La Crosse Tribune story recounted the experience of a Black man named Haywood [sic] Talbert, who was chased out of town. The way that this article is printed mocks Talbert's speech patterns, which in turn mocks the incident as a whole. In attempting to confirm this story, I found that there was a man named Hayward Talbert in the 1924 City Directory, listed as a shoe-shiner. He was only listed in the one directory. 
Racist Language in Place-Names 
Racist language and slurs were not uncommon in our local newspapers throughout the 20th century. In fact, LPLA has 1920s photographs of La Crosse Tribune employees in Blackface and Redface, which only confirms the racist attitudes of the individuals responsible for informing our public. Searching these slurs in historic newspaper databases gives you thousands of results. Nathan Smith's farm off Highway 16 was subject to this treatment for decades after his death, and is still sometimes referenced with a slur. Nathan Smith was a prominent figure in our community's history. To learn more about Smith, visit the Enduring Family Project resources.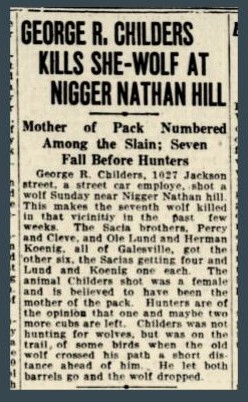 La Crosse's Hospitality Industry
The Negro Travelers' Green Book was a periodical created by Victor Hugo Green, who used this publication to help keep Black American travelers safe while visiting new areas of the country. The Green Books were a guide to what hotels, motels, and resorts were safe for Black Americans to stay at. La Crosse was first represented in the 1957 Green Book, over twenty years after they were first published. One of the hotels listed was actually just outside of town, on Hwy. 16. The other, the Linker Hotel, was located downtown.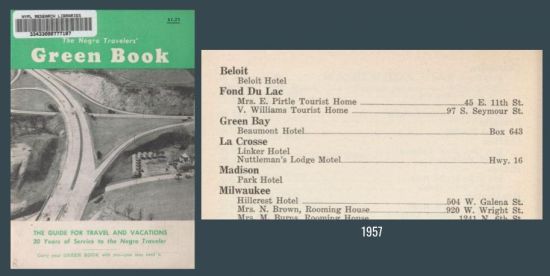 The Stoddard Hotel—
La Crosse's most famous and popular hotel throughout the 20
th
 century—
was never listed within the 
Green Books
, and in fact was likely reported as an anti-Black establishment. While there is no documentation, it has been passed down through memory that singer Marian Anderson was not allowed to stay at the Stoddard. In 1947, 
the Stoddard faced a lawsuit after Black American delegates from the United Automobile, Aircraft, and Agricultural Implement Workers of America Union reported racial discrimination while staying at there.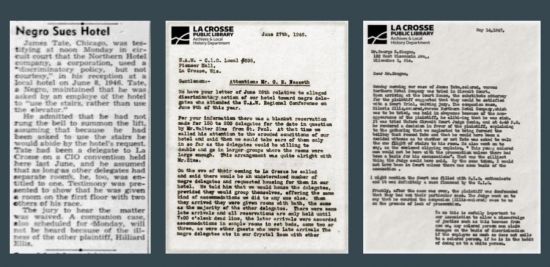 This image was shared on Facebook in 2018, showing a 1951 Woodlawn Cemetery deed from a family plot that includes an all-white clause. This is an example of records that don't typically make it into the archives, because they are usually filed away in people's homes, or destroyed through the years. We don't know for certain how long Woodlawn Cemetery included this clause in its deeds, or whether or not other cemeteries in the city did it too. 
[click image to enlargen in a new tab]
While it seems that no official ordinance or policy was ever written and passed by the City of La Crosse to maintain La Crosse as a sundown town, there are primary sources that depict the La Crosse Police targeting Black Americans, especially in the 1920s-1940s. 
The instance of the segregation signs that Robbie Moss reported in her oral history seems to be connected to a 1942 case in which an unidentified Black uniformed man—who was presumed to be a soldier from Fort McCoy—was accused of harassing a group of young white girls. In response, the city barred all Black American soldiers stationed at Fort McCoy from entering the city.  
[click image to enlargen in a new tab]
What can we do with this information?
While the city of La Crosse and its residents are no longer actively strategizing to maintain an "all-white" community, our sundown town history directly frames our current everyday life. This history lives within the collective memory of our public and lingers within our laws, policies, and culture. 
At the end of the November program, our panel of experts gave advice on how our nation's communities can move forward with the knowledge of our racist history. Acknowledging this past is only step one. Continuous, life-long learning and teaching is another step. One panelist suggested that local K-12 and cultural heritage educators need to take this information and build it into school curriculum. 
How has La Crosse's sundown town history impacted your own lives, families, neighborhoods, careers, etc.? Do you perpetuate it in any way? What is the history of the institution, organization, or business that you work for? What indigenous land do you occupy?  
Statement on the La Crosse Public Library
It should be noted that the La Crosse Public Library (LPL), itself a city-owned space embedded in La Crosse's sundown town history, has undoubtedly contributed to de facto discrimination. We know this because it is impossible for public spaces that are maintained by local white residents to escape the impacts of its surrounding sundown town environment.  
Today, LPL staff are working to address how this history impacts hiring practices, policies, programming, collection development, etc. to better serve our diverse community. We encourage other community organizations to join us in this work. If your local organization would like assistance researching its role in this history, please contact the Archives & Local History Department at archives@lacrosselibrary.org or (608) 789-7136.