Local Resident Makes Olympic History
(written by Megan of the Archives staff)
Did you know that the first African-American to win a medal at the modern Olympic games was from La Crosse?
George Coleman Poage (1880-1962) was born in Hannibal, Missouri, and moved with his family to La Crosse when he was still a youngster. At La Crosse High School, Poage excelled as both a student and an athlete. He was easily the school's best athlete during the years he was enrolled. As the second-best student in his class (and first African-American graduate), Poage addressed the assembly at graduation in 1899.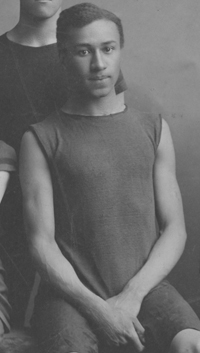 After high school, Poage went to the University of Wisconsin in Madison. He was the first black athlete to run for the University of Wisconsin; the first black individual Big Ten track champion in conference history (placing first in both the 440-yard dash and the 220-yard hurdles); and the first African-American to win a medal in the modern Olympic Games.  Poage won two bronze medals at the 1904 games in St. Louis (200 and 400 meter hurdle events).
Poage returned to St. Louis after the Olympics to teach at segregated Sumner High School, where he was the head of the English department and a coach for the school's sports teams. After teaching at Sumner for about ten years, Poage purchased a farm in Minnesota and lived there until after World War I.
Moving to Chicago at the height of the Jim Crow era, Poage found few job opportunities, despite his college degree. In 1924, Poage was hired by the United States Postal Service and worked as a postal clerk for nearly thirty years. After his retirement in the 1950s, he remained in Chicago until his death in 1962.
George Poage and his accomplishments were, for the most part, a forgotten piece of La Crosse history. To honor and celebrate his memory, Hood Park will soon be renamed George C. Poage Park.
Hood Street, on the south side of La Crosse, was apparently named for William A. Hood, an early La Crosse resident and surveyor. Although early history is not clear exactly when a park was established, a 1909 map of La Crosse shows a 1.05 acre plat of green space between 5th and 6th Streets, bounded by Adams and Hood Streets, as belonging to the city of La Crosse. The property had come into the hands of the C. & J. Michel Brewing Company, who sold the property to the city in 1909 for the establishment of the Adams Street Playfield.
The Adams Street Playfield was originally laid out with an open area for games and winter skating. Some improvements were made in the early years of city ownership (a skating rink and baseball field), and the park proved to be very popular with neighborhood residents. Even though there has been no formal name change, the Adams Street Playfield has commonly been known as Hood Park for many decades.