A Tribute to Dr. Bruce Mouser
(written by Anita Taylor Doering, Archives Staff)
Although Dr. Bruce Mouser was an active UWL faculty member when I arrived in La Crosse in the role of archivist in 1989, I really didn't have much interaction with him until his retirement in 1996 when he got serious about doing more extensive research on the local African American community.  This led him to eventually tell the story of two notable members of that community who called La Crosse home in their early years – George Edwin Taylor and George Coleman Poage.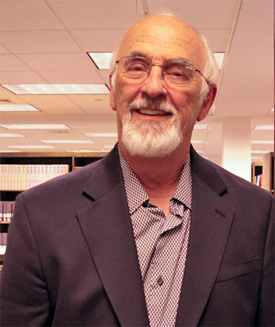 Dr. Bruce Mouser, Emeritus Professor of History, University of Wisconsin-La Crosse
Photographer: David J. Marcou, Oct. 17, 2010, at the La Crosse Public Library
Recently deceased in December 2018, Mouser taught history at UWL from 1968-1996, mainly African history.  However, in addition to classroom teaching, his legacy locally will be his extensive ground-breaking work on the history of Black settlement in La Crosse.   When I read of his death, I began to reflect on his long-term influence regarding the written history of La Crosse.   Certainly his book Black La Crosse, Wisconsin, 1850-1906: Settlers, Entrepreneurs & Exodusers published in 2002 by the La Crosse County Historical Society will continue to be a cornerstone work in this subject area.  But how did a world history professor become the source for local history?
Mouser explains in the introduction to Black La Crosse that Dr. George Gilkey, then the History Department chair at UWL, suggested to Mouser that he "might want to expand [his] curiosity into local history where [Gilkey] had found numerous references to Black settlers in census records."  Of course, census record searching at that time meant hand cranking through rolls of microfilm and doing hand transcription, compared to today where we can browse online or do some sophisticated online searching in much less time.  Mouser, with the aid of a grant, did a lot of preliminary research and presented the findings to several local groups within the La Crosse area.  Then he put it away until his retirement.
As we got to know each other, Mouser did begin to trust me – perhaps out of necessity – to fact check and proofread his manuscript on George Edwin Taylor.  Mouser "met" Taylor before my arrival when he uncovered issues of a newspaper called The Wisconsin Labor Advocate.  The first La Crosse Public Library archivist Allen Kovan was instrumental in helping to connect Mouser with the only extant copies of this paper, squirreled away in a basement storage area.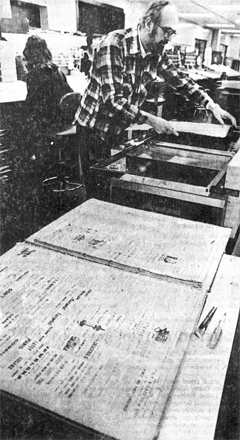 Mouser at the La Crosse Tribune offices copying the rare Wisconsin Labor Advocate newspaper published by George Edwin Taylor, a person of color who later ran for office of the U. S. president.
Photographer: Ed Huebner, La Crosse Tribune, March 15, 1984, p17
Taylor was the publisher of this newspaper with financial support from La Crosse's own Dr. Frank "White Beaver" Powell as Powell was beginning to rev up his bid into statewide politics.  Taylor eventually became a presidential candidate for the National Liberty Party in 1904 and retired from political life after that election.  You can read Mouser's book on Taylor published by the University of Wisconsin Press titled For Labor, Race, and Liberty: George Edwin Taylor, his Historic Run for the White House, and the Making of Independent Black Politics if you're interested in learning more about this man's life.
In the same year Mouser published his book on Taylor (2010), the La Crosse Public Library Archives received a prestigious award – the Governor's Award for Archival Achievement.  These photos of Mouser were taken on the day of the ceremony October 17, 2010, as Mouser along with others from the community and UWL helped celebrate this milestone.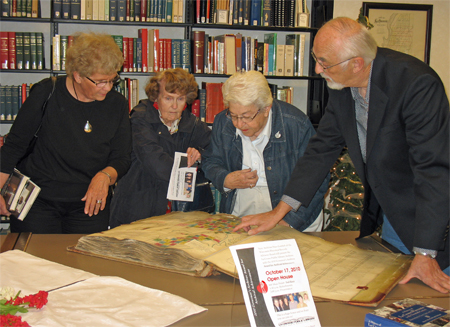 From left to right: Joyce Kruger, unknown, Betty Kendrick and Dr. Bruce Mouser
Photographer: Anita Taylor Doering, Oct. 17, 2010, at the La Crosse Public Library
After completing his seminal tome on Taylor, Mouser rekindled his desire to find out more about George Poage – the first African American to win an Olympic medal in the modern games – who was raised in La Crosse.  Mouser teamed up with former UWL Murphy Library Special Collections Librarian Ed Hill and former La Crosse County Historical Society executive director David Henke.  The trio did as much research as was possible in the early 1980s. 
When in pursuit of historical truth, Mouser was a veritable powerhouse.  He left no stone unturned and used a mix of historian's intuition, historiography and scholarly know-how to amass a large collection of articles and other primary source material over many years.  Over time, he forged alliances with Poage's family which really helped to break through major stumbling blocks.
Not only has Mouser left us his narrative history on Poage's life, but also his source documents so others can do follow up research which all historians hope will happen.  Mouser's narrative is available online here, and the La Crosse Public Library also has processed his notes and drafts on Poage in a manuscript collection. The La Crosse Public Library Archives has also written and produced a short movie on Black Lives in 19th Century in La Crosse, Wisconsin, which pays homage to Bruce and his diligent research.
I will fondly remember how excited and passionate Mouser could be about anything that he was researching and that was worthy of his time and attention.   He also demanded not only the best of himself, but the best of everyone else.  Not noted for my fiction reading, Mouser even asked for my honest comments about an historical novel he had written regarding the slave trade in the Rio Pongo.  Maybe that was his way of breaking me out of my comfort zone – teachers are notorious for that.
Dr. Mouser's thoughtfully written obituary encapsulates the highlights of his accomplishments.    While I have touched upon the major topics that involved local history, Mouser touched thousands of lives, and will continue to influence La Crosse history through his investigation into and representation of the African American community both locally and nationally.
Peace, Bruce.