Elmer & Tenney Captured Scenes of La Crosse in 1880s
(written by Anita Taylor Doering, Archives Staff)
A stereo view card contains two offset photographic images produced simultaneously with a camera that has two lenses, spaced a certain distance apart, similar to human eyes.  When viewed in a stereo viewer, these photographic cards seem much more three dimensional.
One area photography studio that produced these was Hoard and Tenney from Winona who operated from roughly 1871-1879.  Tenney then partnered with Elmer and were known as Elmer and Tenney from 1880 until the early 1890s.  This studio took a series of stereo views (or stereoscopic cards) of La Crosse in titled "Views in La Crosse, Wis., and Vicinity," and the La Crosse Public Library Archives has a fairly complete set of these as does Special Collections at UWL's Murphy Library.
Most of the Hoard & Tenney/Elmer & Tenney cards have a negative number that appears in the image on one side or the other. This identification number is actually etched into the negative. 

Close up of an Elmer & Tenney negative number on a stereoview.
These numbers are a significant clue in dating the image, as Elmer & Tenney reprinted the early sets from Hoard & Tenney.  One official set has numbers on the front and corresponding verso presumably to represent the firms' negative number for reproduction.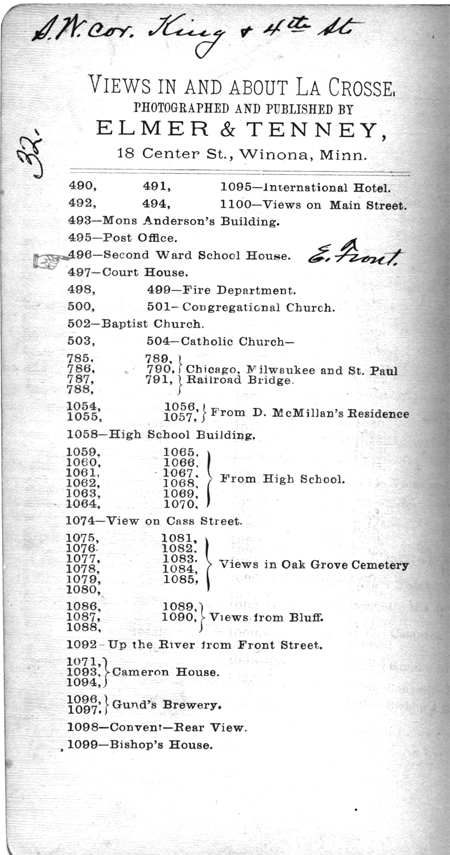 The verso of an Elmer & Tenney stereoview card issued in the 1880s, noting that this scene is negative number 496.  However, the image is from the 1870s when Tenney was working with Hoard.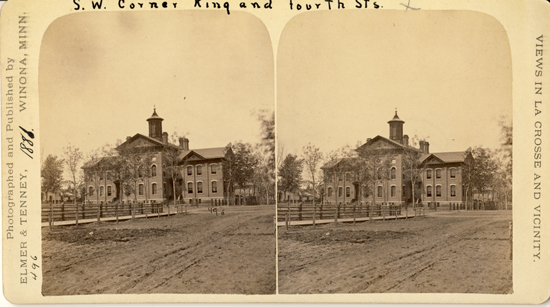 Here is #496 the Second Ward Schoolhouse by Elmer & Tenney, the successors to Hoard & Tenney.  This image actually dates 1870-1872.
Sometimes you will find instead of a list of possible views in the set, a general discussion of La Crosse that seems to be enticing people to come live and work in La Crosse.  When you spot these, you really do have a find because we believe these were special custom views that homeowners contracted with Elmer & Tenney to do.
An example here was purchased for the Archives from the online auction eBay by a donor.  It is of the George Peck House at 205 9th Street South which still stands today, although altered in appearance.  
Image of the Peck House, southeast corner of King and 9th Street South, taken by Elmer & Tenney, circa 1881. Some commissioned photographs are unnumbered and do not appear on the series list, such as this image.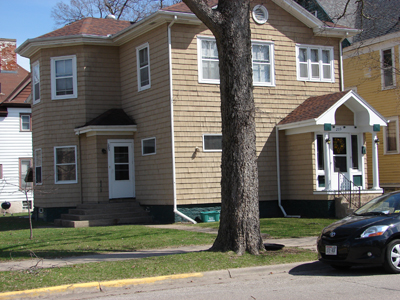 The Peck House at the south east corner of King and 9th St. South, taken by Dr. Les Crocker, 2011.
In summary, here are the approximate date ranges for the Hoard & Tenney/Elmer & Tenney stereoviews:
Negative number ranges 490-504 were taken by Hoard & Tenney, regardless of the imprint on the card, and date from 1870-1972.
The Chicago, Milwaukee & St. Paul Railroad bridge was built in five months and completed by November 1872. Since the scenes are definitely not winter scenes, the negative number range 785-791 date likely from spring/summer 1873. Again these were taken by Hoard & Tenney, regardless of the imprint on the card.
The remainder of the negative numbers, 1054-1100, were likely taken by Elmer & Tenney circa 1881.