Brooks' Bloodhounds
(Written by Jenny DeRocher, Archives staff)
George Brooks (1897-1978) was a La Crosse resident who had two jobs:  1) serving ice cream and soda at the Bodega Lunch Club, and 2) training bloodhounds for police investigations.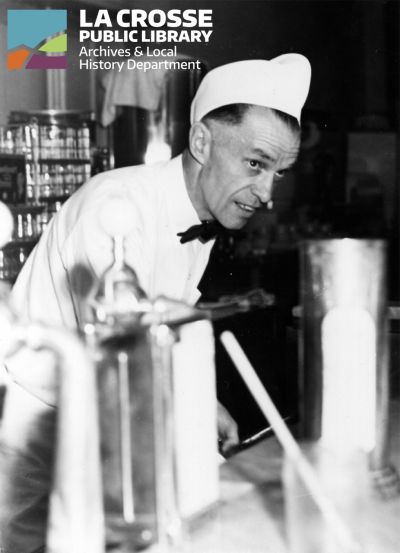 George Brooks worked as a soda jerk at the Bodega Lunch Club for 42 years.
When he wasn't at the Bodega, Brooks was with his bloodhounds. From 1932-1960, Brooks and his bloodhounds assisted law enforcement officials in over 3,000 cases in tracking and apprehending criminal suspects as well as finding individuals who were lost.  In an opening line for a story on Brooks, one journalist wrote: "Most hunters have to wait all year to use their hunting dogs, but there is no closed season on people. That's why George Brooks switched to bloodhounds," (March 27, 1949, Milwaukee Journal).
Brooks bought his first bloodhound from Ipswich, England in 1932 for $500.  Her name was Lady and within a few weeks of arriving to La Crosse, with no training, she was requested by La Crosse Sherriff O.B. Woll to help track two bank robbers near Mindoro, Minnesota.  She was able to track them to a stream, where the trail ended.  After the two robbers were apprehended later, they admitted that they hid underwater and breathed through hollow reed to avoid the bloodhound.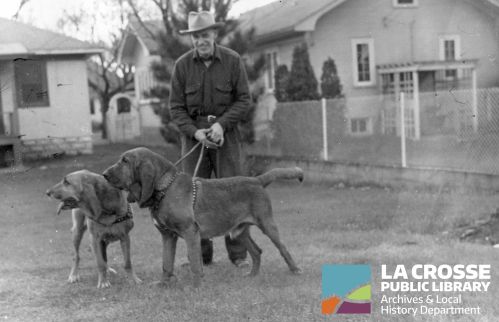 A 1978 La Crosse Tribune article reported that if anyone doubted the guilt of an individual who was tracked by his bloodhounds, Brooks would respond: "By golly, if my dogs say he did it, he did it."
Two early cases brought Brooks and his bloodhounds into the national spotlight.  One involved Jens Thompson of Freeborn, Minnesota, who shot and killed four of his neighbors in a quarrel in July 1937. Brooks and his hounds trailed Thompson over four counties until Thompson, exhausted, gave up because he felt he could not evade the dogs.
The other case began in 1939 in Cable, Wisconsin.  Ray Olson shot and killed two deputies.  Brooks' dogs followed Olson for two weeks, while he tried to elude the dogs by burning cabins he stayed in and traveling on water, but the dogs were always able to pick up the scent again.  The dogs and search posse eventually caught up and Olson was killed by police as he ran for a boat in a lake.
In the 1949 Milwaukee Journal article mentioned above, Brooks was given credit for his talent as a trainer: "The single minded hounds have sniffed and padded through woods, fields and swamps and over city streets in six Midwestern states and Canada.  Brooks is said to be the only person in the country who works bloodhounds successfully in cities, where the dogs must keep on a person's trail after scores of others have walked over the same street or sidewalk."
To train the dogs, Brooks would have kids from La Crosse lay out trails for him.  In a 1974 interview with the St. Paul Sunday Pioneer Press he said, "The kids were good because they could hide in small places and we used to follow trails all over La Crosse, even through the downtown area.  It turned out to be the best training one could give bloodhounds."  After helping out, Brooks would treat the kiddos to ice cream cones.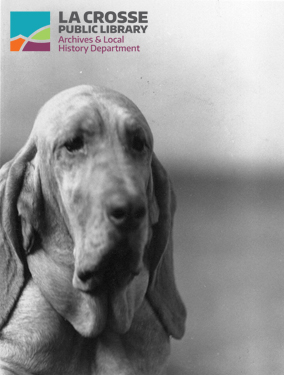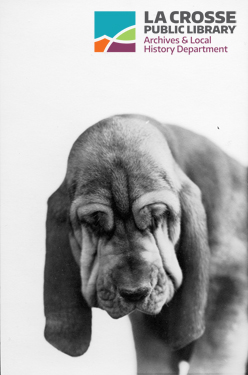 Bruce Tremmel, one of the kids who helped with the tracking, was later interviewed in 1978 for a La Crosse Tribune article reporting Brooks' death.  He remembered, "We liked the dogs so darn much.  We'd eat half of the ice cream cone and the dogs would eat the other half."
Brooks owned and trained about 40 bloodhounds over the course of his life.  Because of his training, the dogs would track individuals silently, without barking.  Brooks and his bloodhounds were sought-out resources; sometimes he would receive multiple requests a day for their use.  Though he would occasionally accept compensation for travel or hospital and vet bills, he never set a fee or made a profit from the dogs.  Rather, he described it as a hobby. 
Brooks turned down a few cases that were too far from home. Most notable were: a case with the Canadian military; the 1932 Charles Lindbergh Jr. kidnapping case, when the New Jersey State Police offered Brooks $100/day for his assistance; and a plea from Cuban President Fulgencio Batista to help find a group of revolutionaries hiding in the hills, which were later identified to be led by Fidel Castro.
George Brooks was featured in publications such as The Saturday Evening Post, American Magazine, and Reader's Digest.  Sixty-eight years ago, in January of 1951, Life Magazine put Brooks in the spotlight with this spread: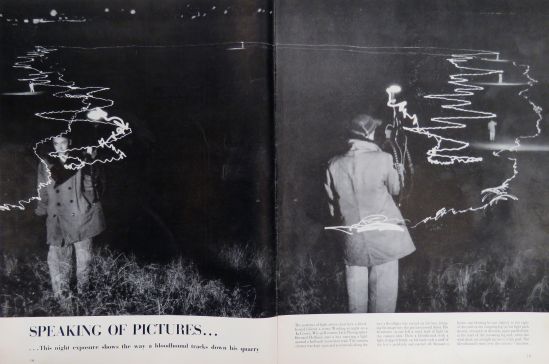 This path was created by La Crosse resident Bruce Tremmel, who often helped Brooks with training the bloodhounds.  The caption reads, "This exposure shows the way a bloodhound tracks down his quarry."  Visit the LPL Archives to read the full article.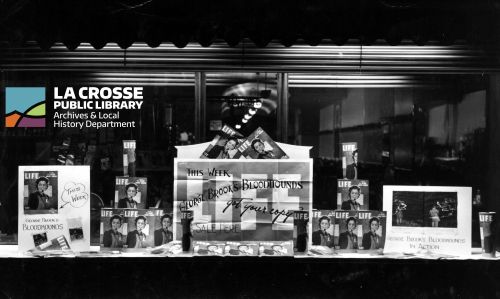 The owner of the Bodega Lunch Club, William Bonadurer was supportive of Brooks' hobby.  They had an agreement that Brooks could leave anytime he was needed for a case, which sometimes had him absent for two to three weeks.  When Brooks' bloodhounds were featured in Life Magazine, the Bodega had this publicity display in their window.
Brooks was also interviewed by national radio and television programs.  In 1939, Dave Elman interviewed Brooks on his radio program, "Hobby Lobby."  Later, NBC's "Welcome Travelers" featured Brooks and his bloodhounds for a short clip in 1952.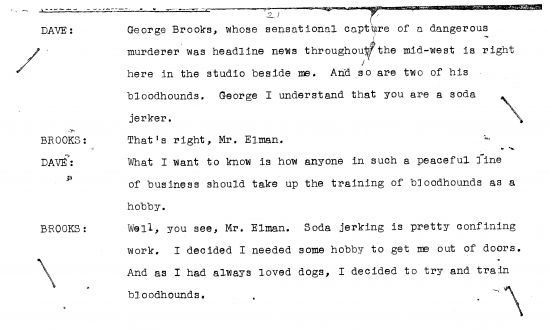 From the George Brooks Papers from the LPL Archives, this is an excerpt of the transcript from Brooks' radio interview with Elman on "Hobby Lobby."
After a major heart attack in 1960 (his diet reportedly consisted of "a sweet roll with butter for breakfast and then raw hamburger during the day," according to a 1978 La Crosse Tribune article), Brooks chose to stay closer to home and took a break from responding to cases.  This break lasted through the end of his life.  Though he kept bloodhounds until his death in April 1978, they didn't see the action that his earlier dogs saw.
Visit the La Crosse Public Library Archives to learn more about George Brooks and his bloodhounds.  The George Brooks Papers holds several photographs of the bloodhounds, newspaper clippings, and other papers related to Brooks and his dogs.  You can find a display of some of these materials on the second floor of the Main Public Library through the first week of February.