2018 Dark La Crosse Show
(written by Scott Brouwer, Archives staff)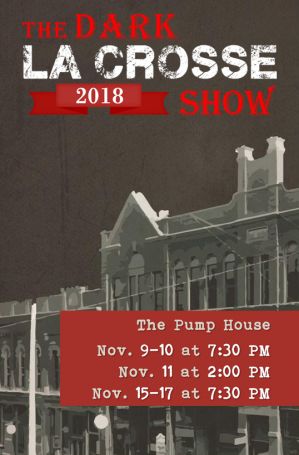 WHAT:  The Dark La Crosse Show
WHERE: Pump House Regional Arts Center, 119 King Street
WHEN: November 9-10 & 15-17 at 7:30 PM, November 11 at 2:00 PM
TICKETS:  $15, General Admission. Tickets are on sale now, available in person at the Pump House box office (119 King Street), by phone at (608) 785-1434, or online at the Pump House box office. Tickets will also be available at the door, if available, but demand will be high, so please purchase your ticket in advance.
FEATURING: Luke Thering, Michael Scott, Kelley Manson, Joe Hammes, Kelly Krieg-Sigman, and Owen Scott.
SPONSORS: Stifel Financial, Gerhards/First Supply, State Bank Financial, La Crosse Tribune, Coulee Bank, Midwest Family Broadcasting, and Associated Bank
The La Crosse Public Library Archives is proud to present a new production of the popular Dark La Crosse Radio Show which will open at the Pump House Regional Arts Center on November 9, 2018. The show is scheduled to run November 9-10 & 15-17 at 7:30 PM, with a 2:00 PM matinee on Sunday, November 11. Tickets are now on sale at the Pump House box office. The unique production, performed in the style of an old-time radio and variety show, features all-new exclusive stories, period-appropriate live music, and a multi-media visual experience heavy on archival photographs.  
Local talent will recreate true crime stories from La Crosse's past including murder in the pearl button industry, a notorious Red Light District madam, a 19th-century rail yard ghost that had the whole city on edge, and a love triangle saga almost too incredible to be believed cut right from the most outrageous tabloids - but it's true! 
See below for La Crosse newspaper headlines teasing some of the content of this year's show.