Trane Company and the Nuclear Age
(written by Anita Taylor Doering, Archives Staff)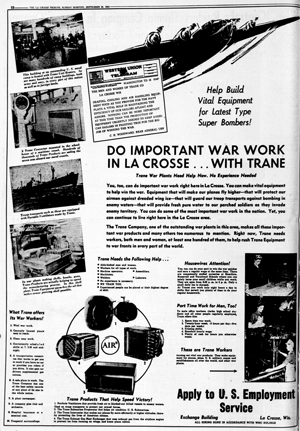 A full-page ad in the local newspaper encouraging housewives and others left on the homefront to come to work for the Trane Company, La Crosse Tribune, September 24, 1944, p12.
During World War II, the Trane Company switched from the manufacture of U. S. residential, commercial and industrial heating and cooling systems to wartime production of many of these same systems.  Aided by local women joining the plea for workers, Trane's own "Rosie the Riveters" helped manufacture heating and cooling systems for use in army and navy camp buildings and vessels in the United States and abroad; portable ventilators for troop transports; heat exchangers that use exhaust gas from the airplane to prevent ice build-up and heat cabins; cooling systems for submarines; and Trane products could even be found in war plants making ordnance.  Trane boasted that their engineers designed certain parts for the atomic bomb.
With the War nearing an end, Reuben Trane, head of the Trane Company, wasted no time in announcing a huge expansion of the company's empire. With the impending arrival of United States veterans back to La Crosse looking for work, the article also foreshadowed that women would no longer be needed in Trane's manufacturing workforce since "…the return to a more normal way of life will naturally lead women back into the home," even though a poll of women workers indicated they would like to stay on at Trane once peacetime production returned.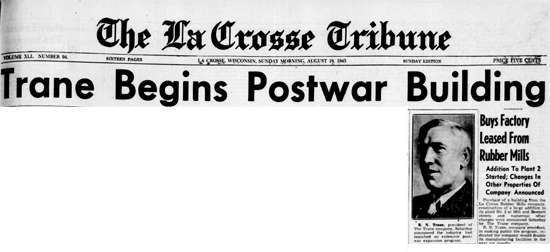 Reuben Trane, president of the Trane Company, announces an ambitious postwar building and advertising campaign, La Crosse Tribune, August 19, 1945, p1.
In less than a decade after the conclusion of World War II, Trane dedicated a new research and development laboratory named the House of Weather Magic.  Over a four-day period, from May 20-23, 1954, national attention was focused on La Crosse. Open houses were conducted by Trane scientists and engineers for special guests, Trane employees and the public.  Robert LeBaron, assistant to the secretary of defense under President Eisenhower, delivered a speech on harnessing atomic power for peaceful purposes rather than its known destructive side.

La Crosse Tribune, May 20, 1954, p1.
The event was an opportunity to show La Crosse and the nation how global the Trane Company had become, and how American ingenuity would win the Cold War. Among the displays is of a simplified diagram of a nuclear-powered jet showing how heat exchangers engineered and manufactured by the Trane Company could help contribute to this cause.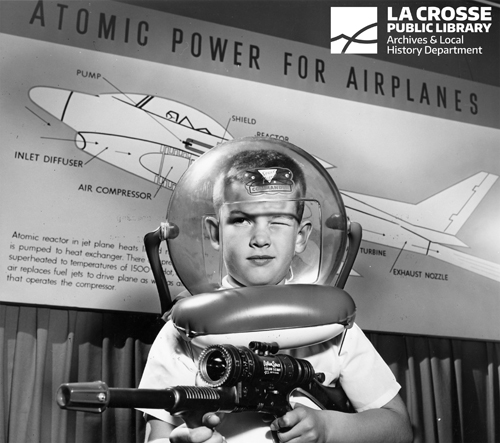 A young man outfitted with a Space Patrol Commander helmet and brandishing a toy atomic ray gun at the dedicatory events of the Trane laboratory looks to be having fun. From the MISC MSS 286 Preview Kit "House of Weather Magic, May 1954" by the Trane Company.
So, then, who is the young man featured in this photo, and why is he holding a "Captain Space Solar Scout" atomic ray gun and outfitted with a "Space Patrol Commander" helmet as though he is prepared to fight off Martians at a moment's notice?  This scene seems to run counter to the message of "the peaceful atom."
Other displays at the lab included a passenger train car and a skyscraper along with engines and other machine demonstrations.  To read more about the dedicatory event and open house, read a previous blog titled Trane Company's House of Weather Magic, and the finding aid for the Preview Kit is also available online.