BadgerLink - an Online Wisconsin Resource
(written by Megan of the Archives Staff)
What in the world is BadgerLink and why should I care? BadgerLink http://www.badgerlink.net is a collection of various databases (many full-text) and resources on a wide range of topics that is available to all Wisconsin residents at their home and at their local library, licensed through a state agency.  It has recently undergone a big redesign of the site, trying to be more topic based, so even if you've used it in the past, take a peek at the new layout!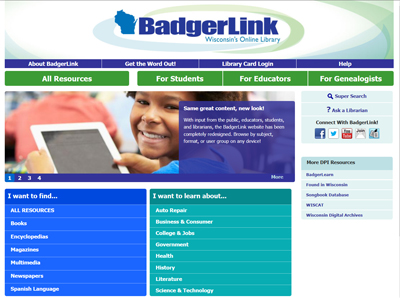 Getting started from home
From the BadgerLnk home page at http://www.badgerlink.net select library card login. Choose your library from the drop down list and enter the bar code number from your library card. If you don't have a library card now you have a great reason to head to your local public library and get one.
If you have a problem logging on check with your local library first. If it's been a while since you used your card they may need to update it. If your card is good to go, select "Help" from the Badgerlink home page and then "Contact Us." You can follow the directions and email them through a contact form or phone them.  Sometimes Charter account holders have problems accessing the site until they go through this step of authentication.
Once you are logged in you can select "All Resources" if you want to see everything but, over on the right hand side is For Genealogists, which will bring you to this page.  Resources are listed in alphabetical order on BadgerLink, but I'm going to hit the highlights and group things under the "For Genealogists" tab.
Access Newspaper Archive is a collection of searchable newspaper pages with a focus on smaller and mid-sized towns. It includes the La Crosse Tribune newspaper from roughly 1904-1950, but has resources from all over the United States—you might find your ancestor's obituary in their home town newspaper or something juicy in a local gossip column, or this may help you a lot with your National History Day topic!
Heritage Quest Online is a primary source of genealogy records of various kinds. They have digital images of all the U. S. censuses (find the image for that census index entry you found on http://familysearch.org) with limited indexing of some historical books and other material.  This is a good tool if you don't have access to Ancestry.com.  Census can be used in local history research too.
History Reference Center includes Full text from reference books, encyclopedias and non-fiction books, history periodicals, historical documents, and biographies, as well as historical images, and historical video.
Military & Government Collection current news pertaining to all branches of the military and government, through a collection of periodicals and academic journals.
Newspaper Source Plus has the full text of newspapers, and television and radio news transcripts. It includes coverage of the Chicago Tribune.
Wisconsin Newspapers Digital Research Site has more modern newspapers, 2005-present, and includes the La Crosse Tribune.
Be sure to check out BadgerLink to see what might help you!