A La Crosse Institution - Doerflinger's Department Store
(written by Megan, Archives Staff)
As was common in towns all over the United States, the La Crosse downtown was the retail center of the city and Doerflinger's department store was a downtown anchor. 
William Doerflinger had opened a store at the corner of 4th and Main streets called the Park Store.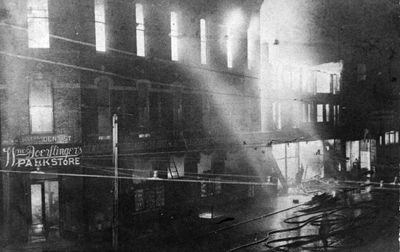 When the store burned down in 1903, a new store was built on the same site and opened to great fanfare on March 26, 1904. The new store was built in the new "modern" style, also known as Chicago style, with minimal decorations.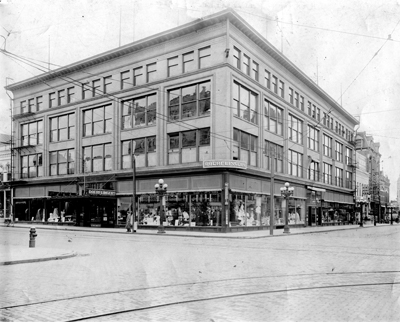 New Doerflinger's store
The building was remodeled in 1939 to modernize it and remodeled again in 1976.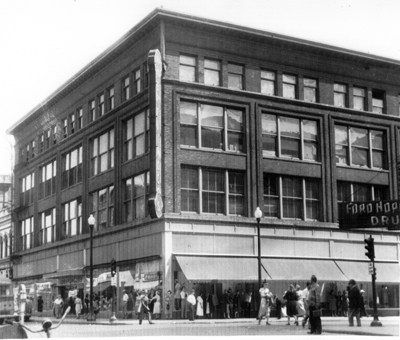 New building, 1940s
When Valley View mall opened, Doerflinger's opened a store there, as well as one in the Village Shopping Center at Losey Boulevard and State Street. These additional stores reflected the trend of downtowns no longer being the center of shopping for a town. Malls and shopping centers, with easy parking, drew shoppers away.
In July 1981 Doerflinger's decided to specialize in men's and women's clothing, closing their furniture, housewares, glassware, china, domestic, and children's clothing departments. They were no longer a department store. But the changes could not save the store. Due to debt Doerflinger's filed for bankruptcy in November 1983 and closed their other, non-downtown, stores. On May 31, 1984 a going out of business sale was held to try and raise money to pay off the debt; soon after, the downtown Doerflinger's store was closed. 
The building still stands at 4th & Main streets and, after remodeling, now serves other businesses as retail and office space.