2017 Dark La Crosse Radio Show
(adapted from press release by Joe Hammes)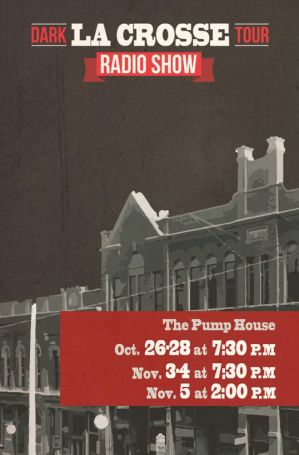 WHAT:  The Dark La Crosse Radio Show
WHERE: Pump House Regional Arts Center, 119 King Street
WHEN: October 26-28 at 7:30 PM, November 3-4 at 7:30 PM, November 5 at 2:00 PM
TICKETS:  $15, General Admission. Tickets are on sale now, available in person at the Pump House box office (119 King Street), by phone at (608) 785-1434, or online at www.thepumphouse.org. Tickets will also be available at the door, if available, but demand will be high, so please purchase your ticket in advance.
A new production of the popular Dark La Crosse Radio Show will open at the Pump House Regional Arts Center on October 26, 2017. The show is scheduled to run October 26-28 and November 3-4 PM at 7:30 PM, with a 2:00 PM matinee on Sunday, November 5. Tickets are now on sale at the Pump House box office. Presented by the La Crosse Public Library Archives in conjunction with their "Dark La Crosse" tours, this production uses the format of an old-fashioned radio variety show to tell rarely told true crime stories from the seedier side of La Crosse's rich cultural history.
The 2017 production will feature all new stories and content, including a look at one of La Crosse's greatest unsolved mysteries: the disappearance of Evelyn Hartley, a local teenager who went missing without a trace on October 24, 1953. Archivists from the La Crosse Public Library will be sharing details from this chilling tale, from the days leading up to Hartley's disappearance to the massive manhunt and media frenzy that followed. Other stories in this new 2017 Dark La Crosse production will include an unbelievable 1920's jailbreak, a 1940's murder of a local doctor, and a comprehensive look at the prohibition era in the Coulee Region, from bootleggers, to speakeasies, to police raids.
See below for La Crosse Tribune headlines teasing some of the content of this year's show.