Pass the Potatoes, Please
(written by Anita Taylor Doering, Archives Staff)
When you think of potatoes, you don't necessarily think of Wisconsin. When you think of the manufacturing of agricultural implements, you don't necessarily think of Wisconsin either.  Yet, much of La Crosse's history and economy is based on agriculture, just as it is today.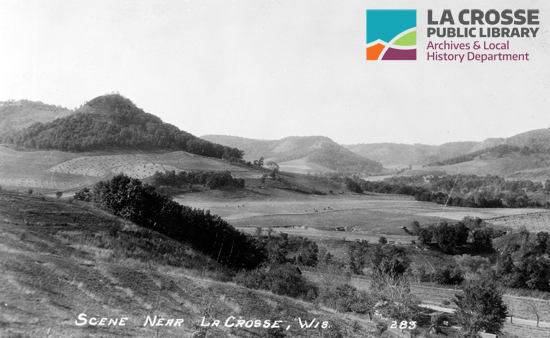 A rural scene of a coulee near La Crosse, circa 1930s.  Photo taken by Moen Photo Service. Courtesy of the La Crosse Public Library Archives
In the early days of white settlement in Western Wisconsin, wheat was major crop because it generated cash and there was a high demand for wheat. But wheat was hard on the soil and would eventually deplete the ground of valuable nutrients.  Wheat crops also became the victim of the chinch beetle which thrived under the dry weather conditions of the era. According to the census returns of 1860, the top crops produced in La Crosse County were oats, wheat, corn, and potatoes.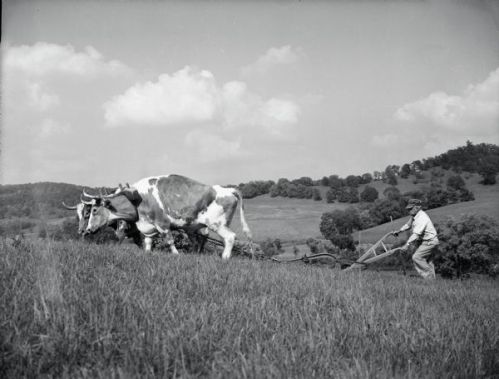 Seen above is Oscar Sayles with a walking plow pulled by oxen named Tom and Jerry, September 1946, in Vernon County, Wisconsin.  Photo taken by John Newhouse. Courtesy of the Wisconsin Historical Society image #117966
Butter and cheese were also produced, although dairy farming didn't really catch on in the state until 1872 when the Wisconsin's Dairyman Association was established by William Hoard.  Plowing through prairie grasses and breaking up the soil for the first time for crop farming was tedious, back breaking work.  To do this farm work, oxen were the preferred working animal to horses. By the 1870s, this began to change to horses as seen in the chart below. 
Abstracted Agricultural Production in La Crosse County, 1860-1900, Part A
Abstracted from various reports of statistics from the federal agricultural census
Year
Product

Bushels
Tons
Pounds
Oats
Wheat
Corn
Potatoes
Barley
Hay
Tobacco
1860
195247
189496
171123
102899
5338
15316
0
1870
286126
581485
192503
66526
2922
15297
0
1880
431376
493240
379578
115696
46769
25104
800
1890
924233
195513
654129
243181
77818
43416
5300
1900
1070480
163180
769310
200076
158520
49126
33850
Abstracted Agricultural Production in La Crosse County, 1860-1900, Part B
Year
Product
Livestock
Pounds
Gallons
Number
Butter
Cheese
Milk
Milk Cows
Horses
Mules
Oxen
Swine
Chicken
1860
108401
17575
not
available
2138
1056
18
1113
4642
not
available
1870
248638
22165
3560
4438
3486
92
727
4408
not
available
1880
388151
46979
43230
6329
5170
97
146
11615
43386
1890
586685
23794
4274696
11107
6167
53
79
17265
70840
1900
868109
4116
7118282
13912
7054
46
not
available
27932
101965
Please note: (1)The figures for butter and cheese represent quantities produced on farms and do not include creameries or commercial cheese manufacturers. (2)1870 & 1880 milk figures represent the amount of milk sold not produced by farms. (3)The 1900 census also noted 692,183 gallons of milk sold and an additional 455,700 gallons of cream sold by farms. (4)The 1890 and later censuses represent animals counted on farms and do not include any livestock kept in the cities or villages. (5)The 1900 census broke out the neat cattle into much more specific categories than previous censuses. The figure taken for milk cows here was the category "dairy cows 2 years and over."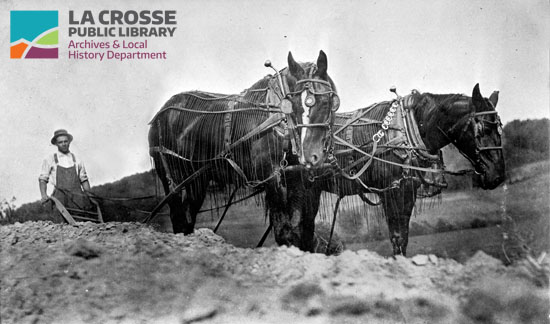 Taken near Holmen, Wisconsin, a man is shown using a walking plow pulled by horses.  Courtesy of the La Crosse Public Library Archives
Potatoes were not difficult to grow in the region, but there wasn't good equipment that could make planting, digging and spraying more efficient, until the McKenzie Brothers of La Crosse decided to get into the manufacturing of agricultural implements.  Several other La Crosse firms also manufactured plows and other equipment to help farmers make the land more efficient and productive.
In 1912, three McKenzie brothers, along with their father's financial backing, launched into this industry.  At auction, they purchased the remains of the defunct Egan Manufacturing Company that produced potato diggers.  Their father, John J. McKenzie, had enjoyed a long successful career of selling agricultural implements to the farmers of La Crosse County. Raised on a farm in what is now Onalaska (historically the Town of Campbell), east of the modern Coulee Region Humane Society building, he kept that farm but moved with his bride in 1884 to a farm in Greens Coulee.  Eventually he moved to La Crosse and sold International Harvester implements.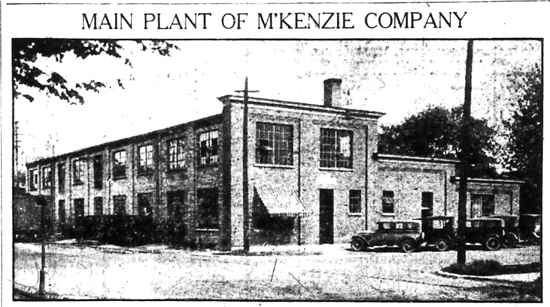 A June 1927 photo of the McKenzie Manufacturing Company factory built in 1922 at 1648 Liberty Street.  This building was razed in 1985 by the LaCro Products Company. Courtesy of the La Crosse Tribune
The young men lost money the first several years despite long days and some sales success.  Two of the brothers bowed out of the business, but Ralph McKenzie remained. Ralph's father John was credited with inventing their first McKenzie potato planter. By 1917, Ralph was able to buy out his partner's share and began running the business himself. The Triumph potato sprayer and digger were the mainstays of the business and by 1922, McKenzie was able to construct a new building on the same site at 1648 Libery Street.
In 1926, McKenzie and potato planter inventor L. A. Aspinwall from Michigan became aquainted. Aspinwall's manufacturing business had been mismanged and became absorbed by other businesses. McKenzie invited Aspinwall to La Crosse where he could continue to perfect his automatic potato planter patent. It proved successful.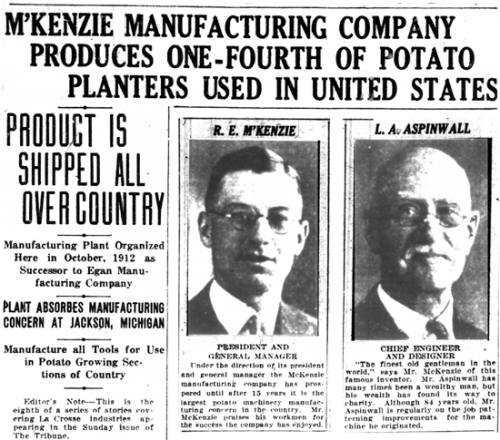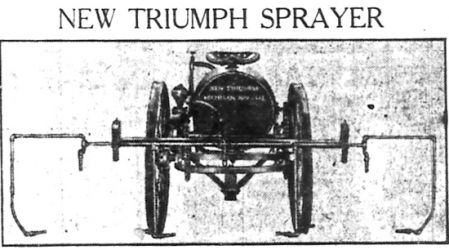 Part of a series of long articles about the McKenzie Manufacturing Company in the La Crosse Tribune, June 5, 1927.  Courtesy of the La Crosse Tribune
By the following year, 1927, McKenzie Manufacturiung Company was producing one-fourth of the the potato planters used in the United States.  The home farm, plus other acreage Ralph purchased, was used as an experimental farm for trying out the McKenzie line of prototype equipment.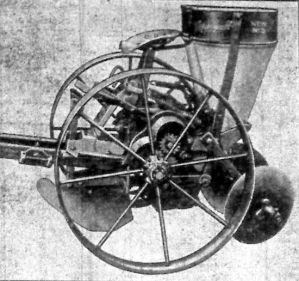 The Aspinwall potato planter designed by L. A. Aspinwall for the McKenzie Manufacturing Company, 1927

From the La Crosse Tribune, June 5, 1927.  Courtesy of the La Crosse Tribune
By April 1929, several business mergers were in the works across the United States in the agricultural implement world. McKenzie had sold most of his factory's production to the Oliver Chilled Plow Works the past four or five years. Oliver merged with the Hart-Parr Tractor Company and the Nichols and Shepard Company, becoming the Oliver Farm Equipment Company.
McKenzie sold his plant and real estate to the Oliver Farm Equipment Company just months before the famous stock market crash of October 1929, but McKenzie stayed on as the manager of the La Crosse plant.  Oliver invested some $10,000 into the operation's physical plants in La Crosse, but in 1930, McKenzie was out and Oliver transferred the machinery to its South Bend, Indiana, location.
After the closing of the McKenzie Manufacturing Company in La Crosse, Ralph McKenzie became president of the McKenzie Chevrolet Company, but he had other interests as well.  From a young age, he was keenly interested in  the breeding and and training of horses for the popular harness racing circuit.  Throughout his life, he continued to improve his Blue Heather Farm and was nationally known as a breeder and racer at the time of his death in 1952.  The remnants of the oval track where McKenzie trained his horses can still be seen in aerial views today.