The Return of the Dark La Crosse Radio Show
(written by Anita Taylor Doering, Archives Staff)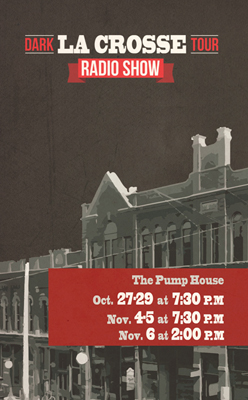 We are pleased to announce another "Dark La Crosse Radio Show" featuring ALL NEW STORIES highlighting the seedier side of La Crosse's rich cultural history. Six new performances of the "Dark La Crosse Radio Show" will be presented at the Pump House during the last weekend of October and the first weekend of November.  This unique production, performed in the style of an old-timey radio and variety show, features exclusive stories, music, and archival visual materials. Local talent, including acclaimed storyteller Michael Scott, will recreate "true crime" stories from our past, including previously untold accounts of the earliest recorded murder in La Crosse County, an enraged Civil War mob, and a high speed chase involving a kidnapped policeman.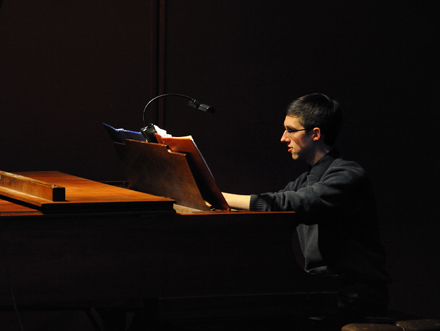 Photograph by William D. Petersen
Local jazz pianist and composer Luke Thering is back again with his own version of the 'Dark La Crosse Theme' based on La Crosse composer F. A. Hoppe's 1877 La Crosse Schottisch.  Thering has also concocted his own musical twists titled 'Saengerfest' based on the La Crosse Saengerfest March, 'Copperhead of 1865', and some other pieces, interspersed with Thering's own musical sketches based on the storyline in the show. Thering's performance adds an authentic air to the historical atmosphere.
It is this historical immersion that makes the Dark La Crosse Radio Show and the La Crosse Public Library Archives such a popular and valuable program with the community.  We're always impressed when audience goers approach us to tell us about new stories or how they learned so much about La Crosse's past. Everyone seems to come away with their own impression of how La Crosse's past compares to the community it is today.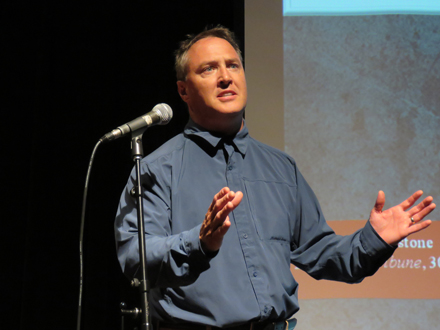 Photograph by Anita Taylor Doering
Michael Scott, scriptwriter and one of the featured performers with the Dark La Crosse Radio Show, says this sense of community and of connecting the past with our present is one reason he's so passionate about this project. "Even though these are stories of murder, corruption, prostitution and arson, you also hear of our benevolence as well.  Police officers donating blood to help a fallen comrade, a minister pleading with a lynching mob, law enforcement and justice professionals working tirelessly for fair recompense.  Just like today, it's the dark that gets the press but you can also find our goodness threaded throughout."
The goodness of our community can also be seen in the generous sponsorship provided by local community businesses, which will means that all proceeds generated from ticket sales will go directly to support the community missions of the La Crosse Public Library and the Pump House. To celebrate the participation of the sponsors, the La Crosse Public Library Archives have come up with a unique story for each individual performance, highlighting a historical tale related to the sponsor of that performance.  Our sponsors include  Stifel, Gerhard's/First Supply, Fayze's, Dublin Square/Burger Fusion, State Bank Financial, and the La Crosse Tribune.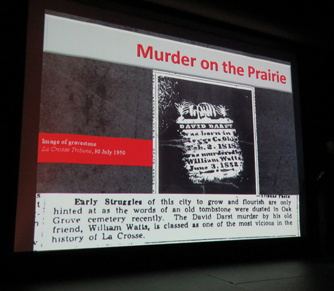 The balance between exploring the tawdry nature of La Crosse's history and the benevolence within our community extends to the production itself, which strikes the perfect balance between enlightened education and titillating entertainment.  There is a wealth of great stories to choose from, and we are very excited about the new content for this year.  While informative and enlightening, we also strive for it to never fail at entertaining. So come join us this fall!
WHAT:  The Dark La Crosse Radio Show
WHERE: Pump House Regional Arts Center, 119 King Street
WHEN: October 27-29 at 7:30 PM, November 4-5 at 7:30 PM, November 6 at 2:00 PM
TICKETS:  $15, General Admission. Tickets are on sale now, available in person at the Pump House box office (119 King Street), by phone at (608) 785-1434, online at www.thepumphouse.org. Tickets will also be available at the door, if available, but demand will be high, so please purchase your ticket in advance.