Gertrude Salzer Gordon, Philanthropist
(Written by Hannah Weber, Archives staff)
A philanthropist is a person who possesses the altruistic concern for human welfare and advancement as facilitated by monetary, property, and work donations. Philanthropist was also the unofficial job title claimed by most affluent and upper class women of the early 20th century. An example of philanthropy you may be familiar with is depicted in the popular period drama, Downton Abbey. In the show, Lady Grantham and the Crawley sisters spend their idle time working with other well-to-do women who seek to socioeconomically uplift the community. While the Crawley's philanthropy takes a minor role in the drama of Downton Abbey, for many women during this era, philanthropy was more than an obligation and a way to spend free time, but rather a passionate career which consumed them completely.
When imagining this upper class society, you don't need to look so far as rural England, but rather to King Street in La Crosse. Gertrude Salzer Gordon was born January 26, 1906, to the prominent Salzer family in La Crosse, who founded Salzer Seed Company in 1868. During the height of Salzer Seed Co., around the turn of the 19th century, the company made more than $1 million annually and propelled the Salzer family, including Gertrude, into a prominent and respected position in La Crosse.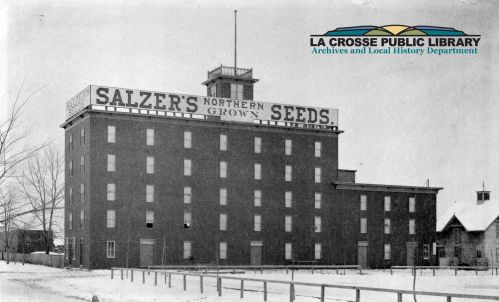 Salzer Seed Co, 1200 block of South 7th Street, ca. 1900
Gertrude attended Central High School and went on to study at Connecticut College in New Lisbon, Connecticut. After, Gertrude moved back to La Crosse and married Donald Gordon, a member of another prominent La Crosse family, in November of 1930. Due to the business success of both Gertrude and Donald's families, Gertrude lived in a world where she was both expected and able to explore a philanthropic career.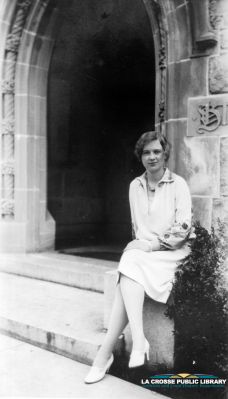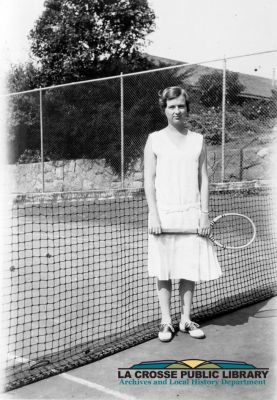 Gertrude and Donald would go on to have one son, Donald Alexander "Sandy" Gordon, Junior in 1932. Then in April 1943, Donald Sr. passed away unexpectedly after only 13 years of marriage. Gertrude never did remarry, but instead focused her time, energy, and resources on being an active member of the community while simultaneously raising her son.
As head of the Salzer-Gordon family, the expected career of philanthropy soon turned into a lifelong passion for Gertrude. As an active philanthropist, Gertrude served on the boards of numerous different societies and non-profit organizations, such as the Family Welfare Society, the La Crosse Home for Children, and the YWCA board, amongst many others.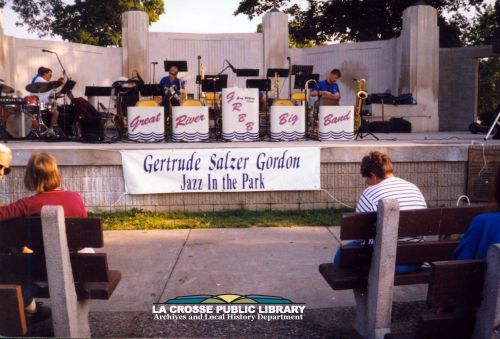 Jazz in the Park, one of the many local organizations financially supported by Salzer Gordon
Beyond actively serving, Gertrude also financially supported numerous local organizations including Coulee Region Humane Society, Family and Children's Center, the La Crosse Community Foundation Women's Fund, La Crosse Public Library, Mississippi Valley Archaeology Center, and The Salvation Army, amongst many others. In particular, Gertrude is remembered for her exceptionally generous donation to the La Crosse Children's Museum, to which she donated a staggering $1 million during its onset.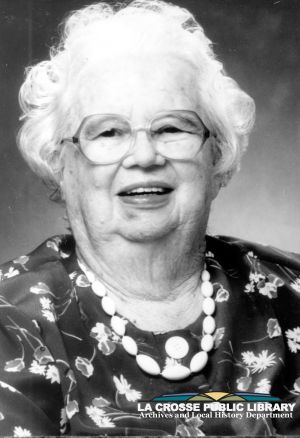 As reiterated in numerous La Crosse Tribune articles, Gertrude Salzer Gordon was a woman who was loved and appreciated by the community for the way she led her life and gave back to those around her. Born with the opportunity to live a quiet and easy life, Gertrude chose instead to make a lasting impact on the La Crosse community. Gertrude Salzer Gordon passed away in August of 1998 leaving behind a 92-year legacy of devoted philanthropic work. While today La Crosse citizens may not be able to recognize Gordon by name, the numerous organizations she funded and supported are sure to be recognized and will live on into the next century.
To learn more about the Salzer or Gordon Families, Salzer Seed Co., or Gertrude and her philanthropic lifestyle, a collection containing photos, correspondence, finances, and newspaper articles is kept at the La Crosse Public Library Archives. The finding aid for this collection, Gertrude Salzer Gordon Family Papers, 1900-1999, can also be viewed on the Archives' website.