Marsh Masque
(written by David Kranz, Archives Staff)

People of La Crosse have long celebrated our area's natural beauty. Some have been moved to celebrate it in art – in paintings, photos, videos, songs, dances, poems, and even plays. Evidence of this: nearly one century ago, on a June evening in 1915, a crowd of 1,000 people attended an outdoor pageant at Myrick Park titled "The Masque of Marsh and River."
A thousand people bought tickets to sit on the slope by the La Crosse River Marsh and watch this dramatic performance with music, dance, and song, the newspaper reported. The cast and accompanying orchestra numbered more than 200 people, among them many schoolchildren enjoying roles as frogs, crickets, and bats. Original music was created by Prof. David Coate.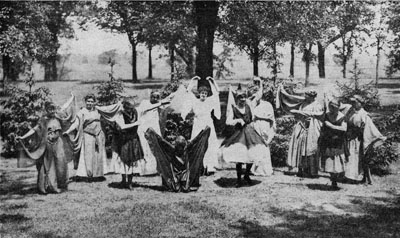 The story of the play centered on four humans, one with a plan to fill in some of the marsh for a factory and rail spur. The mortals are frozen in time and allegorical figures including Father Grandad – a reference to the nearby bluff and also Time – as well as the Spirit of June, the Hour of Midnight, and many dancing and vocalizing creatures of natural and fairy worlds contribute to a message of preservation.
You can view the text of the masque online thanks to the UW-La Crosse Murphy Library Special Collections: "The Masque of Marsh and River"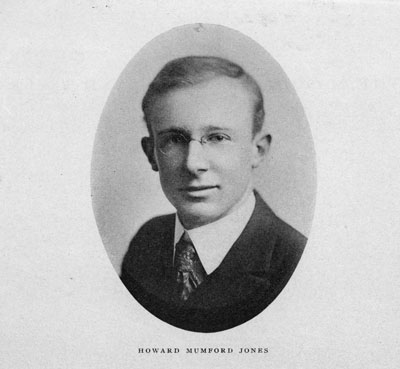 The masque featured the author of the poetic production, Howard Mumford Jones, in the role of Father Grandad. Jones was born in Milwaukee and his family moved to La Crosse in 1901 when he was small. He grew up on the 1600 block of Ferry Street. After high school, he attended the La Crosse Normal School, and he enjoyed academic life so much that he went on to become a professor of literature at various universities, including Harvard.
Jones was in favor of preserving natural beauty, and of Grandad Bluff as a symbol, as you can see in a 1915 poem he wrote about Grandad Bluff (available online here). For several years, Grandad Bluff had been quarried for stone. It and nearby Hixon Forest had only recently, in 1909, been purchased with the intent of making them city park land.
In addition to plays and poems, Jones also wrote essays, and he provided commentary for a 1976 edition of Moby-Dick, or, The Whale. We have a couple of his works in the La Crosse Public Library Archives.
More about Jones, and several other artists and entertainers with La Crosse ties, can be found in a paper in the LPL Archives put together in 2013 by UW-La Crosse Professor Emeritus Richard Boudreau. Among the more than 30 artist and entertainer biographies compiled by Dr. Boudreau are Doc Powell, Sandor Landau, Kati Casida, Joseph Losey, Nicholas Ray, Sr. Thea Bowman, Elmer Petersen, and John Solie. This paper, titled "National Attention – Local Connection: La Crosse's Contributions to the Arts and Entertainment in America," can also be accessed online here.