The Penultimate Voyage
(written by Bill Petersen, Archives Staff)
On May 7, 1915 the British passenger liner Lusitania was torpedoed and sunk by the German submarine U-20 off the coast of Ireland.  A total of 1,198 people died in the attack, 128 of them Americans.  The tragedy helped bring the United States into World War I against the Germans and their allies.
During the previous month a La Crosse couple, John and Jesse Tulloch, sailed on the Lusitania from Liverpool to New York on what was to be the last successful voyage for the ill-fated ship.  Mrs. Tulloch told a reporter from the Tribune that the passengers were very fearful and nervous about a possible attack by German submarines.  However, a member of the crew told her that the Lusitania was too fast to be caught by a submarine and an officer explained to Mrs. Tulloch how the ship had outrun German U-boats on previous voyages.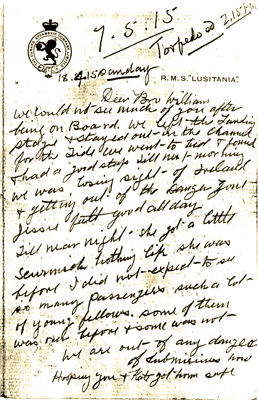 Despite the crew's confidence, when the Lusitania left Liverpool, the crew lowered the lifeboats over the side a few feet to ensure they would be ready in case of a torpedo attack.  Mrs. Tulloch reported that once the ship cleared the Irish coast and was out of range of the submarines, the lifeboats were hoisted back into place.  Unbeknownst to the Tullochs and the rest of the crew and passengers on board, this would be the last time the Lusitania would reach America.
Accompanying this post is an image of a letter written by John Tulloch to his brother William while John was on the Lusitania.  Note the references to the submarine danger. This letter can be found in the Tulloch Family Papers, 1915-1927 collection at the La Crosse Public Library Archives.