The Perfect Storm: Armistice Day 1940
(written by Carla Swerman, Archives staff)
History does repeat itself!  It is equally true that Mother Nature can be fickle.  Amidst glorious days of sunshine and warmth, she produces rain, cold, and other less-than-desirable weather.  Fortunately, these "bad weather" days usually come and go, yet some live on in infamy.  Such is the case with the Nov. 11, 1940, Armistice Day storm, often referred to as "The Day the Duck Hunters Died."  Records indicate that 50 to 85 Midwestern hunters were among the 150 to 160 who lost their lives in that "perfect storm."

La Crosse Tribune 13 November 1940; the '27' figure is an initial count that ended up being low
Back then, duck hunting was a popular sport.  In Minnesota alone, there were 120,000 duck hunters compared to 80,000 today.  And, a box of birdshot cost a mere $1.25.  Yet, these hunters were without today's conveniences: synthetic underwear, insulated waders, reliable and powerful outboard motors, and cell phones.  Without these accessories, staying warm and dry could be difficult, and it was impossible to seek emergency assistance or check the latest weather.
In fact, in those days, the Midwest – La Crosse included – received its weather from a U.S. Weather Bureau in Chicago, which was only staffed during daytime hours.  In the fall of 1940, the forecasts were filled with "Indian-Summer" weather conditions.  One detriment of those warm days was that there were few ducks flying overhead.
But, on Sunday, Nov. 10, the forecast for Monday finally looked "duck-hunter friendly" with clouds, colder temperatures, and even some snow flurries.  With Monday being Armistice Day, now known as Veterans Day, most people had a partial or full day off from work or school.  For duck hunters, this provided an ideal opportunity to be outdoors with a shotgun in hand. 
The morning weather did not disappoint!  At 6 AM, the sun was shining, and it was 48 degrees in La Crosse.  With temperatures expected to reach 60 degrees, those in the outdoors dressed for the balmy weather.  By 11 AM, the temps had climbed to 52 degrees.  A chorus of shotgun blasts could be heard amidst light rain as hoards of ducks flew overhead.  It was a hunter's heaven!
But, a "hell" was brewing.  A strong storm system in the Pacific Northwest had crossed through the Rocky Mountains and instead of weakening, as was usually the case, it joined a low pressure system and produced rain before meeting up with an arctic mass from Canada.  To seek shelter from the impending storm, waterfowl were flocking to the Mississippi River valley.
Duck hunters, like Dick Bice, 16, and La Vern Rieber, 18, of La Crosse, were unaware of this.  After attending a morning Armistice Day program at Logan High school, the two teens – along with Rieber's dog – headed to Lake Onalaska in Brice Prairie.  When they put their homemade skiff in the water between noon and 1 PM, the sun was shadowed by clouds, and temperatures started to drop.  Still, they paddled out to some small islands to ambush the ducks.
During the next two hours "All Hell Broke Loose."  According to La Crosse's meteorologist at the time, A. D. Sanial, winds were gusting at 30 MPH in the city, 40-45 MPH at the airport, and possibly 60 MPH on the open roads.  The light rain eventually turned to sleet and then blowing snow.   Of even greater concern was that the barometric pressure dropped as fast as a head-shot mallard to an all-time low of 28.72, a record that endured through 1982 and has only been surpassed three times in La Crosse (1982, 1998, and 2010).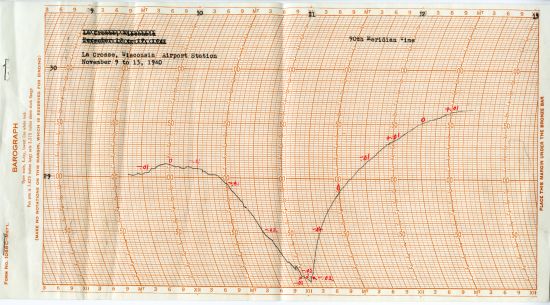 This graph shows the extreme drop in barometric pressure on Nov. 11, 1940.
Amidst this unexpected "turn of the weather," Rieber left Bice and paddled the skiff to retrieve a drake he had shot.  But, he was unable to paddle back due to an unexpected gale-like wind that carried him to another island.  Rieber shot his gun until it froze and called out "Dick" to no avail.  Both young men were now alone on separate islands.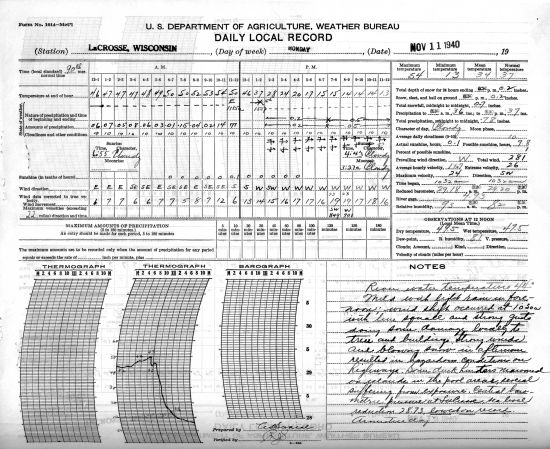 La Crosse's weather report shows the change in temperature, the snowfall, and strong winds on Armistice Day 1940.  Meteorologist A.D. Sanial even mentions that the barometric pressure was the lowest in history.
By 4 PM, the temperature had dropped to 28 degrees.  Fortunately, Rieber attained a source of warmth when another group of hunters stopped and gave him a canvas tarp since they were unable to rescue him.  Rieber wrapped the tarp around a bush and took shelter underneath it as well as the skiff.  He then commenced a ritual of standing and then sitting.  He knew that he needed to stay upright and awake.  The same was true of his hunting partner.  A quarter-mile away, Bice ran in circles with brief breaks during which he knelt and huddled with Rieber's dog.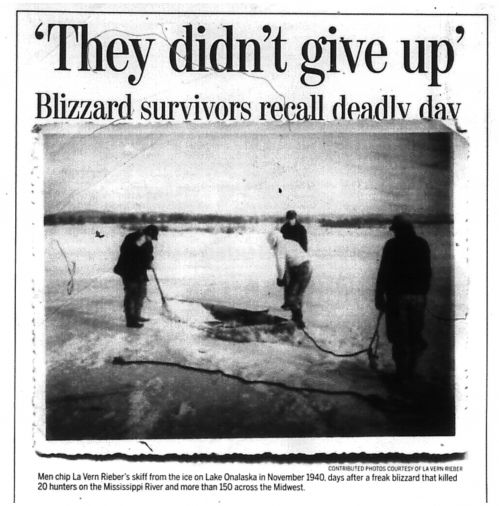 The front page article in the La Crosse Tribune on Armistice Day 2010 focused on Dick Bice and La Vern Rieber's duck hunting outing seventy years ago to the day.
In the meantime, as evening approached, there were no weather updates from Chicago since the weather office was closed.  Both boys' fathers, Raymond Bice and Joe Rieber, drove through the blizzard in hopes of rescuing their sons.  Knowing that the odds were against them, they still attempted to launch a 16-foot motorboat in 50-mph winds.  As expected, the waves tossed the boat back onto land. 
The two fathers then spent an anxious night inside the Bice vehicle.  Raymond Bice later commented, "I've wondered how moving water could freeze, but I saw waves four feet high congeal like Jello."
By dawn, with wind, snow, and six-degree temps, the two attempted another rescue on an ice-covered lake.  After breaking though the ice several times, the two men dragged the bottom out of the wooden boat.  Fortunately though, an active outdoorsman and teacher at Logan High School, Burton Smith, managed to rescue La Verne Rieber. 
Not willing to give up on his son, Raymond Bice, who later served as a Wisconsin state senator from 1953-1965, shot a padlock off a nearby skiff that had a metal bottom.  Nearly three hours later – at about 2 PM, he was reunited with his son who was still alive.  Both Dick Bice and La Vern Rieber were un-injured by the ordeal and both went on to live full lives.  (Bice, an industrial arts teacher, died in 2003, and Rieber, a chief electrician at La Crosse Footwear, died in 2011.)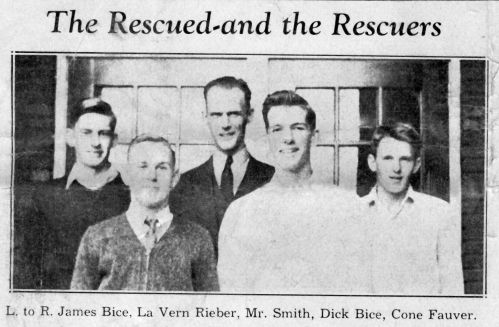 Logan Log 29 November 1940
Unfortunately, not everyone weathered the storm as well as these two young men.  At least 20 hunters along the Mississippi River alone failed to survive.  Within the general public, many died in crashes or froze to death in stalled cars.  Survivors were likely to have experienced the usual ill-effects of strong winds as well as downed power lines, delayed train travel, and livestock deaths.  An estimated 1.5 million Thanksgiving turkeys perished during the storm and were sold for $.25 each as "fresh frozen."
This financial benefit of "The Day the Duck Hunters Died" was of little compensation for the lives lost.  This tragic storm, however, did lead to some significant long-term improvements.  From here on out, La Crosse city and county officials agreed to blow train whistles and ring church bells to warn people of an impending serious storm.  Of even greater significance is that the National Weather Service began staffing offices 24-7 and added a Minneapolis office to assist with Midwest forecasts.  Now, if Mother Nature generated another "perfect storm" of this magnitude, the event would be less tragic.  While history can "rhyme," it doesn't need to repeat itself!
If you would like to view the actual weather records for Armistice Day 1940, read newspaper clippings about the event, or even delve into the book All Hell Broke Loose, visit the La Crosse Public Library Archives on the second floor of the Main Street library.