Happy Farmer Tractors
(written by David Kranz, Archives staff)
About 100 years ago, La Crosse was a major source of happy farmers – Happy Farmer tractors, that is.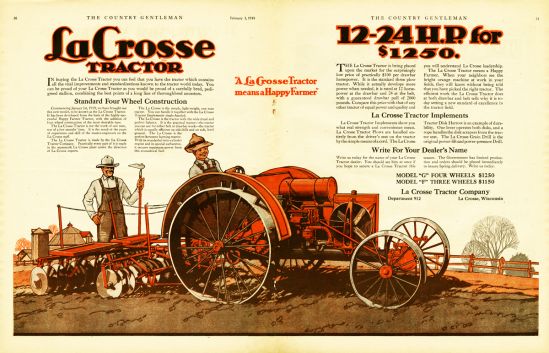 A series of three-wheeled and four-wheeled tractors were built by La Crosse Tractor Co., some under the brand Happy Farmer. This two-page advertisement from the Feb. 1, 1919, issue of The Country Gentleman shows the new La Crosse Tractor, which the ad text says was "made from the basis of the highly successful Happy Farmer Tractor." 
YouTube video of a restored Happy Farmer tractor out for a spin (2:18)
In 1911, H.J. Hirshheimer of the La Crosse Plow Co. and a group of La Crosse businessmen formed the Sta-Rite Engine Co., which manufactured engines in a building near the intersection of Front and King Streets, roughly where the Courtyard Marriott hotel stands in 2017.  Within a few years, one of Sta-Rite's customers was the Happy Farmer Tractor Co. of Minneapolis.  Its motorized farm tractors were gaining popularity at just as automobiles were replacing horses on our streets.
The two firms saw advantages to working together more closely.  In 1916 Hirshheimer and others from the Sta-Rite board, including L.F. Easton, F.P. Hixon and L.C. Colman, merged with the Happy Farmer Tractor Co. to create a new firm, the La Crosse Tractor Co.
The new firm held a sales convention in December 2016 – wining and dining prospective dealers – and garnered orders for 2,750 tractors for 1917 delivery.  Tractors were to be shipped to 17 states plus Manitoba, Canada.  B.F. Hamey, formerly of the Minneapolis-based Happy Farmer Tractor Co. but having secured a leading role with La Crosse Tractor, said the firm would be hard pressed to make 2,500 tractors in 1917.  In short order the La Crosse Tractor leased the former Summit Stove Works factory on the North Side for use as an assembly plant.
A Happy Farmer Tractor is loaded onto a train car in La Crosse in 1917. La Crosse Tractor Co. shipped tractors across the country and overseas. In 1917, 250 were sent to France. (Image provided courtesy of UW-La Crosse Murphy Library Special Collections and ARC. It also appears in the book "La Crosse in Light and Shadow," p. 40, edited by Edwin Hill and Douglas Connell.)
A year later, demand was so strong that the firm received an exemption from the Fuel Administration.  Because of an anticipated coal shortage in the winter of 1917-1918, unlike most other factories and businesses, La Crosse Tractor did not have to shut down production for several days to conserve coal.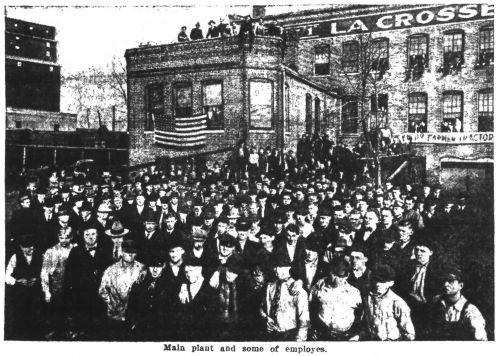 La Crosse Tractor Co. employees are seen outside the main plant in this photo from the La Crosse Tribune dated March 17, 1918.
With such heady success, there naturally was some drama.  In 1921, a group from Oshkosh sought to entice the tractor makers to that fair city.  Some people in La Crosse mounted an effort to try to out-fundraise the Oshkosh contingent and to keep the company local.  Their goal was to raise $750,000 through a subscription campaign. In the end, they did not even raise 10 percent of that.  Many La Crosse Tractor Co. employees were let go.  Company production was scaled back to supplying parts for the roughly 15,000 tractors reportedly sold over the last five years.  The summer and autumn of 1921 dragged on in this fashion.
As fate would have it, though, Oshkosh backed out in the winter of 1922, saying in a dispatch that "conditions have arisen which prevent further progress."  By this time, the state of the La Crosse Tractor Co. was unclear.  The situation worsened when the designer of the original three-wheeled Happy Farmer tractor sued, seeking back royalties and interest.  The courts found in the designer's favor, awarding more than $250,000.  Settlement was achieved through a U.S. Marshal's auction of shares of La Crosse Plow Co. stock from the front door of the La Crosse post office building on July 10, 1923.  More than 2,500 shares of common and preferred stock, each valued at $100, were sold to the only bidder to appear, an attorney from Minneapolis, at $1 a share.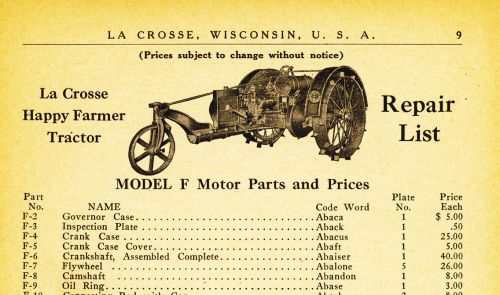 This is part of an interior page of the La Crosse Tractor Co. 1928 retail parts catalog, which can be seen in its entirity at the LPL Archives. To make it easier to order parts by telegraph, each part was given a code word. So, a farmer might telegraph an order for an Abacus and an Abalone, and the firm would know to ship a Crank Case and a Flywheel.
LPL catalog record for La Crosse Tractor parts catalog 
Despite this, the company itself survived, continuing to supply tractor parts.  It also went on to make oil burners and humidifiers at its plant at Wood and Clinton streets.
Much of the information seen here came from articles in the La Crosse Tribune, which can be seen at the La Crosse Public Library Archives and Local History Dept.  The LPL Archives also holds a parts catalog and a reproduction of one of the tractor catalogs, as well as other information about the La Crosse Tractor Co. and its people.  Perhaps further research could link the fallout of the La Crosse Tractor story to the end of the La Crosse Plow Co., which sold out to Allis-Chalmers a few years later in 1929 – certainly some of the people who worked at La Crosse Tractor later worked at Allis-Chalmers, and at Automotive Foundry, and in plenty of other places in town, all adding to the context of La Crosse's industrial activity of the early and middle 1900s.