St. Wenceslaus Parish School
(written by Scott Brouwer, Archives Staff)
The first Bohemian settlers arrived in La Crosse in the 1855, many of whom were Catholic.  At that time there was only one small frame church for all the Catholics of various nationalities, with preaching in English, French, and German.  Because there was no Bohemian priest and nobody speaking the Czech language, these Czech-speaking La Crosse pioneers wanted a parish of their own.  St. Wenceslaus Church was the third separate Catholic congregation in La Crosse and the original building was erected in 1873 on the SW corner of 10th and Winnebago.  A small school was built next to the original church building in 1898, but soon became inadequate.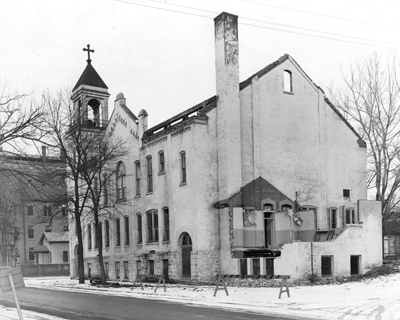 The second St. Wenceslaus School was built across 10th St. in 1901 at a cost of fourteen thousand dollars.  It consisted of an auditorium and a stage, four class rooms, club rooms and a bowling alley.  According to some sources, the new school was the first real Social Center in the city of La Crosse.  The existing St. Wenceslaus Catholic Church building was built in 1914 on the site of the original church building.  The school building was torn down in the late 1950s (shortly after the picture above), and the site is now home to the Mayo Health System clinic building.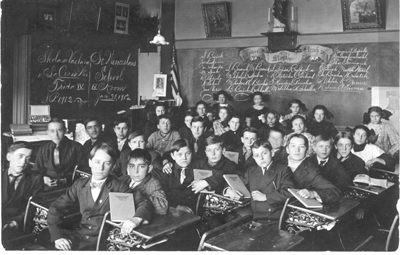 The third and final St. Wenceslaus School building was built at 816 10th St. S. in 1954 as a La Crosse Diocesan parochial school for the St. Wenceslaus parish (architectural drawing below).  Built attached to the St. Wenceslaus Catholic Church (now Viterbo University's San Damiano Chapel), the school closed in 1968 and was acquired by Viterbo College to be used as the new School of Nursing, which was dedicated in 1970.  It was known as the John Brophy Nursing Center until 2011, when the new Viterbo University School of Nursing building was built.  Since 2012, the building has a new incarnation as the Dahl School of Business of Viterbo University.  The St. Wenceslaus parish was disbanded in 1974 and the church community was combined with the St. Joseph and Holy Trinity parishes.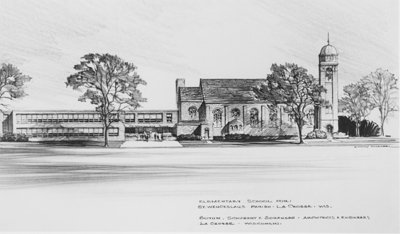 Learn more about the existing buildings originally associated with the St. Wenceslaus parish and the surrounding neighborhood including Viterbo University, St. Rose Convent, and the Mayo-Franciscan Healthcare complex on the Franciscan Neighborhood Footsteps tour on September 3, 2013, or on the Footsteps of La Crosse website.