Genealogy on the Internet classes 2018
(written by Anita Doering, Archives manager)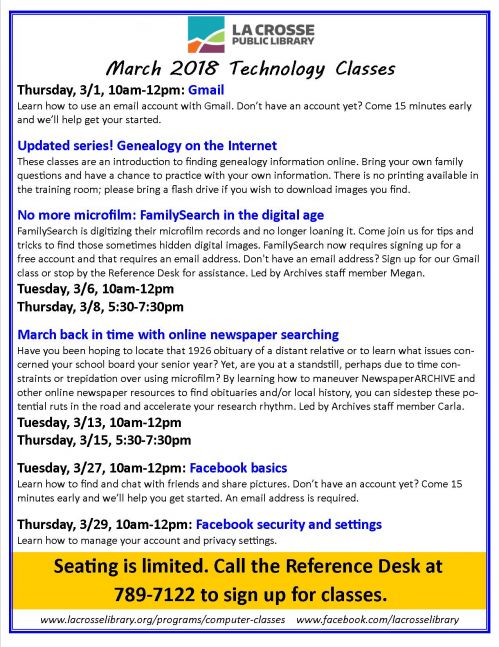 Join us for two new genealogy classes this month.  To register, call the Reference Desk at 608-789-7122 to reserve a space.  The classes are held in the computer training room in the Library's basement.

Megan from the Archives staff will lead "No More Microfilm: FamilySearch in the Digital Age" on March 6 from 10am-12pm and repeated Thursday, March 8 from 5:30-7:30pm.  FamilySearch has been busy digitizing their microfilmed holdings of original primary source material – a goldmine for genealogists!  Please set up for a free account with FamilySearch before coming to this class – all you need for that is an email address.  Don't have an email address?  Sign up for the free Gmail class or stop by the Reference Desk for assistance.

Archives staffer Carla will lead "March Back in Time with Online Newspaper Searching" to help you navigate using NewspaperARCHIVE and other online newspapers to find obituaries and/or local history.  This class will meet Tuesday, March 13 from 10am-12pm and again Thursday, March 15 from 5:30-7:30pm.