Neighbors Making History: Doris Deane
(written by Jeff Rand, Adult Services Librarian)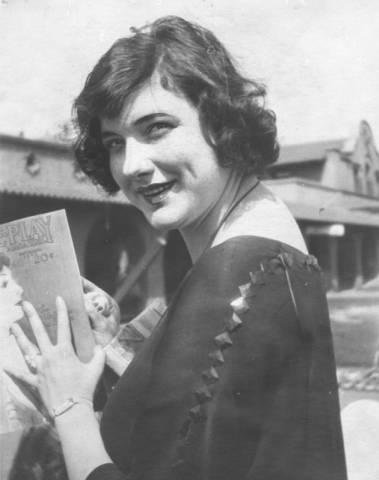 Doris Deane, 1929. Photo courtesy of Los Angeles Public Library
There seems to be a never-ending, insatiable appetite for details about people who are in the spotlight of film, stage, screen, and music.
In the 1920s and 1930s, a young woman born in La Crosse was regularly the object of national attention.
Doris Dibble was born in the first month of a new century, on January 20, 1900, in La Crosse County. Her parents, Carl and Martha Dibble, were natives of Minnesota, and Carl was a relatively old father of a first child at the age of 30. Carl Dibble was a saloon keeper at 322 Pearl Street, and he and his family lived above the saloon.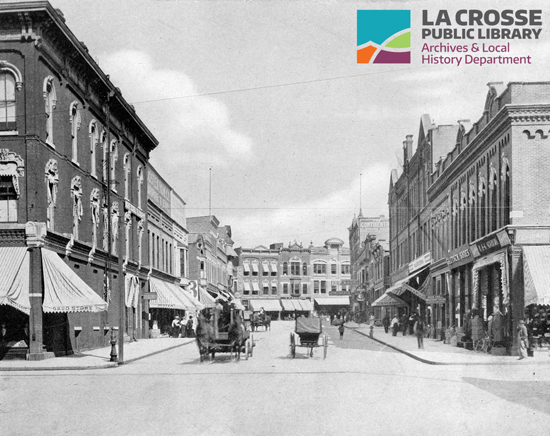 300 block of Pearl Street, looking east, 1904. Carl Dibble's saloon midway up the block on the right.
Sometime before 1910, the Dibble family moved to Dubuque, Iowa, where Charles operated another saloon on Main Street.
Doris attended an elementary school in Dubuque, and then the family moved to California. Young Doris Dibble had dreams of becoming an actress. Hoping to blunt this ambition, her parents sent her to the Orton Sisters' school in Pasadena, California. But Doris would not be deterred, and after graduation she went to New York City. For one year, she took dancing classes from the Morton Sisters, hoping she could break into movies as a dancer. Dibble did become a dancer in the "Ziegfeld Follies."
She made her film debut in 1919 at the age of 19, using the name Doris Deane, in a short comedy film entitled His Vampy Ways. The plot involved marital discord, and it would be an omen of things to come for the young actress.
Silent films were first produced in the 1890s and were the staple through the late 1920s until voices and music could be added to motion pictures. The bulk of Doris Deane's movie career was in the five-plus years before "talkies" hit the big screen.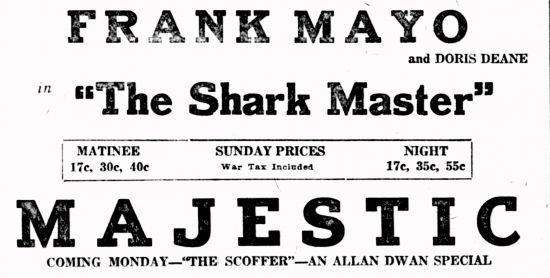 1921 La Crosse Tribune movie listing at the Majestic Theater, 514 Main Street
In 1920, Doris returned to Pasadena and lived with her parents while pursuing more acting roles. From 1921 to 1925, Doris Deane would appear in 13 silent films, as well as another one with sound in 1931. Early in her career, a California newspaper described her as an ambitious young woman "gifted with beauty, brains and real acting ability."
Although her film career was modest, her love life was juicy fodder for the Hollywood gossip columns.
In December 1922, newspapers were reporting that the "beautiful brunette" was dating world heavyweight boxing champion Jack Dempsey. It was even speculated that marriage was in the near future for the minor actress and one of the most famous athletes of the era.
That rumored wedding never occurred, but two years later the 24-year-old Deane was linked with 37-year-old star comedian Roscoe "Fatty" Arbuckle, who was in the process of divorcing his first wife, actress Minta Durfee.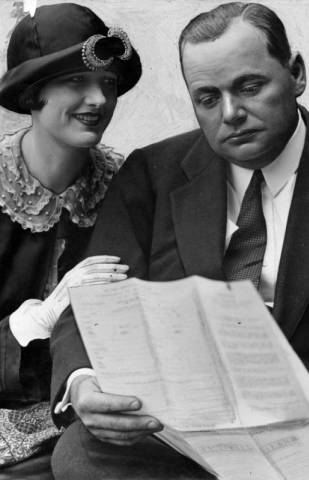 Doris Deane and Roscoe "Fatty" Arbuckle, 1929. Photo courtesy of Los Angeles Public Library
Arbuckle was notorious because of a 1921 party he hosted in San Francisco that resulted in the death of 25-year-old actress Virginia Rappe. Arbuckle was at the height of his career when he was jailed. The first two trials ended in hung juries, but the third trial, after new testimony from witnesses about Rappe's background, acquitted Arbuckle on April 12, 1922, after only five minutes of deliberation.  Despite being exonerated in court, Hollywood's hired censor, Will Hays, prohibited Arbuckle from appearing in films for eight months. With his reputation tainted and acting roles not forthcoming, Arbuckle's career was in shambles. He scraped by as a director under the assumed name of Will B. Good.
After a couple of delays caused by divorce legalities, all dutifully reported in newspapers, Roscoe Arbuckle and Doris Deane were finally married by a judge in her mother's home in San Marino, California, on May 16, 1925. Guests included a few of the biggest names in Hollywood at the time: "Mr. and Mrs. Joseph M. Schenck (Norma Talmadge); Mr. and Mrs. Buster Keaton; Mr. and Mrs. Lou Anger..."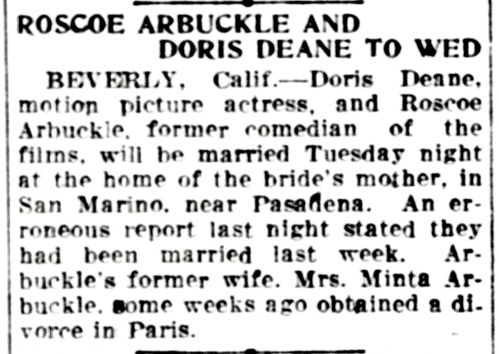 La Crosse Tribune 23 March 1925
The newlyweds had planned to take a honeymoon to New York, but that was canceled because of a convoluted blackmail scheme involving Arbuckle's own brother. Just before Roscoe Arbuckle and Doris Deane married, Arbuckle signed an agreement to pay $12,500 to Mrs. J. H. Murphy of San Francisco to prevent his name and character from being defamed in women's clubs around the country. Murphy then gave the money to Arthur Arbuckle. This was not the first time that Arthur Arbuckle had asked his famous sibling for money, but it was the first time it was done in such a shady manner. Roscoe Arbuckle claimed to be so happy about his marriage to Doris Deane that he refused to press charges in against his brother.
In what was called "a $100,000 wedding present," motion picture producer Roland West offered Arbuckle a contract to direct and produce ten comedy films. Arbuckle hoped this would revive his career and ease his strained financial situation. Adjusted for inflation, that would a $1.5 million deal today.
Doris Deane was a star married to an even bigger star. In the 1927 Pasadena Tournament of Roses Parade, she rode on top of a float with another motion picture star, Madge Bellamy, accompanied by cowboy movie star Hoot Gibson riding alongside on his horse.
Arbuckle and Deane developed a unique deterrent to divorce. Every year, they each deposited $5,600 into a joint bank account. If one of them were to ever initiate divorce proceedings, that partner would forfeit their share of the money.
Despite the financial incentive to remain a couple, Doris Deane filed for divorce in August 1928 after three years of marriage. She cited infidelity and "extreme cruelty." Deane claimed that Arbuckle hit her in the face after she tried to make him stop making out with another woman on the floor during a party. When they were going home, Arbuckle supposedly drove on the wrong side of the road at 60 miles per hour and "made insulting remarks to her." During her testimony in front of a judge, Deane claimed that the famous comedian was "always morose, sulky and quarrelsome" when at home and not in the spotlight. Deane requested $750 per week alimony.
In August 1931, with his divorce from Deane not yet final, the 44-year-old Arbuckle was heading toward his third attempt at marital bliss with a 24-year-old actress named Addie McPhail.
After a rumored engagement to her divorce attorney, 32-year-old Deane announced her upcoming nuptials to a 37-year-old divorced banker named Elmer S. Hartz of Beverly Hills in March 1932. Their wedding took place at the home of Ernest Westmore, chief of make-up for RKO studios.
Roscoe Arbuckle's marriage ended suddenly after just one year.  Following a party celebrating his first anniversary with McPhail, Arbuckle died in his sleep of a heart attack on June 29, 1933 at the age of 45. On her former husband's death, Doris Deane said, "I am terribly shocked, but I was not surprised, . . . I remember he often said to me that he would never live to be old. He simply thought his weight would cut off his life."
Deane's marriage also ended, but in a more conventional manner. Doris Deane Hartz filed for divorce in November 1934 claiming that Elmer Hartz had "deserted her a year after they were married" in 1932.
As a single woman with her film career on the wane, Doris Deane had to keep earning a living any way she could. Using her training as a dancer, she performed in floor shows that included orchestras, other dancers, and even comedians. By 1936, she was teaching ballet, acrobatic, and interpretive dancing at the Studio of Theatrical Arts in Hollywood. At the same time, Deane continued to act in small Hollywood stage productions.
Her last acting credit was in a 1950 episode of the television series Robert Montgomery Presents.
According to one source, Deane was living "in near poverty in a small apartment in Los Angeles" the last years of her life.
Deane was found dead of an apparent heart attack in her home on March 24, 1974. She was 73 years old. The coroner's office did not release her body to a Hollywood mortuary for over a month while attempts were made to contact relatives.
Doris (Dibble) Deane, the woman who spent the early years of her life in Midwestern taverns, pursued her dream of being a Hollywood star. Her stardom flickered briefly on the silver screen while her personal life fueled the gossip columns. It all eventually ended in an unmarked grave in the Hollywood Forever cemetery.
WANT TO LEARN MORE?
Check out Jeff's full article here