Unconditional Gifts of Time, Talents & Treasures
(written by Anita Taylor Doering, Archives Staff)
Heroes come in all shapes, sizes and colors, and often appear from unlikely places.
Since its beginning in 1980, the La Crosse Public Library Archives (LPLA) has relied on the generous donation of time, talents and treasures from the public and other cultural resource institutions to become the local history resource that it is today.
TIME
Volunteers help us with projects that we just don't have the staff time to maintain – obituary indexing and imaging, archival collection pre-processing, photograph scanning and processing…and the list goes on!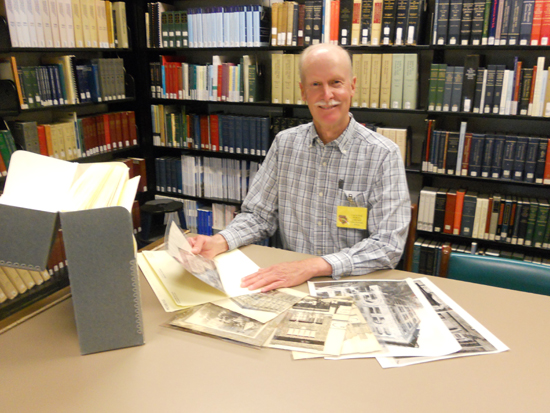 Volunteer and local historian Doug Connell helps with identifying and sorting La Crosse related photographs. While Doug is featured here, there are many more folks who contribute their valuable time.
In 2019, 14 volunteers to the La Crosse Public Library donated 687 hours of their time to projects related to the Archives Department. Wow!
Organized in 1973, the La Crosse Area Genealogy Society (LAGS) is also a big help to the Archives collections and projects. We often refer genealogy questions to them if folks need additional help with their research beyond what our staff can provide. Since the Archives lost paid positions in June as a result of the city's 2020 budget reduction, remaining staff will focus more on local genealogy and no longer be able to help with questions related to Germany, Norway or other foreign countries.
The data from LAGS formed the beginning of the LPLA's popular local genealogy database.  Last year there were 123,212 searches of this unique local resource.  One popular annual activity is the cemetery clean-up day which has been held at Oak Grove Cemetery in La Crosse since 2008.  Volunteers offer to clean stones, check previous gravestone transcriptions and take digital photos to upload to the free website Find-A-Grave.com on behalf of LAGS.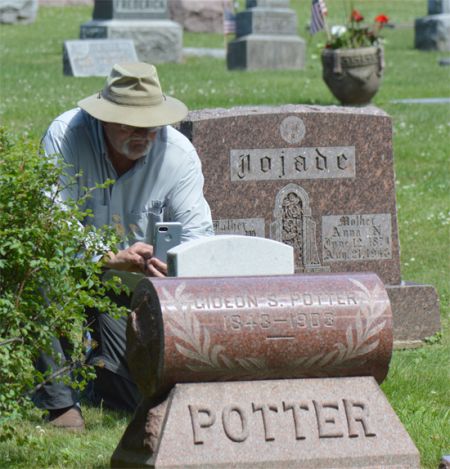 A volunteer from the La Crosse Area Genealogy Society helps to photograph headstones in Oak Grove Cemetery, 2019
While we cannot accept new volunteers at this time due to the COVID-19 pandemic, Heather Miller is the Library's volunteer coordinator and would be happy to talk to you when it becomes safe again to open library services up more as the community recovers.
TALENTS
People with special skills also contribute to the success of the Archives in a number of ways. Some local historians have contributed their talents by assisting us with tough local history questions, written blog posts or led presentations related to some element of La Crosse history. Dr. Les Crocker, retired art history professor and architectural historian will share a few more blogs yet this year about different aspects of La Crosse vernacular architecture design and building.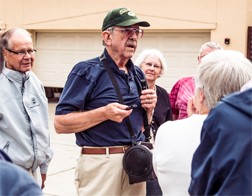 Retired Art History Professor and Architectural Historian Dr. Les Crocker leading a Footsteps tour of the 10th and Cass Neighborhood for the library, 2017.
Other volunteers document life in La Crosse through photography for future generations.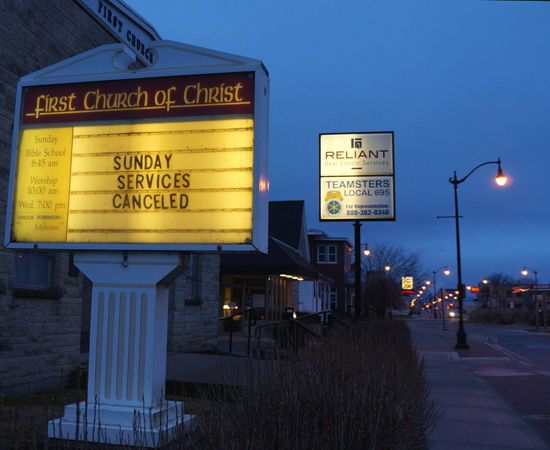 A photograph taken by local author and photographer David J. Marcou in March 2020 documenting one of many results of the Safer-at-Home order due to the COVID-19 pandemic – worship services canceled at First Church of Christ on Cass Street, La Crosse.
Teachers and faculty encourage their students to use our facilities and bring their classes to the Archives to introduce them to primary sources used in historical research as evidence.  This year the Archives staff will create some online tutorials for students, directing them to local online digital resources they may find useful.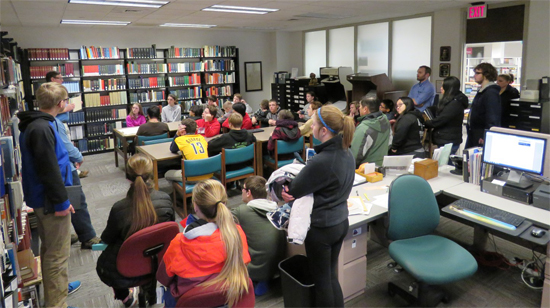 Here the Library and Archives were hosting a customized tour for middle school students from Longfellow Middle as they began their National history Day projects in La Crosse, 2017, before the days of social distancing.
Colleagues in allied institutions and fields are called upon when necessary for their thoughts, comments or expertise.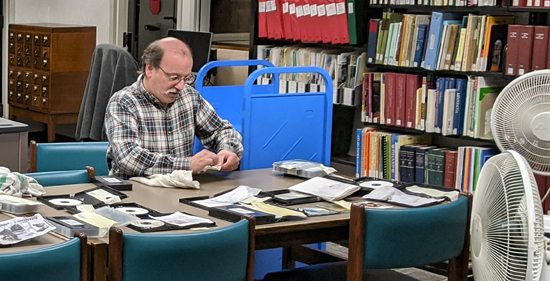 Retired UWL Librarian William Doering using his specialized skills to help recover wet audio-visual material from the Archives closed stack storage, April 2020. In total 142 items were damaged and fully recovered in the roof leak due to a fast response time and immediate action.
TREASURES
Treasures include financial contributions to the LPLA mission, such as outright cash donations, but also corporate sponsorships for things like the Dark La Crosse Show and the La Crosse Buildings Through Time: A Companion Guide to Buildings Through Time Presentations architectural history book.  Authors of local history books will often gift the library with copies of their work.
The La Crosse County Historical Society (LCHS) in 2005 bestowed upon LPLA their wonderful and rich collection of photographic and archival materials. That same year an effort was made to coordinate the moving around of city and county tax records from the La Crosse County Treasurer's Office, UW-L Special Collections Department and LCHS to LPLA (city records) and the UW-L Special Collections (county records).
Other treasures you may not think about include donations of photographs, maps, atlases and unique archival material like family scrapbooks, papers and documents. Some people are good leads to materials as families downsize and go into senior living arrangements. We sure don't want La Crosse history to wind up in the dumpster!  Sue Semb who's business is called A Sale by Sue has been a great conduit to family photographs and history as well as La Crosse history that would have been lost otherwise. Even if the family doesn't want to part with the material, she is often successful in letting LPLA borrow and scan the items before returning them to their owners.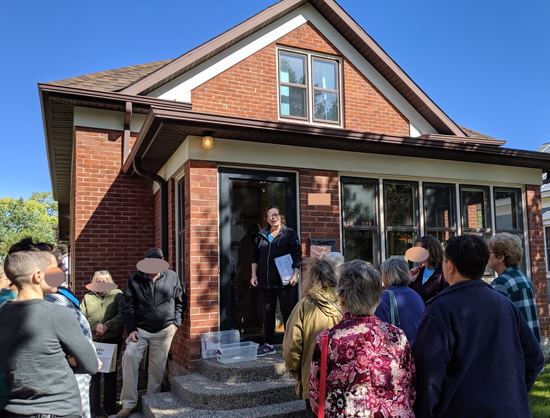 Sue Semb, owner of A Sale by Sue estate sales, is shown standing outside a house ready to let in customers, October 2019.
One of the coolest and most valuable items we ever received was from the City Engineering Department. In amongst their materials they found an 1874 plat map of La Crosse County. It is the oldest known plat map graphically showing land owners in rural areas and is a wonderful tool for genealogists and local history researchers.  For instance, you can graphically see how different ethnic groups from Europe settled in the county.  The Dutch names in the town of Holland; Bohemian names in the towns of Washington and Greenfield, and the like.
BE AN ADVOCATE
How can you help LPLA especially during these "uncertain times" when volunteering is not possible? You can be an advocate and a scout for the LPLA and look for nuggets of La Crosse history when you're out at a garage or estate sale or in an antique store, or searching online auctions.  You can let family and friends in the area know that they shouldn't throw family papers and photographs in the trash; instead they should find a local library or historical society that would welcome the materials back to their area of origin if not La Crosse.