The Legacy of St. Francis Hospital
(written by Meghan Hoefling, Archives staff)
Last week, we dove into the trials of opening and operating St. Francis Hospital in the late 19th and early 20th centuries.  World wars, epidemics, and the ever-evolving field of medicine presented ceaseless challenges for St. Francis Hospital.  Nonetheless, as the world changed around them, the Franciscan Sisters of Perpetual Adoration remained dedicated to their mission "to teach, care for orphans, and minister to the sick."  Throughout the 20th century, they would partner with like-minded physicians before ultimately joining one of the world's most renowned medical systems.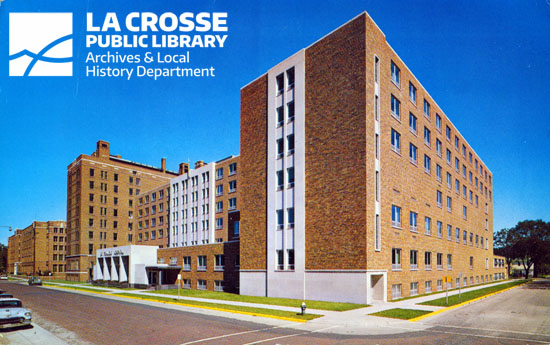 St. Francis Hospital, circa 1960s
As St. Francis Hospital grew, young and aspiring doctors were attracted to its high standard of care. One such doctor was Dr. Archibald Skemp.  Archibald "Archie" Skemp began working at St. Francis Hospital in 1917, shortly after finishing medical school.  Archie was often described as gentle and relentlessly dedicated to his craft.  He was known to sleep with a phone at his bedside, just in case a patient needed him.  Irene Sil, a nurse at Archie's clinic, said of him, "He was that kind of person, always willing to help somebody or do something to improve the medical care of the people."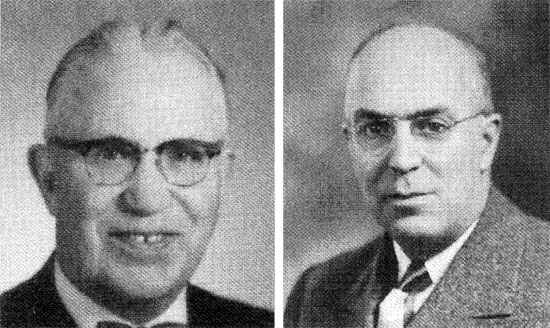 Dr. George Skemp (left) and Dr. Archie Skemp
In 1927, Archie's brother, George Skemp joined him in La Crosse.  The two brothers opened a practice alongside dentist George J. McGill in 1930.  They called it Skemp Clinic, and set up shop at 312 State St.  The brothers and their associates accepted patients regardless of their wealth, and often, their doorstep was populated by buckets of vegetables delivered in payment for service.  No patient was turned away.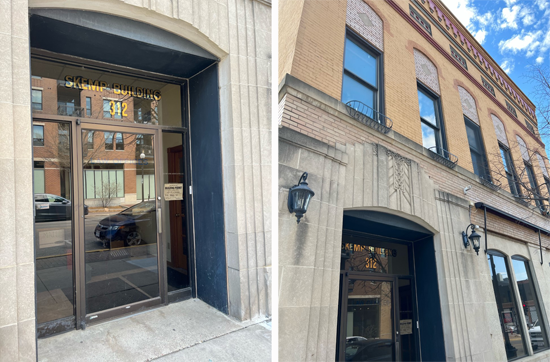 The original Skemp Clinic building at 312 State St. Photos (2023) by author
The medical clinic concept was a product of burgeoning medical knowledge in the early 20th century.  The field of medicine was evolving, and physicians found it necessary to specialize their skills.  As the Skemp Clinic grew, they would often invite physicians who had specialties that were not yet represented at the clinic, resulting in a more robust and effective method of care.
While the Skemp brothers were early adopters of the clinic concept, they certainly weren't the first to implement it.  In 1889, Dr. William Mayo and his sons opened the Mayo Clinic in Rochester, Minnesota.  Their clinic was the first of its kind in the nation, with multiple doctors practicing in a single location.  By 1914, the Mayo Clinic was treating 30,000 patients a year, and Rochester had become an impressive hospital center.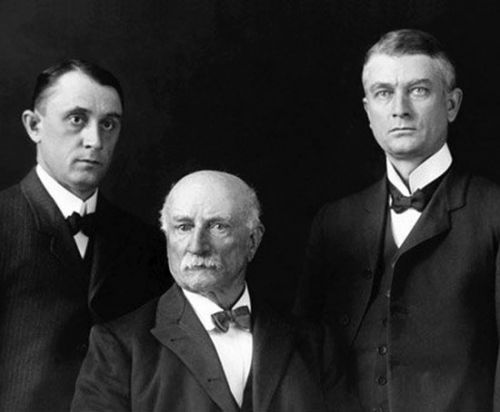 Dr. William Mayo and Sons, from Mayo Clinic Website
By the 1930s, La Crosse had similarly established itself as a notable center for medicine.  St. Francis Hospital had been joined by La Crosse Hospital (1900), La Crosse Lutheran Hospital (1902), and Grandview Hospital (1914), as well as several clinics.  It's easy to imagine that there may have been 'too many cooks in the kitchen,' or perhaps, too many doctors in the operating room...  As expensive new medical technology evolved and doctors became more specialized in their practices, hospitals began to struggle to recruit healthcare workers.  This resulted in a series of mergers.
St. Francis Hospital attempted its first merger in May of 1940 with Grandview Hospital.  Grandview's founder and superintendent, as well as chair of the La Crosse board of health, Dr. William A. Henke, stated that the merger would serve two purposes.  First, it would provide the Franciscan Sisters a space for housing their nursing students, as supervised housing was required by the bureau of nursing education.  Second, Dr. Henke had tired of his management duties and was looking forward to spending his time studying medicine.  Additionally, the merger would reduce costs by eliminating duplicate departments (re: 'too many cooks').  Henke also emphasized that no staff would be lost in the merger.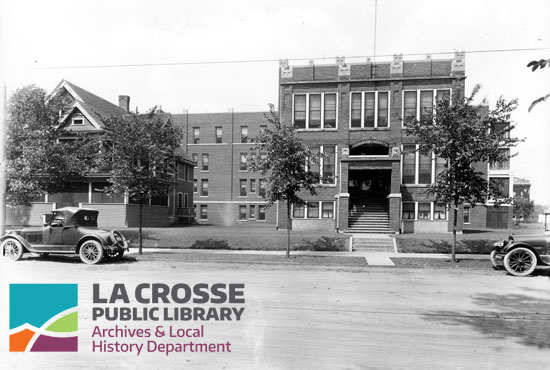 Grandview Hospital, circa 1920s
Unfortunately, Dr. Henke would never be able to fully devote himself to studying medicine.  Just two days after the merger announcement, Henke was found dead of a heart attack in his room at Grandview Hospital.  He was to sign the papers to merge with St. Francis Hospital the next day.  Fear not, for the Franciscan Sisters effectively merged the hospitals with some strategic bureaucratic moves.  Less than a week later, the Sisters had majority membership in the Grandview Corporation, and St. Francis' first merger was complete.
Grandview Hospital continued to operate under the Grandview name for nearly 30 years, until ceasing operations in 1969.  The closure was the result of merger number two in our story.  Despite the Franciscan Sisters' interventions, Grandview Hospital remained quite small, with just a 63-bed capacity.  The hospital's small size, in conjunction with increasing competition, prompted a merger between Grandview and Skemp Clinic.  In 1970, the deed to the Grandview building was transferred to the Wisconsin State University-La Crosse Foundation.  The building still stands, and now houses the Family & Children's Center.  For more information on Grandview Hospital, see Anita Taylor Doering's history here.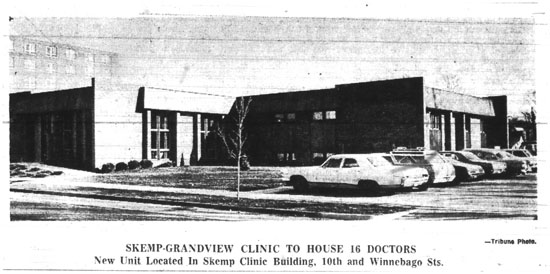 La Crosse Tribune 17 July 1969
A year prior, Skemp Clinic had relocated to a new building, adjacent to St. Francis Hospital.  The clinic had room for 16 practicing doctors, and after its merger with Grandview Hospital, Skemp-Grandview Clinics began to expand to Holmen, West Salem, Onalaska, Tomah, and La Crescent with the goal of providing more widespread access to medical care.
Skemp-Grandview would go on to merge with the La Crosse Clinic in 1977, forming the Skemp-Grandview-La Crosse Clinic.  Ten years later, Skemp-Grandview-La Crosse Clinic formed a partnership with the St. Francis Medical Center.  Thus, in 1987, Franciscan-Skemp Inc. was born.  With Skemp and St. Francis finally united under one name, the stage was set for the biggest merger yet.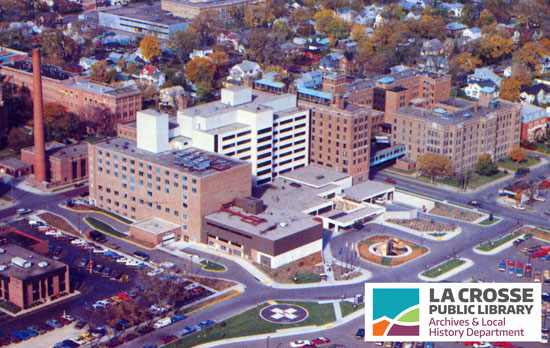 An aerial view of St. Francis Medical Center, circa 1980s
As health care costs began to rise in the 1990s, talks of medical center mergers became more and more frequent.  In 1994, Gundersen Clinic and Lutheran Hospital had hopes of merging with the St. Francis Medical Center and Skemp Clinic.  While the two institutions cited cost savings as a factor in the merger proposal, they also hoped that their religious backgrounds would appeal to the FSPA-led health system.  Jack Schwem, then president of Lutheran Health Systems, stated, "We worked hard to put together a new health system built on both of our religious heritages."  However, amid fears of creating a hospital monopoly in La Crosse, Franciscan-Skemp Inc. instead announced plans to merge with the Mayo Clinic in November of 1994.  Donald Smith, Senior VP of Lutheran Hospital, said of the plan, "If there is a loser in this transaction, it isn't Lutheran and it isn't Gundersen, it could be the community."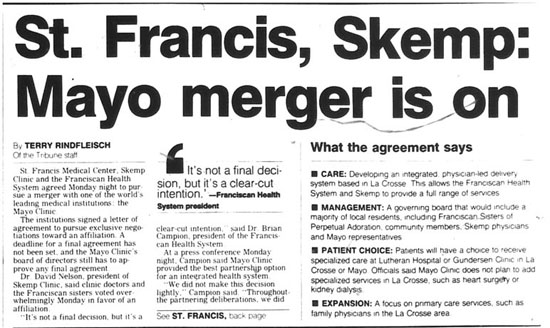 La Crosse Tribune 29 November 1994 - click image for full article
Despite the concerns of other local hospital officials, the Franciscan Sisters were determined to maintain their dedication to their faith and the La Crosse community.  With the formation of Mayo Clinic Health System - Franciscan Healthcare, the Mayo Clinic granted the Sisters veto power while hiring a CEO and agreed to comply with the Catholic directives that prohibited abortion and euthanasia in hospitals.  Sister Helen Elsbernd, VP of the Franciscan Sisters, ensured the public that, "No one can remove Catholic presence without our approval."  Additionally, members of the La Crosse community constituted the majority of the new institution's board of directors.  The new system also emphasized patient choice, giving patients the option to choose Lutheran Hospital or Gundersen locally, rather than Mayo in Rochester, for specialty care.
In 2018, the Franciscan Sisters of Perpetual Adoration released their sponsorship of Mayo Clinic Health System - Franciscan Healthcare.  Despite this change, the name of the organization remains tied to the Sisters, perhaps as a nod of thanks to the Sisters who had remained dedicated to the medical care of La Crosse citizens since the late 19th century.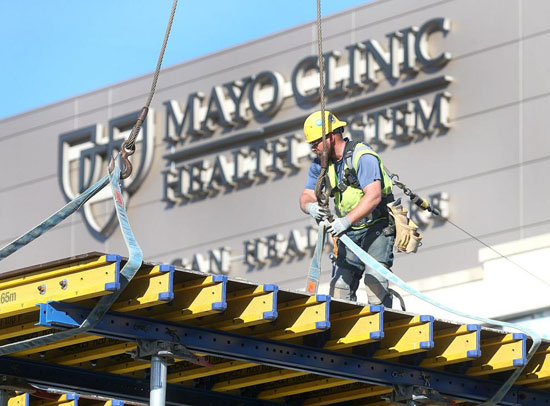 Construction of the Mayo Clinic Health System's new hospital in La Crosse. Photo by Peter Thomson, La Crosse Tribune
In April of 2022, Mayo Clinic Health System – Franciscan Healthcare broke ground on a new hospital building on West Avenue, with the blessings of FSPA and the president of the Ho-Chunk Nation.  By 2024, the medical center will span close to four city blocks and will have an increased capacity to serve the La Crosse community.  As we approach the 140th anniversary of the original St. Francis hospital, try to remember that it all started with a small group of Franciscan Sisters and an unyielding devotion to community service.