Neighbors Making History: Ford Sterling, "La Crosse's Movie Star"
 (written by Jeff Rand, retired Adult Services librarian)
In the years just before World War I, Ford Sterling, born George Franklin Stich in La Crosse, Wisconsin, was starting a 25-year career that would lead him to appearing in 286 movies.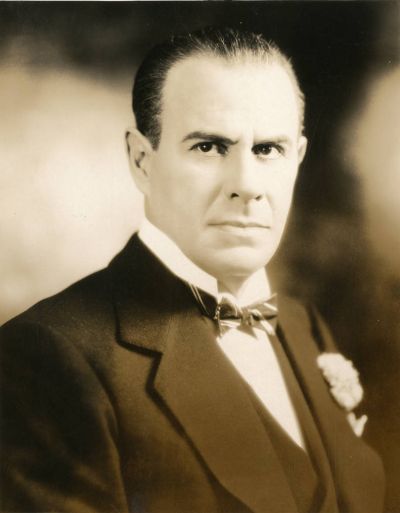 George F. Stich, a.k.a. Ford Sterling - photo Courtesy of University of Washington Libraries, Special Collections
The son of George F. Stich and Mary Lee (Kelley) Stich, Sterling was born in La Crosse on November 3, 1883, the same year his father came to La Crosse as the first manager for the nascent Wisconsin Telephone Company in this city.  The family lived at several locations during their time in La Crosse. They first resided at 119 S. 10th Street (house demolished and replaced with an apartment building), 314 N. 4th Street (now the location of the La Crosse County Human Services complex), and lastly 533 Main Street (now occupied by St. Joseph the Workman Cathedral).  The telephone exchange had several locations in the 1880s, all in the 100 block of Main Street.  This area is now occupied by the Radisson Hotel and 100 Harborview Plaza.
George F. Stich, Sterling's father, was very involved in local politics.  He served as an alderman and made unsuccessful runs for mayor and state assembly.  The family left La Crosse when Sterling was about seven years old (1890 or 1891) and went to Texas, where his father got into the cattle business for a short time.  They then moved to Chicago by 1892 where Sterling's father was the vice-president of the Western Telephone Construction Company. He was also active in Chicago politics.  During their residence in Chicago, Stich suffered a stroke that caused paralysis in his left side.  He came back to La Crosse during the summer of 1901 and remained until the fall of 1902.  He died on October 7, 1902, shortly after he returned to Chicago, at the age of 42.
Sterling (then still George Franklin Stich) had enrolled in Notre Dame College in South Bend, Indiana, when he was 14 years old in 1898. It was a private prep boarding school, and he remained there until withdrawing because of an unspecified illness in March 1901, when he was 18. He had performed in theatrical productions at Notre Dame.  James O'Neill, a Notre Dame alum, saw Sterling in one of those plays and suggested he pursue acting as a career.  It was at this time he adopted the stage name "Ford Sterling," and spent the next decade performing in repertory and stock theater companies, in a trapeze and high-wire act with a circus, as a circus clown, on a Mississippi River showboat, and on the vaudeville circuit.
Beyond his acting abilities, Sterling was a talented artist; he spent his 20s creating and drawing the "Sterling Kids" comic strip that ran in The Chicago American.  He also earned money as an illustrator for advertising companies, newspapers, and magazines as well as playing professional (minor league) baseball for five seasons.
Sterling's big break into motion pictures came in 1912, when, while looking for a comedian, Mack Sennett saw one of Sterling's vaudeville performances and recruited him for the Biograph comedy company in New York.  Sennett soon moved to Hollywood and formed his Keystone motion picture company with Sterling as one of his principal actors.  At first, Sennett did not even have a studio; he shot films in people's front yards and the streets of Hollywood.  Sennett would eventually produce 700 comedy films. 
By early 1913, 30-year-old Sterling was billed as "the principal comedian of the Keystone company."  He became the chief of the original Keystone Cops, a bumbling squad of policemen whose madcap foot pursuits and frenetic car chases always featured a multitude of mishaps in their frantic pursuit of the bad guys. Their narrow escapes from disaster often left a path of destruction in their wake.  He would go on to appear in more than 100 Sennett-produced comedies.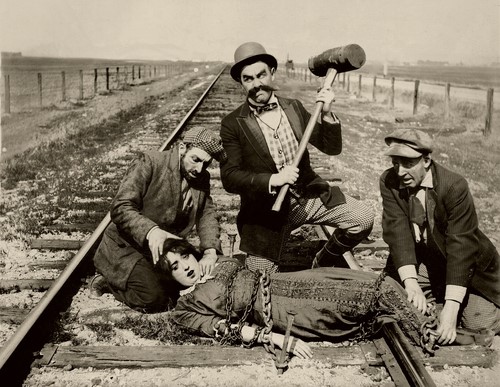 Ford Sterling wielding a sledgehammer in Barney Oldfield's Race for a Life, 1913 - photo courtesy of Wikimedia Commons
In those years, Ford Sterling was recognized as "the reigning monarch of film comedians."  Harold Lloyd called him "the funniest man on the screen," and Allan Dwan said Sterling was the "screen's best pantomimist."  The latter was essential because silent films relied on facial expressions and body movements to convey the story.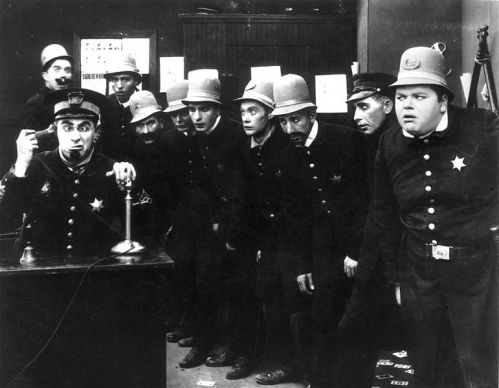 Keystone Cops, In the Clutches of the Gang, 1914. Ford Sterling is using the telephone; Roscoe "Fatty" Arbuckle on the far right - photo courtesy of Wikimedia Commons
When Sterling demanded more money, Mack Sennett set out to find a new leading man for his comedies.  He found Charlie Chaplin, who was making $50 a week, at a theater in Los Angeles.  When Chaplin went to work for Sennett in 1913, he did so for the relatively princely sum of $125 a week.  According to Sterling, it was he who supplied Chaplin with his oversize shoes; Fred Mace provided the baggy pants; and Charlie Avery gave Chaplin a coat. Chaplin's trademark cane was courtesy of the Mack Sennett wardrobe department.  Chaplin quickly surpassed Sterling as Keystone's primary comedic actor.  Chaplin brought a more restrained style to the screen that used subtlety rather than slapstick to tickle the funny bone.  One critic wrote in 1914 that "his acting is such a relief from Ford Sterling's old worn beaten tiresome stuff which got awfully monotonous towards the last."
Sterling formed his own short-lived comedy production group with the Universal Film Manufacturing Co. in early 1914 to write, direct, and act in his own films.  His partners in this venture were fellow actor Henry Lehrman and studio executive Fred Balshor. The Sterling Motion Pictures Corporation produced 32 films before it folded in January 1915.
About the same time that he formed his own production company, 30-year-old Ford Sterling married 18-year-old Nora Sampson in 1914, in San Diego, California. The petite actress, who used the stage name "Teddy Sampson," was a native of New York City.  Teddy Sampson was already a veteran of vaudeville, comic opera, and films by D. W. Griffith.  Their marriage was marked by accusations of abandonment by both parties, multiple separations, temporary reconciliations, and several divorce proceedings before a final reconciliation later in Sterling's life.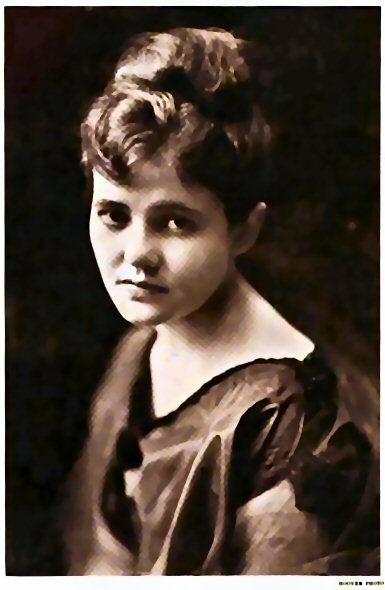 Nora "Teddy" Sampson - photo courtesy of Wikimedia Commons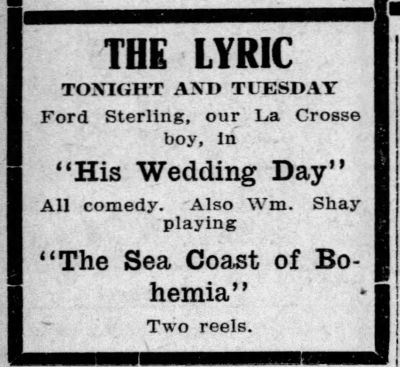 La Crosse Tribune, 1914 May 25, p. 4
Ford Sterling lived the life of a movie star on and off the screen.  He owned a villa on the French Riviera and was recognized as one of the best-dressed men in Hollywood.  He was said to be conversant in four languages and it was reported that he once studied to be a doctor.  As one of the best-known movie-star golfers, he seldom missed a chance to play in a golf tournament. He also made his mark as a photographer. Sterling's interest in photography was said to have been spurred by his medical studies and related work with chemicals. Sterling had taken up photography as a hobby when he started his career with Mack Sennett because he did not have time to continue painting. Sterling became an expert in the process of bromo-oil transfers when only a small number of people in the country were doing it. In June 1921, twenty-six of his photographs were exhibited at the Louvre in Paris. Sterling also won prizes in Art Institute photography competitions.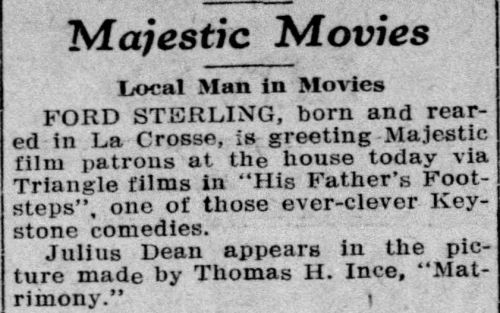 La Crosse Tribune, 1915 December 25, page 2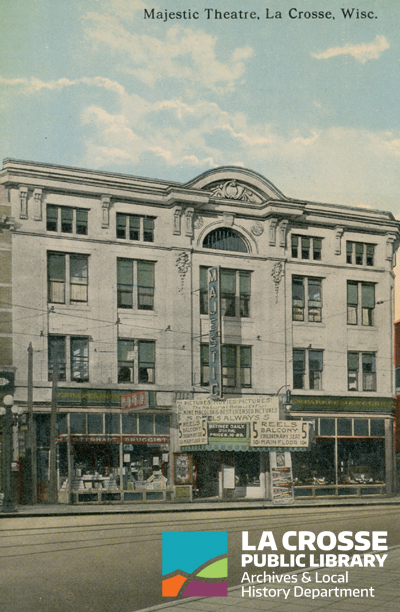 Majestic Theatre, 514 Main Street in La Crosse.  This building was later renamed the Wisconsin Theater and burned down in a 1952 fire.
Sterling once said, "A man can not (sic) retain his self-respect if he spends his entire life in clowning . . ." Starting In the mid-1920s, Sterling began to include dramas in his repertoire, although he often gave his dramatic characters a humorous twist.  Even then, he was described as the "ace of character comedians." One example was the 1927 Frank Capra film, For the Love of Mike. 
In October 1927, the Warner Brothers movie The Jazz Singer, starring Al Jolson, was the first motion picture with audio of the actors talking.  Sterling's first "talkie" was a film titled Fatal Forceps in 1929. His first all-sound film, The Fall of Eve, was released in June 1929.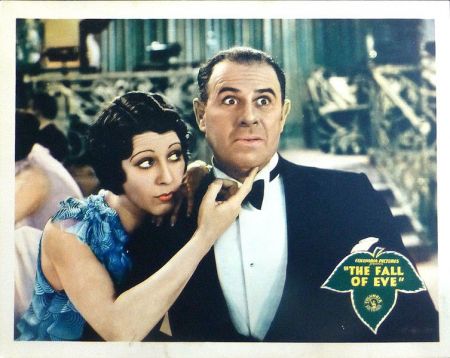 Ford Sterling in The Fall of Eve, 1929 - photo courtesy of Wikimedia Commons
Because of financial troubles, Sterling went back to acting after a brief retirement in 1934. He made eleven more films, including his last one, Many Unhappy Returns, released in 1937.
In June 1938, he entered Good Samaritan Hospital in Hollywood because of thrombosis in one of his legs.  The condition would keep him hospitalized for over a year until gangrene forced the amputation of his left leg above the knee in 1939.  Sterling died in the Good Samaritan Hospital during the night on October 13, 1939, at the age of 56 with his wife, Teddy Sampson, at his bedside. The primary cause of death was a heart attack.
At least 300 people, including many Hollywood luminaries, attended his funeral service in a Los Angeles mortuary. His body was then cremated and the ashes interred at the Hollywood Forever Cemetery in Los Angeles County, California.  Although they had reunited in life, Sterling and Teddy Sampson were separated after death. Sampson died at the age of 75 on November 24, 1970, in Woodland Hills, California. She was buried in the San Fernando Mission Cemetery in Mission Hills, California.
Over the course of a prolific career, Sterling worked with many of the biggest names in early Hollywood.  They were all among the generation of movie makers who were part of the first stage in the evolution from exclusively live entertainment to mass entertainment via screens.  Silent motion pictures were also the first form of entertainment systematically preserved, although many early films have been lost, so that they could be viewed by generations not yet born. 
Selected filmographies of Ford Sterling's work can be found on the Golden Silents website, Classic Movie Hub, the Internet Movie Database, the TV Guide website, the Movie fone website, and Wikipedia. Some of Sterling's films can be viewed on YouTube and the Internet Archive.
Ford Sterling declared that making people laugh is the toughest job in the world. In his time and in his way, Sterling succeeded in doing that job.  Today, silent films are a historical artifact of interest to a small percentage of people.  The only name from this era of Hollywood that is likely to spark a flicker of recognition for most people is Charlie Chaplin.  Slapstick comedy has given way to more sophisticated scripts and polished acting with greater emphasis on dialogue and special effects.
Although Ford Sterling is little known today, the term "Keystone Cops" lives on in our cultural lexicon as a synonym for bumbling incompetence.  Ford Sterling, on the other hand, was a renaissance man who lived a life of accomplishment.
WANT TO LEARN MORE?