Presidential Visits: Truman, Ford, Bush 41, Clinton, Bush 43, and Obama
(written by Scott Brouwer, Archives staff)
Exactly a week before the 2020 presidential election, President Donald Trump campaigned in West Salem at the La Crosse Fairgrounds Speedway.  Though not considered an official presidential visit to the city of La Crosse (Air Force One sitting at the airport doesn't count), La Crosse has had its fair share of U.S. Presidents visit since Grover Cleveland became the first sitting U.S. President to do so in 1887.  9 different presidents have made 11 official visits, with the most recent being President Barack Obama in 2015.  Please see previous blog posts for Grover Cleveland's visit in 1887, Theodore Roosevelt's visit in 1903, and William Howard Taft's visit in 1909.  
Harry S. Truman: 1949 & 1952
Unlike previous presidential visits in which weeks of preparation led to elaborately staged parades and speeches, President Harry S. Truman's visit to La Crosse on November 2, 1949 was informal and very brief.  President Truman's appearance here was one of just two stops on his trip from Washington to St. Paul where he took part in Minnesota's Truman Day celebration.  He spoke from the rear platform of the last car of his "Silver Streak" train at Grand Crossing on La Crosse's north side. 
Truman's October 27, 1952 visit was even briefer.  He made a 7am appearance on the rear platform of his train as it stopped at the Milwaukee Road station and waved to railroad employees and a few others who had gathered there.  That same day, he made 6 speeches from the train in the Minnesota cities of Winona, Red Wing, Hastings, St. Paul, Minneapolis, and Duluth before a major address in Hibbing at 8pm.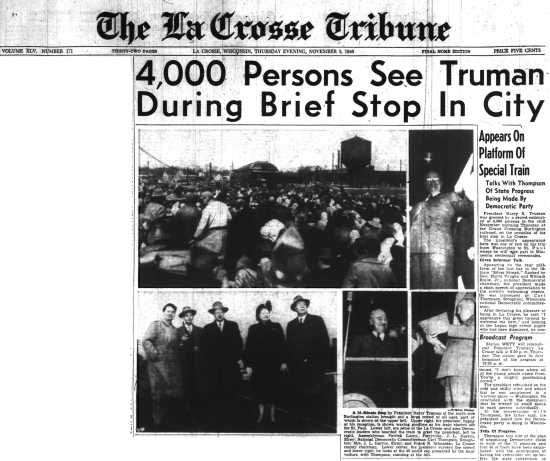 La Crosse Tribune 3 November 1949 (click for full article)
Further reading:
Gerald R. Ford: March 26, 1976
The previous four presidential visits to La Crosse were all by train.  President Ford's visit in 1976 was the first by plane.  Air Force One arrived at the La Crosse Municipal Airport about 7pm on Saturday, March 26, 1976.  After assuming the vice presidency in 1973 upon the resignation of Spiro Agnew and then the presidency in 1974 upon the resignation of Richard Nixon, President Ford was campaigning to be the Republican Party's nominee for President in 1976 ahead of the April 6 Wisconsin partisan primary.  He would go on to defeat Ronald Reagan for the Republican nomination only to lose the general election to Democrat Jimmy Carter.
President Ford gave a brief 10-minute prepared speech inside the Mary E. Sawyer Auditorium before taking questions from the crowd of roughly 4,000.  His speech and answers to questions focused on size of the federal government and the need to restrict its power: "A government big enough to give us everything we want is a government big enough to take from us everything we have."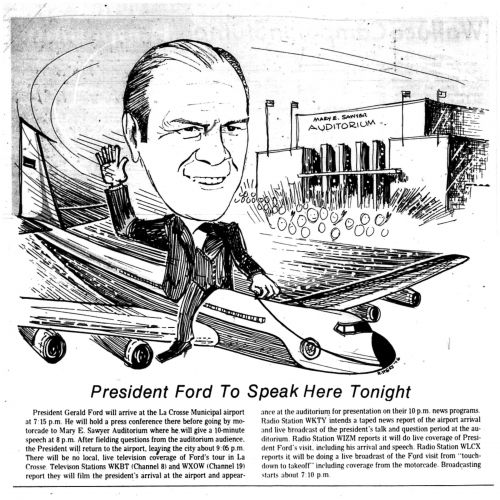 La Crosse Tribune 27 March 1976 (click for full article)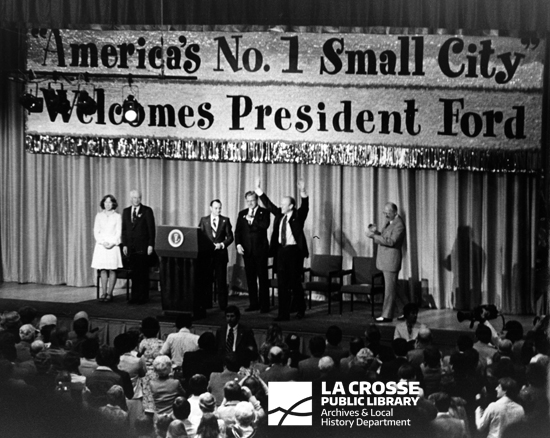 President Gerald R. Ford speaking in the Mary E. Sawyer Auditorium 27 March 1976. The banner behind the President refers to a 1975 designation of La Crosse as "the No. 1 small American city in a quality of life survey sponsored by the federal Environmental Protection Agency." 
Further reading:
George H. W. Bush: Oct. 31-Nov. 1, 1992
Probably the most unorthodox presidential visit to La Crosse happened in 1992 just days before the presidential election.  President George H. W. Bush ended a day of whistlestop train campaigning across Wisconsin in Chippewa Falls at about 9pm.  He then flew on the Marine One helicopter to the La Crosse Municipal Airport where he briefly greeted a crowd of supporters in a cold, steady rain.  He then took the presidential limousine to the Holiday Inn in downtown La Crosse.  
There were rumors that Bush would attend a Sunday morning service at St. Joseph Cathedral as police barricades blocked off the streets around it, but he instead appeared on the CNN TV program "Newsmaker Sunday" from La Crosse Republican headquarters at 5th and Jay before heading back to the airport.  He briefly addressed the gathered supporters before boarding Air Force One, which rounded out his whirlwind 12-hour stop in La Crosse.  Just 2 days later, he lost the election to Bill Clinton.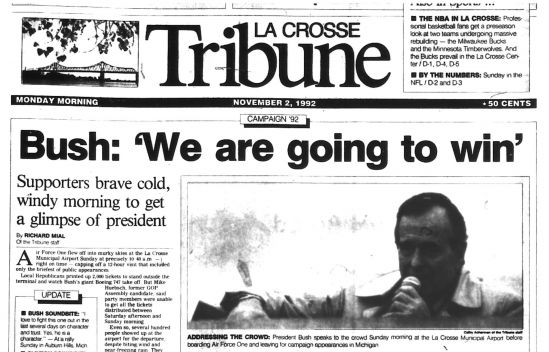 La Crosse Tribune 2 November 1992 (Click for full article)
Further reading:
Bill Clinton: Jan. 28, 1998
Bill Clinton made probably the most nationally consequential presidential visit to La Crosse on January 28, 1998 just one day after his annual State of the Union address.  Clinton had made a habit of reinforcing his State of the Union message at one or two Midwestern cities over the years, yet local Democratic officials were in the dark as to why La Crosse was chosen this particular year.  His address to an estimated 20,000 people from the La Crosse Center plaza on Pearl Street came in the midst of early allegations of wrongdoing and denials by Clinton in the developing Monica Lewinsky scandal.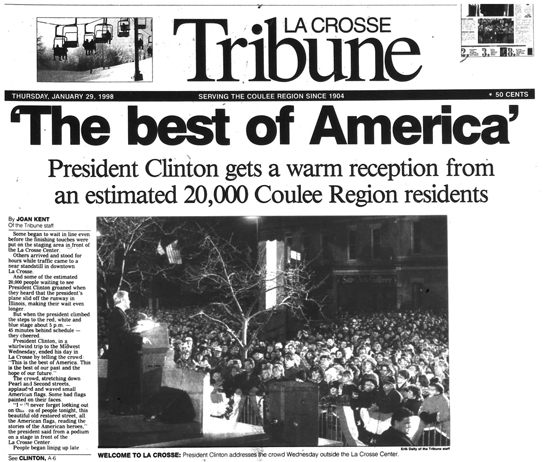 La Crosse Tribune 29 January 1998 (click for full article)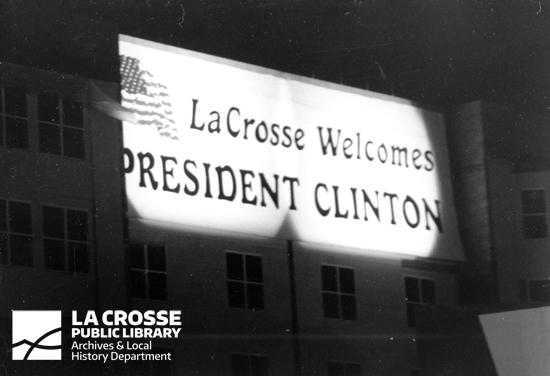 Further reading:
George W. Bush: 2002 & 2004
President George W. Bush visited La Crosse on May 8, 2002 as part of a national tour in support of his education initiatives including "No Child Left Behind".  Bush participated in an hour-long roundtable discussion with teachers, parents, and community leaders at Logan High School before speaking to the student body for 45 minutes in the fieldhouse.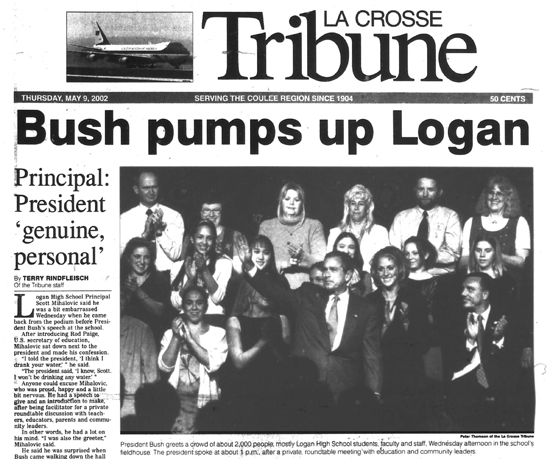 La Crosse Tribune 9 May 2002 (click for full article)
Further reading:
President Bush's second official presidential visit to La Crosse was a re-election campaign rally at the Copeland Park baseball stadium on May 7, 2004.  Accompanied by First Lady Laura Bush, President Bush spoke to an estimated crowd of 7,000 supporters, including hundreds of soldiers from Fort McCoy.  Several hundred protesters greeted the president's bus as it entered Copeland Park, likely the largest counter-rally any sitting president has seen upon visiting La Crosse.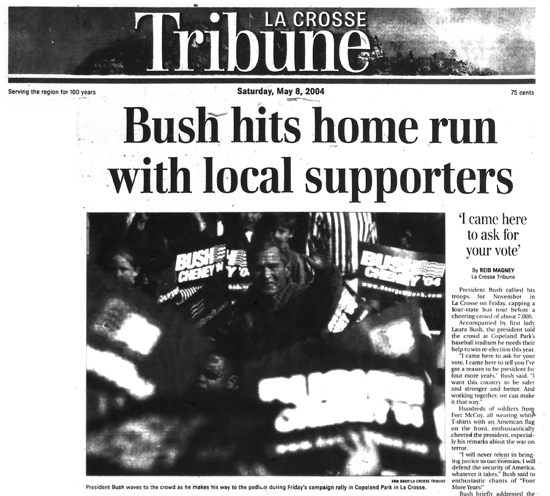 La Crosse Tribune 8 May 2004 (click for full article)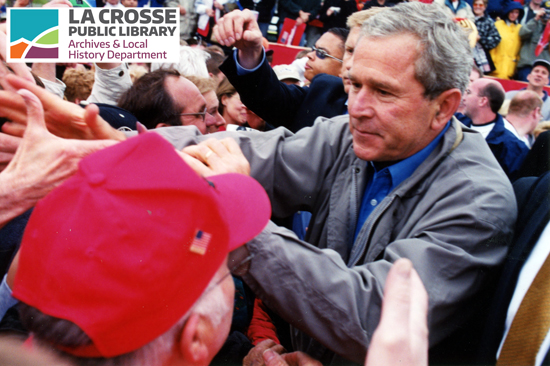 President George W. Bush at Copeland Park in La Crosse, 7 May 2004 (Photo by David J. Marcou)
Further reading:
Barack Obama: July 2, 2015
President Barack Obama visited La Crosse deep into his second term on July 2, 2015 in support of new overtime rules intended to boost middle-class earnings.  During his speech at the Recreational Eagle Center on the UW-La Crosse campus, he also criticized the policies of Governor Scott Walker and other state Republicans he believed were harming the state's workers.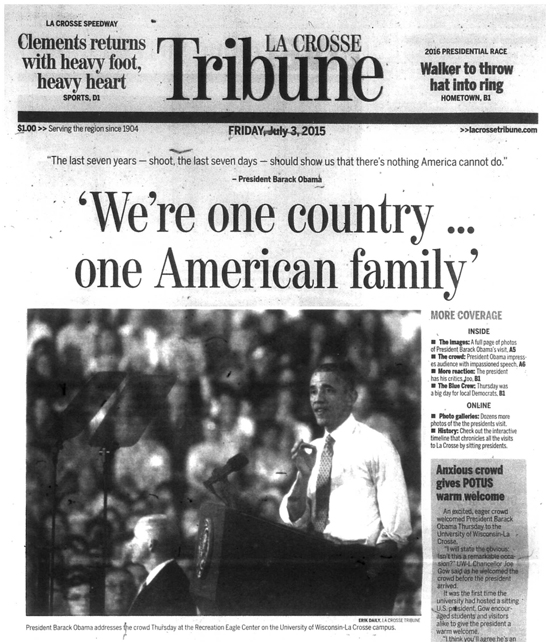 La Crosse Tribune 3 July 2015 (Click for full article)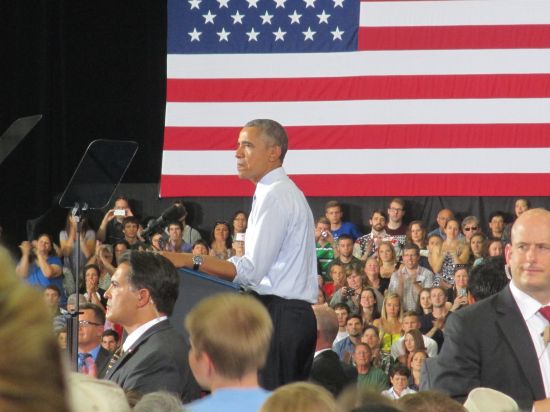 President Barack Obama at Recreational Eagle Center on UW-La Crosse campus, 2 July 2015 (contributed photo)
Further reading: