Dark La Crosse Tour Preview - MURDER!
(written by Scott Brouwer, Archives Staff)
Dare to join the La Crosse Public Library Archives for the debut of a new kind of walking tour, Dark La Crosse.  Focusing on downtown La Crosse's macabre past, your expert narrator will guide you down a dark path through the red light district, Prohibition, small town politics, and vigilante justice in a young and restless river town bordered by the sleepless Mississippi River.  Enjoy an excerpt from one of the several in-depth vignettes written by local writer and storyteller Michael Scott in collaboration with the staff of the La Crosse Public Library Archives.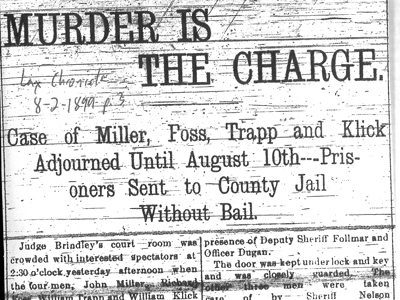 Young William Kehr and a companion were enjoying the maze of taverns that dotted the La Crosse waterfront. They had just left the notorious Blue Front Saloon which was located right here (on corner of Front St. and King St.). This place was full of villainous characters; rough and brawling River Men, gamblers, hustlers, pickpockets, prostitutes and politicians. It was owned by City Alderman Henry Lexius and it was here he would hold court with his constituents. It was believed that more city business was settled here than in City Hall itself.
It was a Sunday night. July 30th, 1899. William Kehr and his friend Teddy Galster were walking North on Front street. Three men approached, traveling South. They were complete strangers to one another but words were exchanged, the confrontation heated. John C. Miller, one of the gang of three, pulled a knife and stabbed William Kehr repeatedly. With 9 bleeding knife wounds William Kehr managed to walk 4 blocks before collapsing. Doctors and policemen were notified.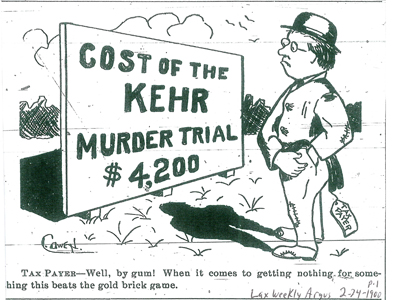 For the rest of the story and many others, join us on the Dark La Crosse Tour, Tuesday October 15 and Wednesday October 16, two tours nightly at 6:30pm & 8:00pm.
Tours are free of charge, but do require advance registration! Meeting location will be given to you once you register. To reserve a space, call 608-789-7136 or email archives@lacrosselibrary.org.  This program is recommended for those over 16 years of age.