La Crosse Pioneers: W. A. Roosevelt Family
(written by Anita Taylor Doering, Archives staff)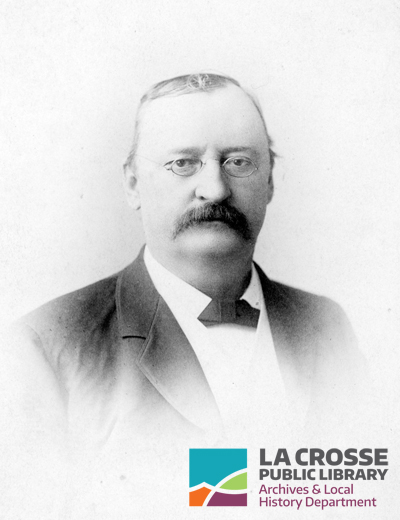 William A. Roosevelt was an early La Crosse steamboat engineer who established a plumbing business and warehouse, serving the needs of steamboat trade plying the waters of the Mississippi River
Biographical Information
Buried in Oak Grove is the William A. Roosevelt family.  William Albert Roosevelt, better known as W. A. Roosevelt, was born September 17, 1833, in Oakland County, Michigan, the son of Nelson D. and Sarah Roosevelt.  The family moved in 1837 to Detroit and again in 1840 to Sandusky, Ohio.  While living in Ohio, W. A. Roosevelt learned the machinists' trade.  In 1855, at the age of 21, he settled in La Crosse, Wisconsin, although some biographical sources say 1853.  His parents followed in 1856 and lived with their son until 1878.
Upon his arrival to the "Gateway City," Roosevelt began to successfully charter the steam ferry Honeye for the first part of the season.  Later, he purchased a third interest in the Delia, a steamer, running it as a packet between Dubuque and St. Paul on the Mississippi River.  Roosevelt sold this interest in the fall of 1857, and was until 1868-1869 employed as a steamboat engineer, thus earning the title "captain."  In late 1868, Roosevelt opened his establishment of steam-fitter and plumber, serving the steamboats that needed repairs while docked at La Crosse.  Roosevelt was a one-time mayor of La Crosse in 1884, and served as supervisor of the first ward at least once.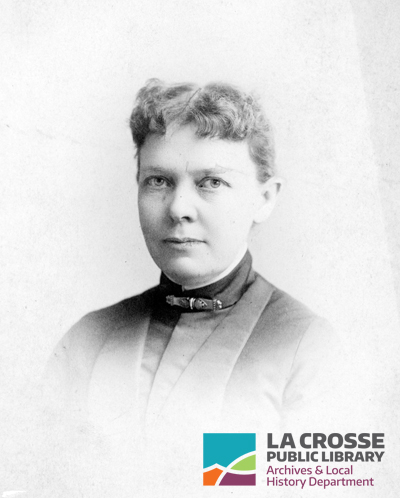 Alice Curtis became the second Mrs. William A. Roosevelt in 1870
In 1856, Roosevelt married Phoebe Ann Gillett. Together they had one daughter, Agnes, born June 17, 1857.  Phoebe died August 18, 1858. Roosevelt later married Alice M. Curtis in 1870, with whom he had no children.  He died in La Crosse on October 12, 1894.  W. A. Roosevelt's daughter, Agnes, married James McCord in 1879.  She died June 28, 1920, in La Crosse.  They had one surviving daughter, Agnes McCord, who married Thaddeus H. Brindley, the son of Judge and Assemblyman John Brindley in 1909.  She died in 1937.  Thaddeus and Agnes Brindley had one daughter, Elizabeth (married Frederick Reiman), and two sons Col. John Brindley, and James McCord Brindley.
History of the W. A. Roosevelt Company
According to the Industries of La Crosse (1888), the W. A. Roosevelt Company was, at that time, a wholesaler of "wrought iron pipe and fittings, brass goods and engine trimmings, pumps and mill supplies. [The company is a] contractor for steam and hot water heating apparatus."  Roosevelt incorporated his company in 1888 with a capital of $50,000, and he served as president and treasurer of the company until his death in 1894.  James McCord served as vice president and Andrew Rice as secretary, while C.A. Krebaum was chosen as superintendent.
Between the death of W. A. Roosevelt in 1894, and 1910 when Thaddeus Brindley took control of the company, four family members served as president: James McCord (W. A. Roosevelt's son-in-law), Alice Roosevelt (widow of W. A. Roosevelt), Agnes Roosevelt McCord (W. A. Roosevelt's daughter), and Agnes McCord Brindley (W. A. Roosevelt's granddaughter).  T. H. Brindley served as president from 1910-1950.  His son, James McCord Brindley, held the office from 1951-1988.  In 1888, Steven Reiman became president and Thomas Brindley vice president of the company.  James Brindley became chairman and Fred Reiman vice president of the board of directors in 1988.
In the early days, the Roosevelt Company catered to "plumbers, engine builders and millers, throughout Wisconsin, Iowa, Minnesota, and the Dakotas" (Industries, 1888).  At this time the company employed from ten to fifteen men, and had apparently one agent who served as the company's lone traveling salesman.  By 1900, as evidenced by the salesmen's ledgers, this number had increased to at least four, covering western Wisconsin, Minnesota, and northern Iowa.  In 1910 a branch office was opened in Mankato, Minnesota, under the direction of F. X. Flock, to better serve western Minnesota and the Dakotas.  However, it proved too difficult for the company to successfully manage a branch, so the office was closed in 1925.
T. H. Brindley is credited with the modernization of the W. A. Roosevelt Company.  Under his direction, an electrical department was started in 1916.  A radio department was added in 1922, selling tubes and other parts.  The refrigeration department, serving both home and commercial needs, was formed in 1938.
By 1968, according to an article in the Supply House Times, a trade magazine, Roosevelt employed 45 persons, divided evenly between the two major departments: plumbing and heating, and electrical (includes refrigeration).  The plumbing and heating office employed four territory salesmen as did the electrical department, while the refrigeration department counted one territory salesman.  In 1977, gross sales totaled more than $7 million.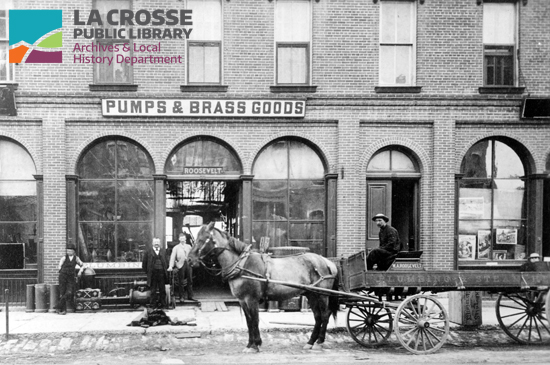 Thought to be taken at Roosevelt's original location at 116 S. Front Street
The original W. A. Roosevelt steam fitting shop was located in a one room basement at 116 South Front Street in La Crosse.  These quarters were quickly outgrown and one year later Roosevelt moved his business to 206 South Front Street, careful to never move too far from the steamboat levy.  A disastrous fire in 1906 forced the company to move into space at 118-120 Pearl Street.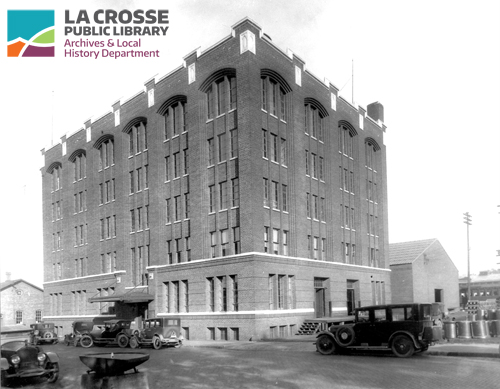 This building was constructed by the W. A. Roosevelt Company in 1918 at Front & Vine streets. Today it is the home of Trust Point.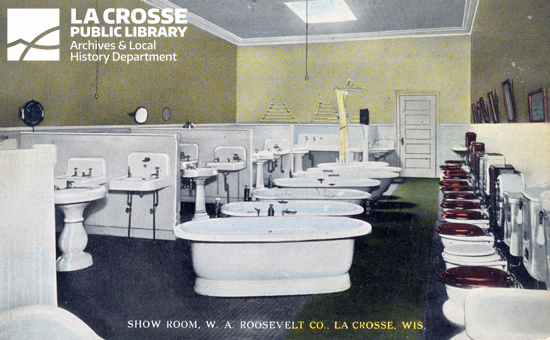 The bath show room at Roosevelt, circa 1910s-1920s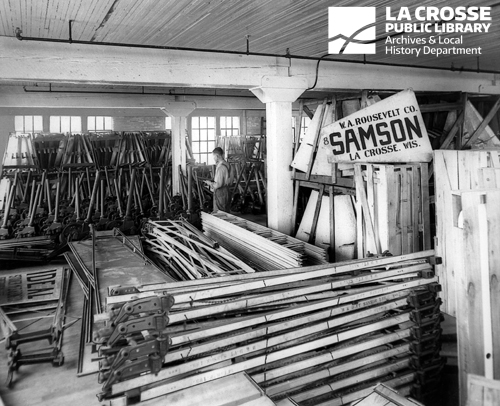 Warehouse scene in the Roosevelt Company, circa 1910s-1930s
For the company's fiftieth anniversary in 1918, Roosevelt had a new building constructed at 230 North Front Street.  In 1957, a new warehouse was added to house the refrigeration department.  There was no more construction at the Roosevelt Company until a new site was chosen at the Coulee Region Industrial Sites Park.  Under the leadership of James Brindley, Roosevelt moved out of downtown La Crosse in 1978 and built a large modern warehouse on Commerce Avenue.  This facility holds 1.3 million cubic feet and encompasses 70,000 square feet.
In 2010, Roosevelt had locations in Plover, Rice Lake, New Berlin and Madison.  The company continued to serve the plumbing, electrical and HVAC/R needs of Wisconsin, eastern Minnesota and northern Iowa, with 16 outside salesmen and 90+ support personnel.  In February 2012, the Dakota Supply Group acquired the W. A. Roosevelt Company, and it continues operations from the Commerce Avenue address.