Concrete Block Houses
(written by Dr. Les Crocker, retired art history professor and architectural historian)
Need any Concrete Blocks?
There is a long history of DIY (Do It Yourself) in the United States because of scarcity of some craftsmen and the lack of money to hire a professional. Add to that a new building material that was readily available and inexpensive and you have the basis for a building boom, or at least a "boomlet".
Such was the fad for home-made concrete blocks.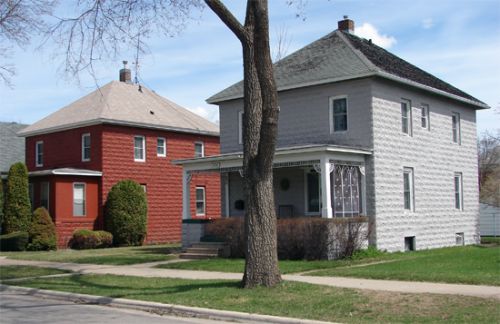 Author's photo of 1642 and 1636 Loomis Street on La Crosse's Northside, 2011
Concrete was first made by the Romans and they created huge interior spaces with no supports to clutter the space. The pantheon in Rome completed by 128 AD, had a concrete dome 142 feet in diameter and a thickness of 15 feet at the base and 4 feet at the oculus, the opening at the top of the dome that lights the interior.
As the Roman Empire declined, such huge buildings were not needed.  Even during the Renaissance, domes at Florence Cathedral and St. Peter's Basilica were constructed, the engineers and architects used a different system and materials from that of concrete.
Natural beds of cement were discovered in the United States in the 1850s. When combined with water, sand and rocks the cement became concrete. Early use of concrete was very tentative because its strength and durability were not known. Only after years of testing and usage did we understand how the combination of the three basic materials affected the final product. Today there are dozens of different types of concrete depending on a variety of factors and needs.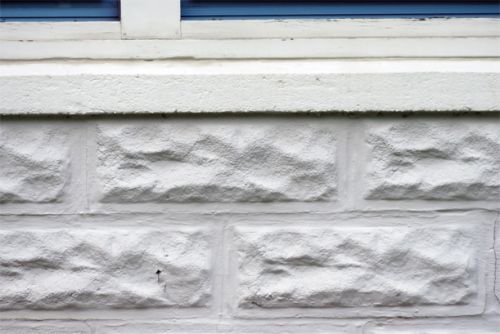 Close up of brick block of 432 South 20th Street taken by Anita Doering, 2016
By the late 1800s concrete was being made into brick-like shapes for use in foundations instead of stone. In this block form one person could handle it and it was cheaper than natural stone. Entire houses were built of concrete blocks and La Crosse has several examples that remain.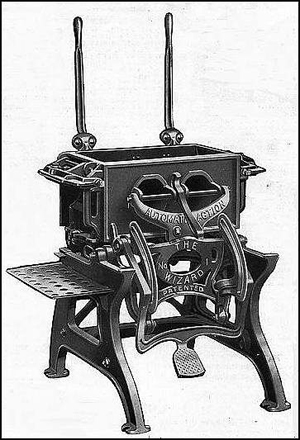 The Wizard concrete block machine, courtesy of Classic Rock Face Block
For the home DIYer Sears, Roebuck and Co. offered two different block making machines, one named the Triumph Wizard and the other the Knox Block Machine. They were advertised as a great way to satisfy your own need for blocks and those of your neighbors. Of course, there were photos of successful houses, barns, silos, churches and stores constructed of homemade blocks.
Both machines offered different face plates so one side of the block had a pattern. The Wizard machine could be ordered with 16 different face plates whereas the Knox machine produced basic designs imitating stone. Decorative plates producing rope moldings, curlicues and the Greek key shape were available. Columns, capitals, and bases required special forms in addition to the block making machines.
A page from a Sears & Roebuck Company catalog
While these machines could produce concrete blocks, they had problems. A dry mix of cement, small pebbles and sand with little water did not allow the cement to make a proper bond with the sand and pebbles. A wetter mix required much longer setting time and the block could not be removed from the machine until firm. Most home manufacturers used a dry mix that was quicker but often crumbled over time.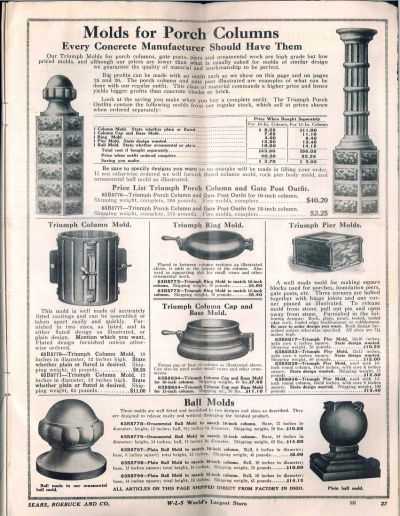 A page from a Sears & Roebuck Company catalog
The problems with these homemade blocks affected the reputation of concrete block in general and it was not until after the Second World War that they regained a positive reputation. This was one building material that was cheap to create for the DIYer but was expensive in the long run.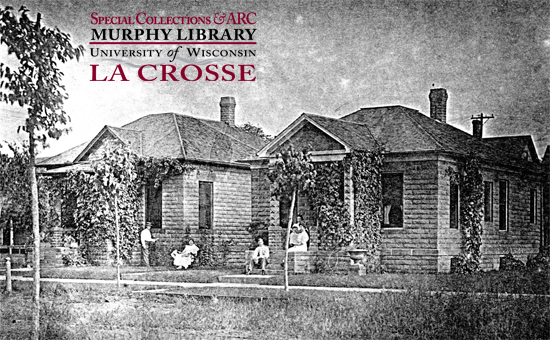 Historical photo of 1526 and 1524 Winnebago Street.  Photo courtesy of UW-La Crosse Murphy Library, Special Collections
In La Crosse twin houses at 1642 and 1636 Loomis Street show simple Four-Square style houses using one type of block face on the entire house. The twin houses at 1526 and 1524 Winnebago Street have both been altered somewhat but their original shapes are clear. The house at 1416 Gillette Street has scroll designs on the lower blocks but they are deteriorating significantly. It also has excellent concrete columns with composite capitals.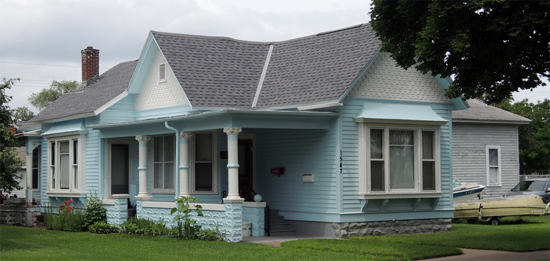 Author's photo of 1547 Kane Street on La Crosse's Northside, 2013
The house at 1547 Kane Street has banded columns with Ionic capitals and a decorative concrete ball.  The house at 323 South 4th Street in Onalaska has porch columns resting on a concrete pad with two different decorative block styles beneath that.
Enter the term "Sears Concrete Block machines" in your internet search engine and you can read the original catalogs.