Neighbors Making History: Simon Markle - The King of Corn
(written by Jeff Rand, retired Adult Services Librarian)
Corn fields are ubiquitous in the Wisconsin countryside.  During this season of corn pickers and combines making their steady progress through acre after acre of brown cornstalks plucking golden ears that feed livestock and people around the world, it is a good time to look back at Simon Markle, a farmer in the town of Shelby, who made news for his prize-winning corn in the early 1900s.  His efforts to educate farmers on scientific farming methods also contributed to the advancement of agriculture in La Crosse County.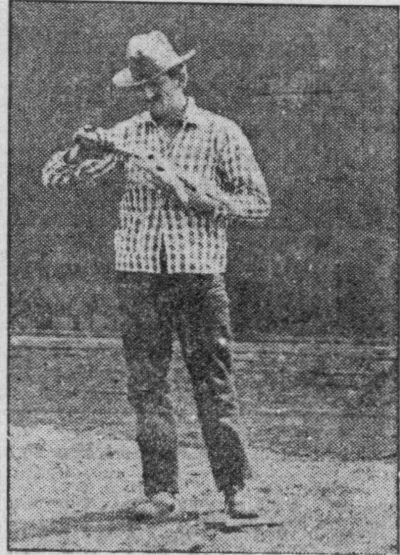 Simon Markle, 36 years old; La Crosse Tribune 28 July 1911 
Simon's father, Emanuel Markle, was a veteran of Company B of the 2nd Wisconsin Infantry Regiment in the famed "Iron Brigade" of the Civil War.  After the war, he married Caroline Hanich, and they had seven children, but only Simon Markle remained in La Crosse County.  Simon P. Markle was born on May 5, 1875, on his parents' farm in the town of Shelby.  He married Sophia Van Loon in 1924, at the parsonage of the West Avenue Methodist Church in La Crosse.  After a honeymoon trip to Montana and Washington, they returned to the Markle homestead in the town of Shelby.  They had five sons and two daughters together, none of whom remained in this area.
When his father Emanuel retired in 1905, Simon started farming for himself on their 360-acre farm, which was called one of the best farms in the county.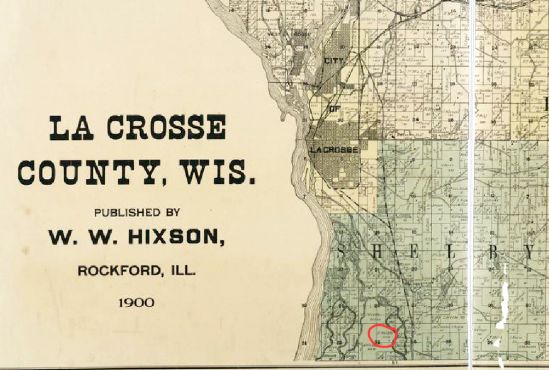 Location of the Markle farm in the town of Shelby; image courtesy of University of Wisconsin Libraries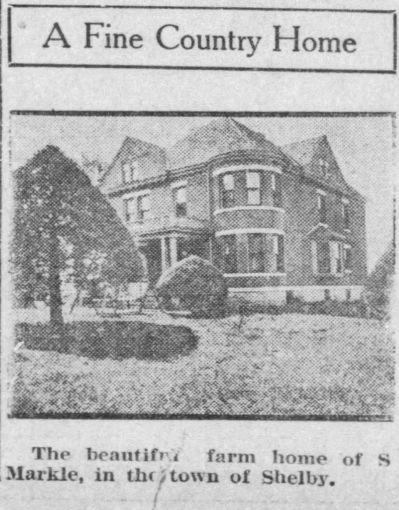 La Crosse Tribune 28 July 1911
Farmers in the early 1900s were starting to show an interest in scientific methods of farming to improve their livestock and crops.  Schools and farm organizations helped spread this knowledge in the agricultural community. I n 1907, Markle read a book on corn culture and continued his scientific study of corn growing at the La Crosse County School of Agriculture in Onalaska.  Markle's corn exhibits were consistent winners at local fairs, regional and national grain contests, and the Wisconsin State Fair.
What are the criteria for judging ears of corn?  According to the Manitowoc County University of Wisconsin-Extension, mature corn kernels are "bright and plump."  There should not be any insect, disease, or weather damage on the ears.  The kernels should be tightly attached and in straight and regular rows, like soldiers in formation standing at attention.  "The ears should have good tip and butt development."  No details are provided on what makes for good corn butts.  Collections of ears should look "as much alike as possible in size, shape, color, and kernel type. The butt, middle, and tip of the ear should all have about the same diameter."
Markle first exhibited corn at the National Corn Exposition in Omaha, Nebraska, in 1908. Going up against the best corn from the rest of the country, his single ear of Wisconsin No. 7 corn won a third premium.  His 10-ear dent corn exhibit earned seventh place.
Markle's corn prowess grew when his Wisconsin No. 7 white dent corn took first prize for single ear, first prize for 10-ear exhibit, and the grand championship prize on his 10-ear exhibit at the Northwestern Corn and Grains Show in South St. Paul in 1910.  His winning streak continued a few weeks later by winning the grand championship for his single ear exhibit, as well as his 50-ear exhibit, at the state corn show at the University of Wisconsin. His winning single ear sold for $15 (equivalent to almost $500 today) at the after-show auction. Markle bought it himself so that he could exhibit it at the national show in Ohio.  Unfortunately, the championship single ear was damaged by handling during that auction and won only a second prize at the National Corn Exposition for the northern zone in Columbus, Ohio. The judges hinted that Markle's single ear could have won first had it not been damaged.
The progress of corn culture in La Crosse County was demonstrated in November 1911 when three county farmers won prizes at the Northwestern Livestock and Grain Association Show in St. Paul.  Besides Markle winning a silver trophy for best Wisconsin No. 7 corn, John Van Loon (Markle's father-in-law) and Louis Lemke also won prizes for their corn.
By this time, Markle was teaching other farmers how to grow corn like that which he exhibited. He spoke at farm meetings and at the annual farmers' institute at the La Crosse County School of Agriculture.  In one of his presentations, Markle explained how to determine which corn rows had the highest ear yield and how to cross-breed two high-producing ears by detasseling lower-producing rows of corn to prevent self-pollination.  This method of selective breeding is still used by corn seed companies to produce better hybrids.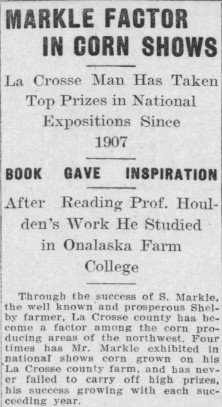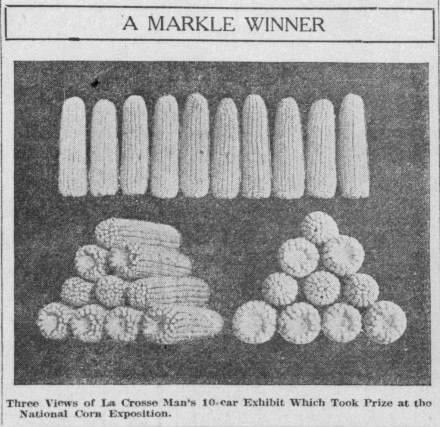 La Crosse Tribune 28 July 1911
At the 1914 national corn show in Dallas, Texas, Markle placed second with his single ear of Yellow Dent corn, while his ten ears of White Dent corn won first.  At the first National Corn Show in St. Paul in late 1915, Markle's corn won first prize.
In January 1921, at what was called the largest corn and grain show ever held in Wisconsin, with 900 exhibits, Simon Markle's exhibit of fifty ears of Silver King corn won the top prize for the sixth consecutive time.  A local newspaper editorial commended Markle for sharing his expertise and knowledge with other La Crosse County exhibitors, even though they were competing against him, in a team effort for La Crosse County at the state event.  Another article described Markle as . . . "famous all over the northwest for his Silver King corn, and winner of prizes innumerable."  Markle championed a cooperative spirit among farmers because he believed in sharing knowledge and helping others produced bigger and better crops for everyone.
At the 1923 State Corn and Grain Show in Madison, La Crosse County topped all other counties in total points for its winnings.  Markle was in the mix with a first place for Fifty Ears of Silver King corn.  Markle once said, "The entire state of Wisconsin is afraid of La Crosse county corn breeders."  La Crosse County came away from the 1925 state fair with more winnings than ever even though Markle's corn was no longer in the top tier.  The pupils were starting to surpass the teacher.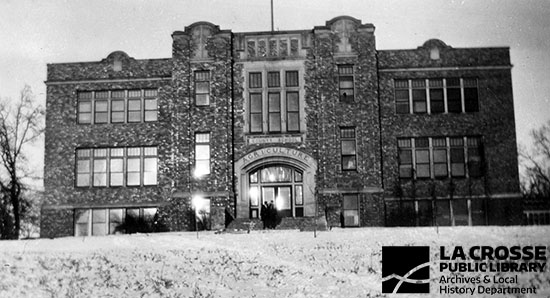 La Crosse County School of Agriculture and Domestic Economy (no date) that was in operation from 1909 to 1925.  Then the building was part of the Onalaska High School until it was razed in 1989.
Markle was in poor health as he entered his late 60s.  He suffered a heart attack on May 25, 1943, and died in a La Crosse hospital on May 31. He was 68 years old and is buried in Woodlawn Cemetery.
Simon "Pete" Markle was a successful farmer who gained national recognition with his corn exhibits, but he should be most remembered for sharing his knowledge and promoting progress.  He lived by a creed: When everyone does better, we all do better.
In La Crosse County alone, 32,200 acres of corn were planted in 2021, yielding 4,531,000 bushels of corn for grain.  That does not count corn that was chopped for corn silage.  The productivity and quality that La Crosse County farmers produce today can be traced back to pioneers of scientific and progressive agriculture such as Simon P. Markle.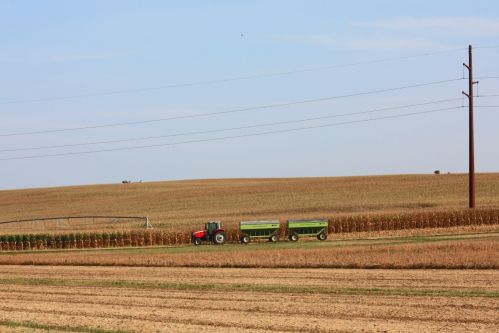 Corn harvest at the Dummer Family Farm, Holmen, Wisconsin; Photo by Jeff Rand, 2023
WANT TO LEARN MORE?
Check out Jeff's full article here