The North White Way
(written by Bill Petersen, former Archives Staff)
On September 3, 1915, thousands of people turned out on the North Side to "see the light" for the very first time. The "light" that they saw came from the very first electric street lights to be installed in that part of town. The project to install the lights had come to be known as the North White Way.
The lights were installed on a two-block stretch of Rose Street between Hagar and St. James streets. Each block had eight lamp posts and each post had three light globes, one large globe and two smaller ones. After midnight, the two smaller globes were shut off while the larger light remained on all night. Electrician Herman Fjelstad, who lived at 709 St. Paul Street, was the contractor for the project.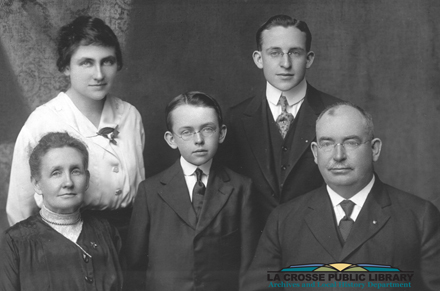 The Paul Mahoney family, long time North Side residents. Paul was a lawyer and owned the first automobile on La Crosse's North Side, a 1905 Cadillac.
At the dedication of the White Way, thousands of people lined Rose Street to see La Crosse Mayor Arthur Bentley throw the switch for the 800 block of Rose and North Side Alderman Paul Mahoney threw the switch for the 700 block. Mahoney earned the honor of throwing the switch by leading the campaign to get the street lights installed.
During Mayor Bentley's keynote speech at the dedication, he received the biggest applause when he said the city needed to stop thinking of itself in terms of a North Side and a South Side and work in harmony instead (at the time, a rather contentious battle was being waged by North Side residents to get the city to build a high school on the North Side -- it would be another 13 years before Logan High School would open).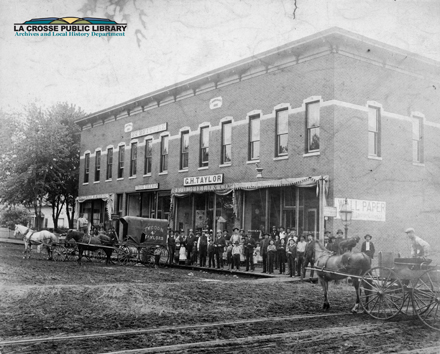 This scene of the 700 block of Rose Street was taken long before street lighting was installed. Notice the gas light on the far right.
Some of the businesses on Rose Street that had the good fortune to be illuminated by the first electric street lights on the North Side were Schwarz & Groth Grocery, 707 Rose St.; the Fred and Arthur Schulze bakery at 715 Rose St.; Charles Figgie Dry goods, 729 Rose St.; Exchange State Bank, 800 Rose St.; Ferris Brothers Clothing, 803 Rose St; and the Dome Theater, 815 Rose St.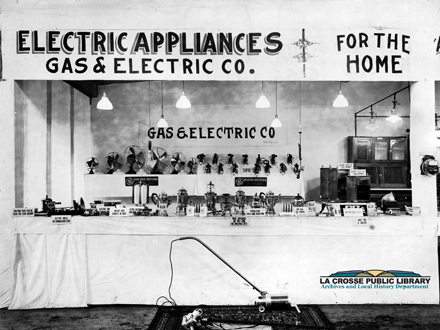 Can you imagine daily life without electricity?