Neighbors Making History: Mary Eckel Ruplin - La Crosse's First Born?
(written by Jeff Rand, retired Adult Services librarian)
When Mary Eckel Ruplin died in November 1945, the page 1 headline for the story read: "Mrs. Mary Ruplin, First White Girl Born In La Crosse, Dies." The first sentence of the article states that Mary "was the first white child born in La Crosse." Mary Eckel Ruplin's story, and the story of the actual (we think) first child born to colonizers in La Crosse, is a complicated tale involving two early settler families in La Crosse history.
In November 1841, 18-year-old Nathan Myrick, accompanied by Eben Weld, built a log cabin on Barron Island (current home to Pettibone Park) to serve as a trading post with Native Americans.
During the winter, Myrick and Weld decided that the east side of the river would be a better location for their trading post. They dragged logs across the frozen river and used them the following spring to build a cabin at what is now "the southeast corner of Front and State streets." It was the first permanent white presence in what would later become the city of La Crosse.

An illustration of Nathan Myrick's cabin at Front and State streets, by A. Reckert.
While on a visit back to his home in New York in 1843, Nathan Myrick married Rebecca Ismon. Their first child was a son born in 1844, but the boy died in 1845 and was buried in La Crosse; his remains were later reinterred in what became Oak Grove Cemetery. In October 1847, Nathan and Rebecca Myrick became parents of twins. But none of these children were born in La Crosse; they were born in Prairie du Chien. The older town down the river was the county seat of Crawford County, which at that time encompassed what is now La Crosse County. It was also the place where the traders and explorers, including Nathan Myrick, obtained their supplies.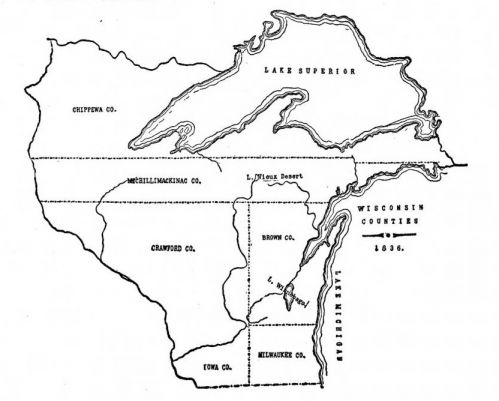 Wisconsin Counties as of the 1836 Territorial Census, showing La Crosse in Crawford County. Click image to view in new tab.
(Wisconsin Historical Collections, Volume XIII, 1895, page 249)
The last name of the first child born in Prairie La Crosse was not Myrick, and not Eckel; it was Miller.
After Eben Weld left for Minnesota, Nathan Myrick formed a business partnership in early 1842 with a fur-trading acquaintance named Harmon J. B. ("Scoots") Miller.
When Nathan and Rebecca Myrick had traveled to La Crosse from New York after their marriage in 1843, they brought along Rebecca's cousin, Louisa Pearson, who wanted to visit relatives in Illinois. But she ended up going all the way to La Crosse and spending the winter with the Myricks. Rebecca Myrick and Louisa Pearson were the first white women to live in La Crosse. When spring came, Pearson went back to Illinois. In 1844, Harmon J. B. Miller took a trip to Galena, Illinois, and returned to La Crosse freshly married to Louisa Pearson.
According an 1881 history of La Crosse County, the first birth in La Crosse, in 1847, "was a daughter to the family of H. J. B. Miller, named Martha." Louise Parry, Martha's daughter, later said it was written in their family Bible that her mother was born in Prairie du Chien, not La Crosse. Martha (Miller) Parry's obituary states that she was born in La Crosse in 1847. Her death certificate, however, shows that she was born in Fond du Lac, Wisconsin, on October 20, 1847. The person who supplied this information was her daughter, Louise Parry. One wonders if Louise had forgotten about the family Bible and told the undertaker that her mother's birthplace had been a three-part, French-sounding name in Wisconsin. Then the undertaker looked at a map or list of cities in Wisconsin and saw Fond du Lac first. We can only speculate.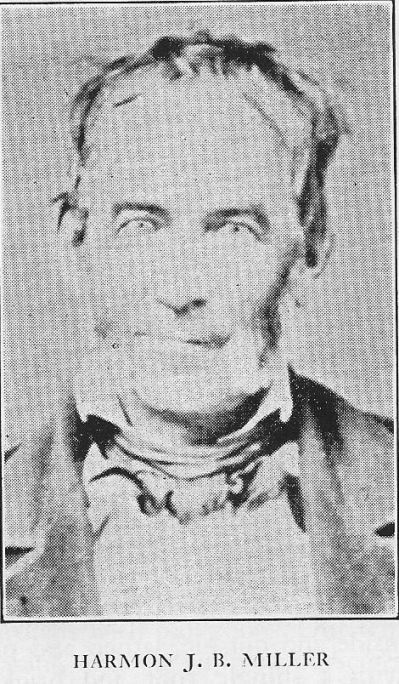 (Sanford & Hirshheimer, A History of La Crosse, Wisconsin 1841-1900, p23)
The 1850 federal census shows Harmon J. B. Miller, then 45 years old, farming at Bad Axe in the present-day Vernon County. His wife, Louisa, was 27 years old, and daughter, Martha, born in Wisconsin, was three years old.
Miller's farm in La Crosse was located at the former site of the La Crosse Country Club on the east side of the city at the base of the bluffs. "Herman J. B. Miller," 50 years old, is in the 1860 federal census living alone in La Crosse. Harmon J. B. Miller died in 1862 and is buried in Oak Grove Cemetery.
Harmon and Louisa Miller apparently separated because Martha (Miller) Parry's obituary states that Martha "crossed the plains in 1853" on the way to California. Martha's daughter claimed that her grandmother and mother made the trip to California together. The 1881 history of La Crosse County mentioned that Martha Miller lived in Illinois at some time. If Louisa and Harmon Miller separated after just a few years of marriage, it would make sense for Louisa to go to Illinois first because she had relatives there. Louisa (Pearson) Miller and daughter Martha Miller journeyed to California with some friends to visit Louisa's brother in California and ended up staying there.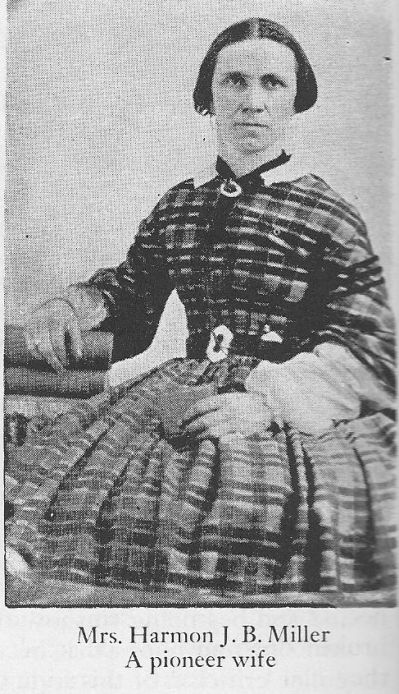 (Sanford & Hirshheimer, A History of La Crosse, Wisconsin 1841-1900, p58)
On August 10, 1869, Martha Miller married George Parry (1834-1927), a carpenter, in Butte County, California. They lived in Chico, California, until a brief stay in Redlands, California, in 1902, and then moved to Los Angeles in 1903. Martha (Miller) Parry was active in the women's suffrage movement and the Woman's Christian Temperance Union. Martha (Miller) Parry had only one child, a daughter named Louise, who later became a public-school teacher in Los Angeles.
Martha (Miller) Parry, the first white child supposedly born in La Crosse, died on June 10, 1917, at the age of 69. She was buried in Evergreen Cemetery in Los Angeles, California.
Martha (Miller) Parry was not around to dispute the claim of another "first born" who lived in La Crosse most of her long life—Mary Eckel Ruplin.
Adam Eckel was born in Hamburg, Germany, on June 24, 1824. When he was sixteen years old in 1840, Eckel emigrated to the United States. Mary Lais was born in Spielburg, Germany, on May 27, 1827, and emigrated to the U.S. sometime before 1851, when she married Adam Eckel in Pittsburgh.
The Eckels made the trip by boat in 1851 to La Crosse, Wisconsin, where they were among the early settlers in a village situated on a sand prairie on what could be characterized as the western frontier. In November of 1851, La Crosse consisted of "seventeen dwellings and business buildings." The population of the village of La Crosse was only 285 people.
Just months later, on March 1, 1852, their first child, a daughter also named Mary, was born.
The Eckel family later claimed that young Mary was the first child born to settlers in La Crosse, and this was repeated in several newspaper articles in the 1900s.
Adam Eckel built a hotel (that they also lived in), called the American House, near the existing Augusta House hotel. The hotel was one of about 36 buildings destroyed in a massive downtown fire in March 1862. In a 1932 interview, Mary (Eckel) Ruplin, who was just shy of ten years old at the time of the fire, said: "I believe I was one of the first to notice the fire. There was a blizzard raging, and as I looked out of the hotel window, I saw the August (sic) House on fire. I summoned my father, who was one of the officials of the old [fire] brigade organization, and the alarm was sounded."
The fire had started in the Augusta House about 5:00 p.m. on March 18, 1862. What were described as gale-force winds fanned the flames for five hours as they consumed building after building in downtown La Crosse. Five acres of businesses in the area of Pearl and Front streets were just ashes the next morning, among them Adam Eckels's American House hotel. It was the worst catastrophe in La Crosse up to that time.
Adam Eckel owned a house at 2nd and Jay streets that they moved into after the fire.
By 1868, Adam Eckel was back in business as the owner of the La Crosse and Alma Stage Company. From 1870 to 1890, Adam Eckel worked mostly as a teamster, and they lived first at 14 South 2nd Street, and then at 44 South 2nd Street. Adam and Mary (Lais) Eckel had five children: Mary, Henry, John, Minnie, and Alfred. By 1885, they had moved to 808 South 5th Street. In 1895, Adam's occupation had changed to "dealer in forest trees." Mary (Eckel) Ruplin said her father planted trees in many of the city's parks and recreational areas.
The 1900 Federal Census shows Adam and Mary (Lais) Eckel owned the house at 808 South 5th Street (later Fifth Avenue) and Adam still worked as a day laborer at the age of 75. Their daughter and son-in-law, Mary and Jacob Ruplin and their six children, were living with them. Mary and Jacob's son, Fred, plus his wife and young daughter, were living in the house too.
Adam Eckel died on February 21, 1905, after being ill just a few days with influenza that progressed to pneumonia. Besides John M. Levy, Eckel was said to be "the oldest settler in La Crosse [still residing in the city]." A sub-headline in the newspaper stated: "Was Father of First White Child Ever Born in La Crosse." Later in the article is this statement: "Deceased was the father of the first white child born in La Crosse, Mrs. J. Ruplin." He was survived by his wife, two daughters, and two sons. His funeral was in the Ecker-Ruplin home at 808 South 5th Street, and he was buried in Oak Grove Cemetery.
The myth of Mary (Eckel) Ruplin as the first white child born in La Crosse was thus established, if it had not already been prior to Adam Eckel's death. Was this an honest mistake or misinterpretation by a reporter, or was it a false belief or a misrepresentation by the family? 
Mary (Lais) Eckel joined her husband in Oak Grove Cemetery six years after his death in 1905. She died at the age of 83 on April 29, 1911, at 412 South 4th Street, where she had lived with Mary (Eckel) and Jacob Ruplin the last six years of her life.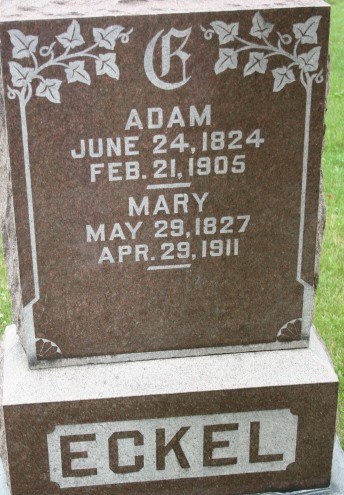 The Eckel gravestone in Oak Grove Cemetery
(Photo courtesy of La Crosse Area Genealogical Society; Find-a-Grave website)
Mary Eckel had wed 28-year-old Jacob Ruplin on August 24, 1871, when she was 19 years old. They had six children together: Karl, Emma, Will, Arthur, Walter, and Fred.
Jacob Ruplin was born in 1843 in Schaffhausen, Switzerland. He took up the trade of cabinet making. When he was 23 years old, Ruplin came to the United States. After working briefly in Washington, D.C., he moved to La Crosse. The 1866 City Directory lists a "Jack Ruplen" (sic) who is a cabinet maker for Tillman Brothers Furniture Company.
In 1880, Jacob and Mary Ruplin were living at the northeast corner of 12th and Division streets.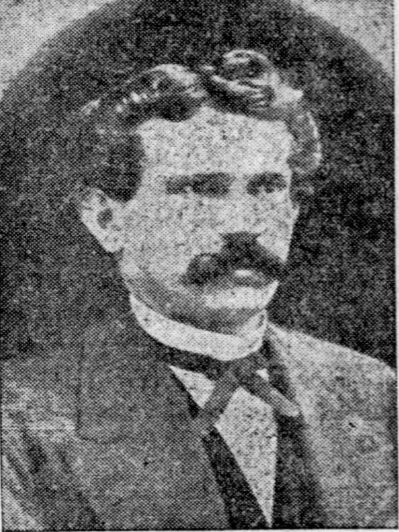 Jacob John Ruplin
(La Crosse Tribune, 1915 May 21, p7)
By 1884, their address was shown as 421 South 12th Street. Jacob was working as a pattern maker for the John James & Co. This business was located at the southeast corner of Front and King streets—"Goods of all descriptions manufactured and furnished." Jacob and Mary had moved to 1222 Madison Street by 1888.
Sometime in 1890, Jacob and Mary Ruplin moved to Duluth, Minnesota, where they lived for about five years. In a 1932 interview, Mary Ruplin said, "In 1891, because of the illness of my husband, I suggested we start a bakery. We did, and it is still in operation by members of our family." Perhaps they started a bakery in Duluth, and Mary was referring to when the family started in the bakery business.
When they returned to La Crosse in 1895, Jacob and Mary bought Christian Bayer's bakery at 4th and King streets, and they lived in an adjoining house.
Under Jacob and Mary's ownership, the business was so successful that they built a new bakery building in 1900 at 412 South 4th Street. They lived in a house next door to the bakery, at 414 South 4th Street. That house was already on the 171-foot-by-60-foot lot when they purchased the property, and the house was moved a short distance to the south to make room for the new bakery building. Members of the Ruplin family lived on the second floor of the bakery building too.
In the early years, the Ruplin Bakery sold bread and pastries throughout the city. Bakers worked from 6 p.m. to 5 a.m. At 5:30 a.m., a horse-drawn wagon was loaded and sent out into the city where the baked goods were transferred to carts operated by delivery boys. When the boys came by ringing their bells, customers walked out to the carts to make their selections. In 1911, the company purchased its first car, for a little over $1,000, to expedite deliveries to the north side of the city. William Ruplin drove the car, which had a top speed of just 15 miles per hour. The retail store at the bakery was open from 6 a.m. to 9 p.m. every day of the week. The second ward school was just north of the bakery, and children eagerly bought rolls for 10 cents a dozen or two cookies for a penny.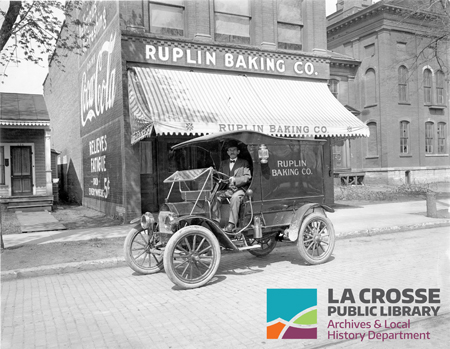 Ruplin Baking Co. and their delivery car that was purchased in 1911; a small portion of the Ruplin home can be seen on the left; the building on the right may be the Second Ward School.
Their son Fred first suggested the bakery become a wholesale distributor to stores. Apparently, Jacob Ruplin rejected the idea at first but eventually changed his mind. Twenty years after they first went into the bakery business in La Crosse, the Ruplin Bakery was operating ten hours a day producing 5,000 loaves of bread per day that were distributed to stores in parts of Wisconsin, Minnesota, and Iowa. Their baked goods were sent by train to all points of the compass. As business grew, the original bakery building that was 100 feet long increased in length to 171 feet after two additions.
Just over a year after the Ruplin Bakery celebrated 20 years in business, Jacob John Ruplin died on October 1, 1916. A week following an appendicitis attack on September 22, Ruplin's heart, which had plagued him for several years, started to give out. He lapsed into unconsciousness on September 29 and never awoke. He was 73 years old. Jacob Ruplin's funeral was held at their home at 414 South 4th Street, and he was buried in Oak Grove Cemetery.
Jacob's widow, Mary (Eckel) Ruplin, had a long life after her husband died and outlived some of her children. At several milestone birthdays, she was featured in the local newspaper and celebrated as the first person born in La Crosse.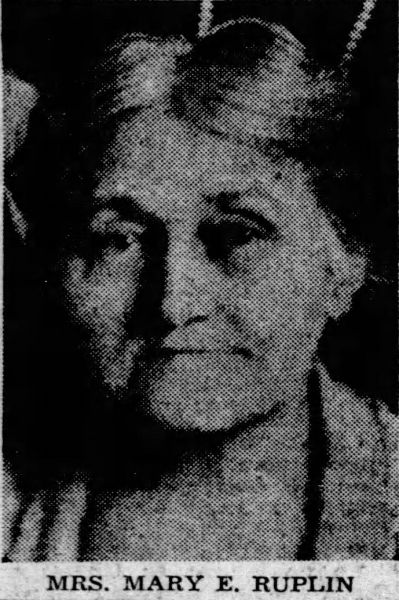 (La Crosse Tribune, 1937 March 1, p8)
On the occasion of her 80th birthday, the headline read: "Mrs. Mary Ruplin, First White Girl Born In La Crosse Eighty Years Ago, Observes Her Birthday Next Tuesday." The reporter wrote, "She is modest telling the story of her life. She warned the reporter she has always shirked publicity and to 'make the article short if you must say anything at all about it.'"
Five years later, the headline was: "First White Child Born In City Celebrating 85th Birthday Today." The article goes on to state, "Mrs. Ruplin was born here March 1, 1852, the first white child to claim La Crosse as a birthplace. Her parents were Mr. and Mrs. Adam Eckel."
On March 1, 1939, the local newspaper noted her 87th birthday this way: "Mrs. Mary E. Ruplin, (above), said to be the first white girl born in La Crosse, is celebrating her 87th birthday today."
When she turned 91 in 1943, E. H. Hoffman, of the La Crosse Tribune, wrote this: "She is a native of La Crosse which gives her the distinction of being the oldest resident who was born in the city." [emphasis added]. If Martha Miller was truly the first white child born in La Crosse, then this description of Mary Ruplin is the most technically correct because Martha Miller had lived most of her life in California and died more than 25 years prior.
Mary Ruplin's long life came to an end two years later. In May 1945, she became ill and then died in her home on November 7, 1945, at the age of 93. The headline for the front-page announcement of her death read, "Mrs. Mary Ruplin, First White Girl Born in La Crosse, Dies."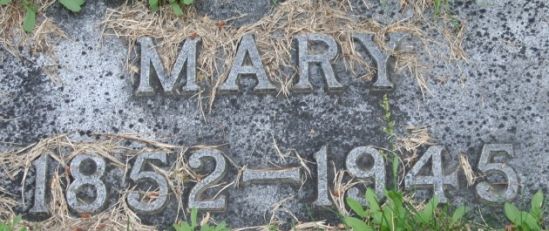 Grave marker for Mary (Eckel) Ruplin in Oak Grove Cemetery
(Courtesy of the La Crosse Area Genealogical Society; Find-a-Grave website)
After 55 years in business, the Ruplin Baking Co. building was sold to Clark-Bracken, Inc., an electrical contractor and retail dealer of electrical equipment, on April 1, 1950. Clark-Bracken had been in business for 30 years in La Crosse, the first four in the Rivoli building and 26 years at another location on Fifth Avenue. The company was a distributor for Westinghouse products and employed 25 people.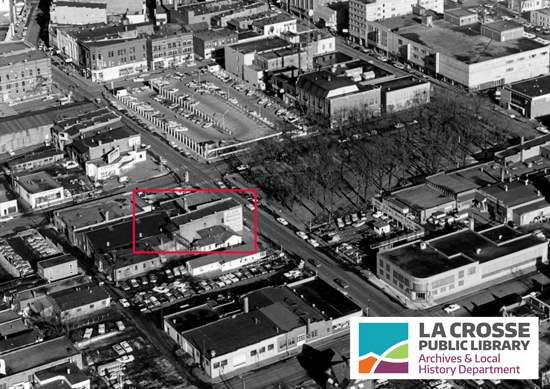 Aerial view of the former Ruplin Bakery building from the south; this photo was taken after the building had been sold to Clark-Bracken, Inc.; the wooded area to the right is Cameron Park.
Clark-Bracken, Inc. remained in business in the former Ruplin Baking building on South 4th Street for 15 years. Jessie Ruplin, Karl's widow, was the last person to live in the house at 412 ½ South 4th Street. The last time they are listed in the city directory at that location is in 1965. In the 1966 City Directory, the even numbered side of the 400 block of South 4th Street shows: 408, vacant; 410, Commercial Credit Plan Inc.; 418, Julie Obrecht. Presumably, the former Ruplin Baking building and the adjoining house that had been home to Ruplin family members had been torn down.
By 1967, 408 South 4th Street had become Your Uncle's Place Nite Club, Commercial Credit Plan Inc. remained at 410, 418 had been torn down, and 426 was Eversole Rogers Inc. New & Used Cars.
The Eversole Motors property also saw changes through the years. The original Eversole-Rogers Co. was started by A. E. Rogers and Les Eversole at 123 South 6th Street in La Crosse before it moved to 4th and Cass streets in 1966. In June 2006, Peter Eversole sold the dealership to Lithia Motors, Inc. of Medford, Oregon. After just a couple years of operation as Lithia Chrysler Jeep Dodge of La Crosse, Rahn Pischke, owner of Pischke Motors in West Salem, bought the dealership and renamed it Pischke Motors of La Crosse as of October 1, 2008. Pischke Motors occupies the entire east half of the 400 block of South 4th Street to this day. This includes the area where the Ruplin Bakery and Ruplin house once stood.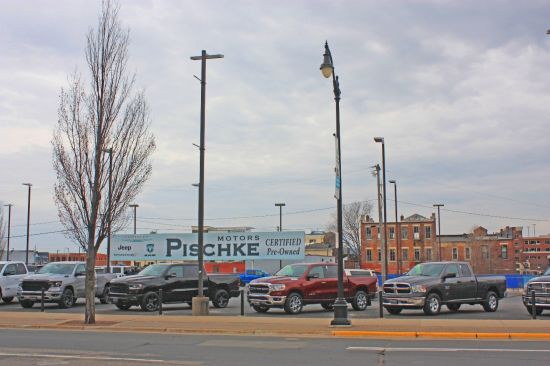 Approximate location of the former Ruplin Baking Co. as it looks today
(Photo by Jeff Rand, 2022 April 29)
A controversy involving birth should be simple to mediate with the aid of official records, such as birth certificates. But birth certificates were not required in the state of Wisconsin until 1907, so documentation of births before that year is spotty.
Birth certificates have been routine for so many years that we seldom think about them except when they are needed for legal matters or to obtain other documents. Yet these official records establish the legitimacy of the time and place of the beginning of our lives. And, sometimes, they can even settle an argument.
Everyone, not just historians, needs to be aware that our neighbors might mis-remember or even "make" history. In a time when disinformation, misinformation, myths, and lies threaten to smother the facts, we should not be afraid to say, "Show me the evidence."
WANT TO LEARN MORE?
Check out Jeff's full article here