The End of the War, and the End of the Street Car
(Written by Bill Petersen, Archives Staff)
At 12:20 a.m. on November 11, 1945, the last street car to service the North Side of the city made its final run. A little more than six hours later, the bus that replaced that last street car made its first trip through the North Side.
Buses had replaced street cars on the South Side of the city by the latter part of 1935. The same changeover was set to occur gradually on the North Side, but the onset of World War II meant that the Mississippi Valley Public Service Company could barely get parts for the buses they had in service, let alone get new ones for the North Side. But now the War was over.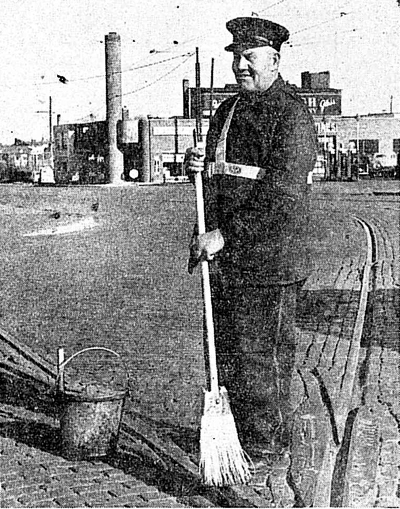 When that last North Side street car pulled into the station to finish its route, it meant the end of the street car era in La Crosse, which started on July 4, 1879 with horse-pulled cars. It also meant the end of a job for a gentleman named Henry Allen, who had been employed with the Mississippi Valley Public Service Co. since 1904. Allen was a trackman for the company and the accompanying picture shows him in uniform with some of the simpler tools of his trade used to maintain the street car tracks. In December of 1906, Allen lost one of his lower legs when he fell from a car and had his foot crushed by a street car wheel.