Christ Episcopal Church
(written by Megan, Archives staff)
On Grandad Bluff is a plaque noting that the first church service in La Crosse was held June 23, 1850, on the bluff, by a traveling Episcopal minister. The Episcopal Church is the American branch of the Anglican Church, better known as the Church of England.
Soon there was a core group of Episcopalians in La Crosse and their first church building, a wooden frame structure, was completed in 1863 at a cost of $700.00. The building was at the corner of what would become 9th and Main Streets.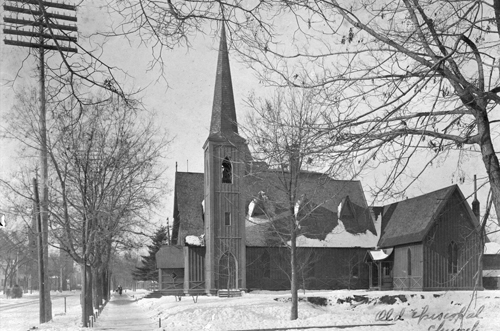 Old Episcopal Church building from 9th Street with Main Street on the left, looking toward downtown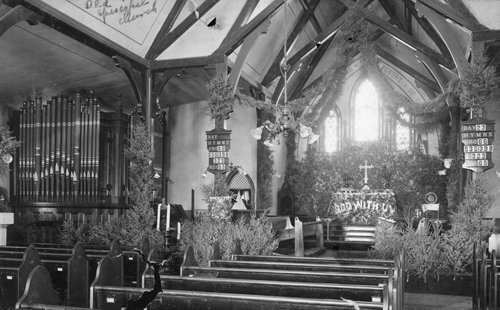 Inside of old Episcopal Church building, decorated for Christmas
As the congregation grew the old building no longer was large enough. The church leadership passed a resolution on April 5, 1897, indicating the need for a new building, and a new building was built and opened in 1899, in place of the old church. 
This new church was anticipated to be the bishop's church and was planned accordingly. In the Episcopal Church, churches together in a geographic area are known as a diocese, headed by a bishop, and the bishop's church, the cathedral, is the head church for a diocese. In 1899, the La Crosse church was part of a diocese headquartered in Milwaukee and the thought was that when the diocese was split (generally done due to the growth of churches), La Crosse would be the place chosen as home for the diocese and the bishop.  The current Romanesque church was constructed of local stone by Mead Construction Company of Ohio, at a cost of $33,000. The tower soared to 106 feet.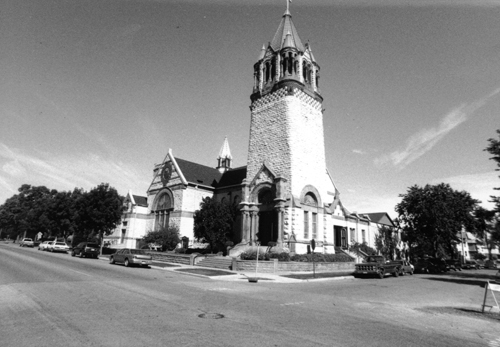 Current church building, 9th and Main
A pipe organ by M. P. Moller was installed. Two stained glass windows were donated. The north facing window was donated by the Hixon family in memory of Frank Hixon. The south facing window, facing Main Street, was donated by Mary Baker Cameron, in memory of her husband Senator Angus Cameron. This window was designed by Tiffany Glass in New York. The church interior was finished in the Venetian Renaissance style.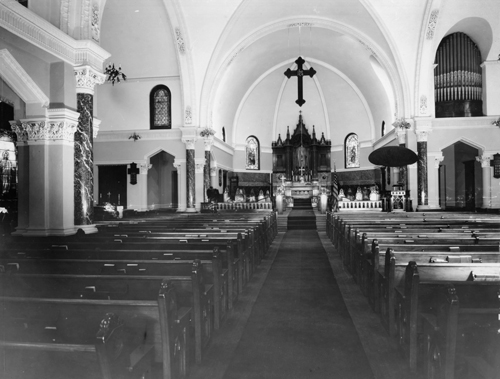 Current church interior
In 1928, when the diocese was split, Eau Claire was chosen as the bishop's church because of its more central location.  Despite not being the bishop's church for the diocese, Christ Episcopal Church continues to serve and be a part of the La Crosse community. In 1985, the building was added to the National Register of Historic Places. A new organ was installed in 1992 and in 2000 the Tiffany window was restored. 
For more information on La Crosse history come on down to the Archives department at the Main Library, across Main street from Christ Episcopal Church.