John Gund's Empire
(written by Sarah Ludington, Archives staff)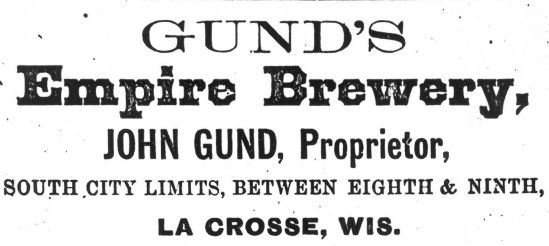 1873 City directory advertisement
Johannes Gund arrived in New York City, from Germany in 1848, just eighteen and with a brewing apprenticeship under his belt.  A little over five years later, having lost his parents to cholera, he'd move to a burgeoning city newly married and with a toddler in tow.  La Crosse had yet to become incorporated and did not yet have a brewery. Johannes, whose name was anglicized to John, likely saw the opportunity to support his family and use his work experience to his advantage.  Perhaps this early on, he did not yet have his sights set on growing an empire, but by the 1880s, John Gund would have a family of seven and one of the largest breweries in the region.
Early histories of La Crosse often credit Gund with starting the first brewery in La Crosse in 1854, though by some accounts, he may have missed out on that distinction by just a few weeks due to some faulty yeast!  John had gained more brewing experience since his arrival in the US.  He had worked in and managed breweries in Illinois and Iowa before settling in La Crosse.  It was in Galena, IL where he met Louisa Hottman, and they married in 1852.  In La Crosse, he built a log structure at the intersection of Front and Division Streets which would serve as a brewery and a home for John, Louisa, and little Louise, born in 1852.  Though, he missed out on producing the very first beer in the city, it was Gund's brewery that endured.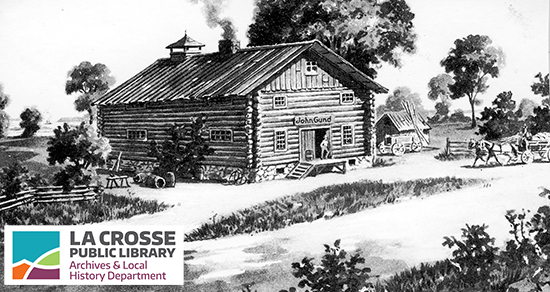 Artist sketch of John Gund brewery/log home at Front and Division Streets. Gund has been said to believe that a brewery should be far from the center of a town and at the time this area would have been a distance from the hustle and bustle of downtown.
Four years later, John and Louisa now had three children to care for with the births of George and Emma. This was when John partnered with Gottlieb Heileman to build the City Brewery. A new brewery building was constructed at Third & Mississippi Streets, though the Gunds would continue to live in the log home a few blocks away. The City Brewery was successful, and the partners would reinvest their wealth through real estate, including building the International Hotel, which used to exist close to the riverfront at Front & Pearl Streets. These prosperous years saw the births of two more children, Henry in 1859, and John Jr. In 1862.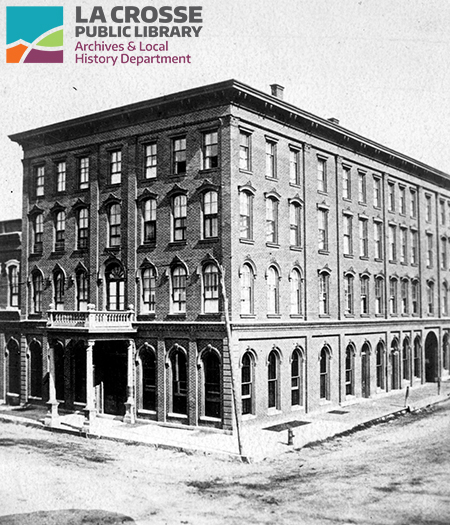 The International Hotel occupied the former site of John Levy's August Hotel.  That hotel burned down in 1862 and Gund and Heileman bought the site and rebuilt a new one.
It could be imagined that once the brewery was established and doing well there was time to contemplate what the future should hold for it.  Other writings have described that Heileman and Gund began to have differing visions for what to do next.  It's said that Gund wanted to grow the company by building satellite breweries to cater to a much wider region, and that Heileman disagreed.  In 1872, the men decided to end their partnership.  One account describes the division of interests being decided by a coin toss!  How ever they came to a decision, the result was that Heileman got the brewery and Gund got the hotel and some properties.
That fall would bring the first marriage of the Gund children when the eldest, Louise, would marry Charles Friedrich Michel, the "C" in the C & J Michel Brewing Company.  While we have no way of knowing the inner workings of a relationship, it is known that in this time period wealthy families looked at marriage as a way to preserve their status and wealth.  It was probably seen as a smart move to marry another prominent brewer and citizen.  Louise and Charles would start their family and build a showcase home on Cass Street.

This item appeared in the October 3, 1872, Republican & Leader newspaper alluding to the marriage of Louise Gund and Charles Michel (sometimes spelled "Mitchell") which took place the day before.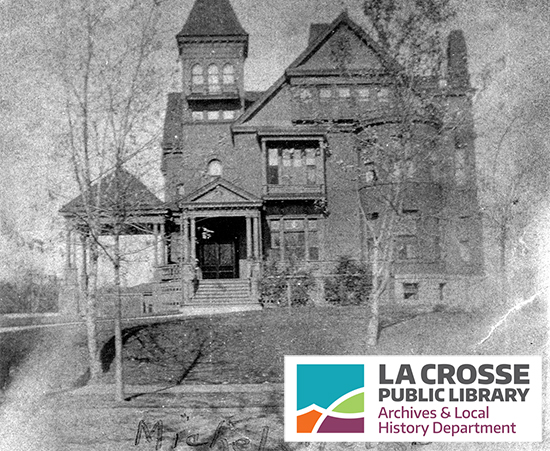 This photo shows the Michel house as it looked when Louise and Charles lived there.  In 1927, their son completed major renovations to "modernize" the appearance of the home.
After the end of the partnership with Heileman, Gund quickly got to work on a new brewery with which to bring his vision to life, aptly named John Gund's Empire Brewery.  Using the same philosophy as with his first brewery, that a brewery should be far from a town's center, Gund chose a site far south of town at the end of Eighth and Ninth Streets.  Among the many buildings necessary for a large-scale operation, Gund included a wood-frame dwelling for the family to live in.  They had lived in the log structure for nearly 20 years!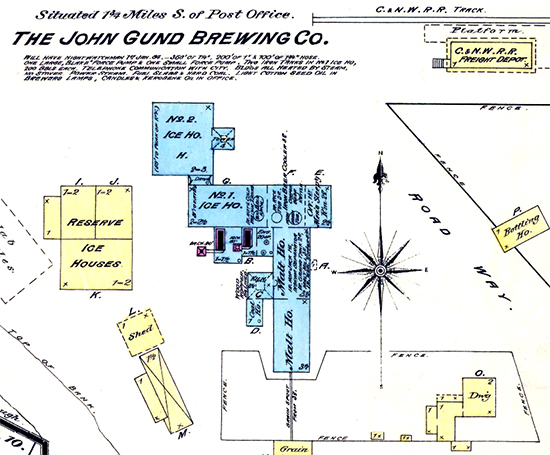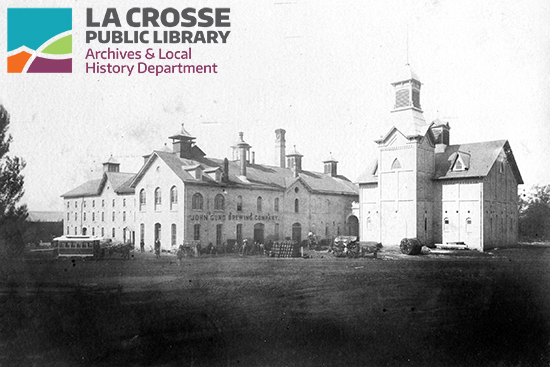 The original brewery before 1897 (lower photo) and how it appeared in an 1884 Sanborn Fire Insurance map (above).  The Gund home is presumed to be the structure in the lower right in yellow.  As of this writing, very little identifying information can be found about what this home looked like, other than it was a two-story wood frame house.  The 1880 census for the Gund household lists the family members at the time but includes two servants and seven boarders that worked in the brewery.
As they grew older and came of age, John's sons learned the business and became more involved with running the company.  The brewery was incorporated in 1880 and the name changed to the John Gund Brewing Company. George served as secretary and treasurer.  Though some thought that John would finally open a satellite brewery when he sent his son to Minneapolis, Henry ended up as superintendent of an agency, or distribution center, there.  Henry would meet and marry his wife, Eleanora, while living in Minneapolis.  When the youngest son, John Jr., turned 18 he, too, began working in the brewery but as a maltster, in charge of the first stage of making beer.
Tragically, not long after the now grown children were coming into their own and going into business with their father, the family suffered the loss of their wife and mother. Louisa Hottman Gund had caught a cold the year before while visiting Emma, who had married in 1878 and moved to Milwaukee to start a family.  The illness lingered and Louisa passed away in May of 1880.  Only three years later, tragedy would strike again when Emma herself died suddenly.
John Gund's empire may not have happened exactly like he originally envisioned with satellite breweries; however, it did produce a massive amount of beer to distribute and was able to reach much further than La Crosse.  In 1888, it was reported that aside from Western Wisconsin, John Gund's beer was consumed in "Minnesota, the Dakota Territory and Northwestern Illinois".  There's even evidence that bottles of John Gund beer ended up in Canada.  The brewery's pride and joy was its "Peerless Beer" which won national and international awards.  Though a devastating fire halted production for a short while in 1897, it also gave John the opportunity to rebuild a bigger operation.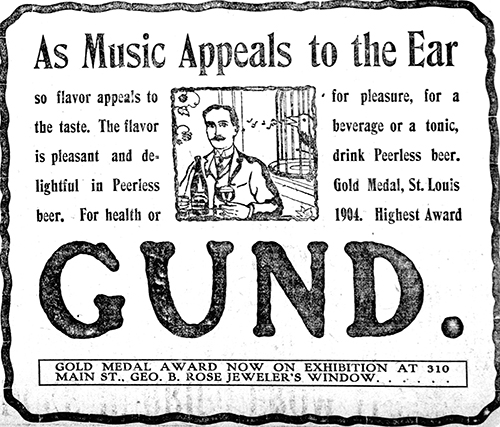 An ad for Peerless Beer that mentions the Gold Medal it won in 1904 - 9 January 1905 La Crosse Tribune
Instead of building those satellite breweries under the John Gund Brewing Co. umbrella, John's sons George and John, Jr. each ventured far from La Crosse to invest in and build up successful breweries of their own. So, in a way the empire did continue.  George first ran one in Seattle before moving to Cleveland in 1897.  There George bought the Jacob Mall Brewing Company and changed the name to The Gund Brewing Company.  George's Brewing Company was known for its "Gund's Finest" beer, "Crystal Lager", and its final brew, "Clevelander".  John, Jr. Had moved to Lexington, Kentucky and was running the Lexington Brewing Company.
John Gund, Sr. passed away on May 7, 1910, from a stroke.  He had been ailing for a few months while still running the brewery as president.  By this time, Henry had returned to La Crosse and had become vice-president.  With George and John, Jr. rooted in Cleveland and Lexington, it was only natural for Henry to inherit his father's company.
The next decade would begin with the company at the peak of production (600,000 barrels in 1910!) but end tumultuously.  As it braced for Prohibition, the brewery would switch production to soft drinks and low-alcohol beer, but it could not survive that and a strike of the brewery workers.  It closed its doors for good by the end of 1920.  After John Jr. died in 1922, Henry was the only surviving child of John and Louisa Gund.  He made the shift to banking and real estate, much like his nephew would in Cleveland.
George F. Gund II saw a similar end to his father's brewing company, but afterward was involved in banking, real estate, and philanthropy.  By the time of his death in 1966, his estate was worth $600 million.  Gund created the George Gund Foundation to which he left most of this estate. Today, the Foundation endures offering grants "in the areas of the arts, civic engagement, community development, economic development, environmental policy, and human services, public education, racial inequality."  The John Gund family began its journey here in La Crosse almost 170 years ago and through this foundation continues to contribute from beyond the city's borders.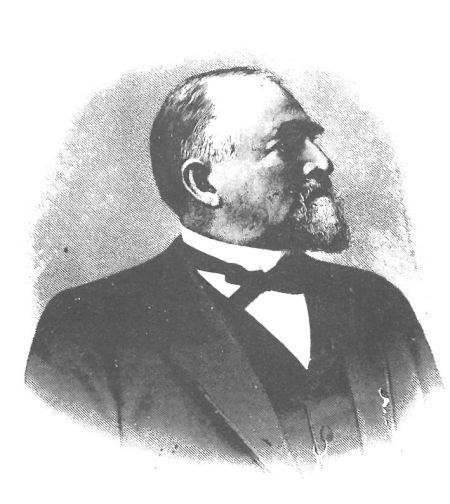 John Gund Sr.