The Big Fellow
 (Written by Barry McKnight, Archives staff)
La Crosse has had its share of colorful characters, but few cast as long of a shadow as Thomas "Big Fellow" McDonough. An enormous man known for his "Herculean" strength and courage, McDonough served La Crosse as a member of the police department for forty-five years. Born in Watertown, WI, in 1870, McDonough became a patrolman in 1903.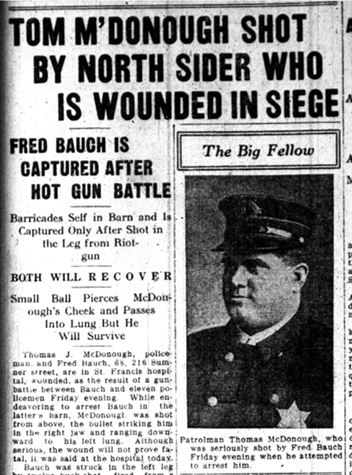 (La Crosse Tribune, July 29, 1916)
Those early years of his service took place in a La Crosse that was still a rough-and-tumble river town.  Violence, often associated with drinking, was fairly commonplace. A patrolman had to collar drunks, break up fights and keep the peace. Rule #17 of the Rules of Government of the Police Force of the City of La Crosse (1890), stated "Officers cannot be idle while on duty. They must be alert for prostitutes and other gamblers and criminals." A police officer had to be vigorous in enforcing the peace. Among his peers and the city at large, McDonough quickly earned a reputation as a tough and fearless lawman. Over his forty-five years of service, he would prove worthy of that image time and time again.
On the afternoon of September 23, 1911, a transient named Samuel Hack shot Gilbert Blekum, the bartender of the Burlington Hotel, 108 North 2nd Street, in the head in a dispute over money. He then beat a bystander with his pistol before fleeing. A manhunt for the shooter ensued. Officers McDonough and Wolfe caught up with the suspect on the nearby levee. Fearing to fire his own revolver due to the presence of bystanders, McDonough charged the shooter with his billy-club swinging. Hack pulled the trigger on McDonough three times, each time a misfire, before he was struck down from behind by Officer Wolfe. An inspection of the revolver showed that faulty ammunition likely saved McDonough's life.  Hack was charged with attempted murder as Blekum eventually recovered.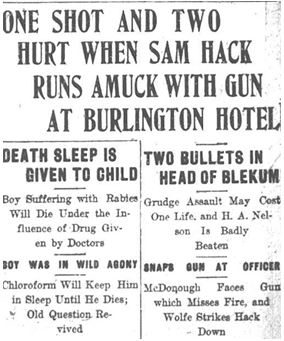 (La Crosse Tribune, September 23, 1911)
On the evening of August 10, 1915, while on patrol and passing a saloon at 324 South 3rd St, McDonough was asked by a woman to retrieve her husband, Thomas Hamilton, from the establishment. McDonough entered and ordered the man to accompany him outside.  Hamilton, a physically powerful horse trader, refused and attacked McDonough. A ferocious half-hour brawl ensued that only ended when a fellow patrolman finally arrived on the scene. The fight left McDonough cut and bruised, his uniform in tatters.
McDonough would again be confronted by a gunman on July 28, 1916. A mentally ill man named Fred Bauch was hiding on the second floor of his barn at 216 Sumner St. after violently quarrelling with his wife. Neighbors called the police and Officer McDonough responded. When McDonough climbed the ladder to the second floor of the barn to question Bauch, the latter shot him with a .22 caliber rifle. The bullet glanced off McDonough's jaw before entering his chest and lodging near his left lung. He staggered out of the barn, spitting up blood. Bauch barricaded himself in the barn while other officers rushed to respond. A siege and gun battle ended with the suspect being shot in the leg with a riot gun.  Fred Bauch survived his injuries and was later committed to the state asylum in Mendota after being found insane. McDonough would eventually recover although he would carry the bullet in his chest for the rest of his life.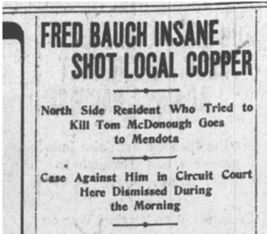 (La Crosse Tribune and Leader Press, June 2, 1917)
Despite his proven heroism in the face of danger, McDonough's service was not without controversy. A number of times throughout his career, he would face reprimand or demotion for the use of excessive force and other offenses.
In April of 1911, McDonough was brought before the Fire and Police Commission Board on charges he had kicked and beaten a man named Walter Boisvert while arresting him for public intoxication.
In March of 1915, he and another officer were accused by the Trades and Labor Council, a union organization, of taking sides and inciting violence during a dispute at the Rubber Mills. In April of that year, McDonough was again brought up on a charge of conduct unbecoming of a police officer for using excessive force on a "tramp" near the railroad yards on the North Side of La Crosse. The complaint was filed by John Mulder, a grocer, who claimed to have witnessed McDonough "brutally assault, beat and kick" the vagrant. McDonough was reprimanded by the Fire and Police Commission.
McDonough served during a period when public attitudes about policing and violence were changing.  An editorial in the La Crosse Tribune the day after the incident with the tramp defended McDonough's actions, acknowledging that change in opinion. While admitting that he was a big man with a temper to match, it argued that he was also someone who was quick to help an unfortunate. Citing his bravery in the face of gunfire, it claimed "courage, attentiveness to duty and social morality" characterized McDonough.
Thomas McDonough would rise to the rank of sergeant, lose it and gain it again before becoming a lieutenant in 1929. He served the city of La Crosse as a police officer until his death on November 28, 1938. His career illustrates the challenges and changing nature of police work in La Crosse the early decades of the 20th century.
To learn more about the history of the La Crosse Police department in particular, or this period of La Crosse history in general, please visit the Archives department!