'Tis the 25th Season for Rotary Lights
(written by Carla Swerman, Archives staff)
For many Coulee Region residents, La Crosse's Rotary Lights has become a holiday tradition.  In fact, the 2019 display marks the 25th year that Coulee Region Rotary clubs have been the "master switch" behind lighting up Riverside Park with the sights – and sounds – of the season.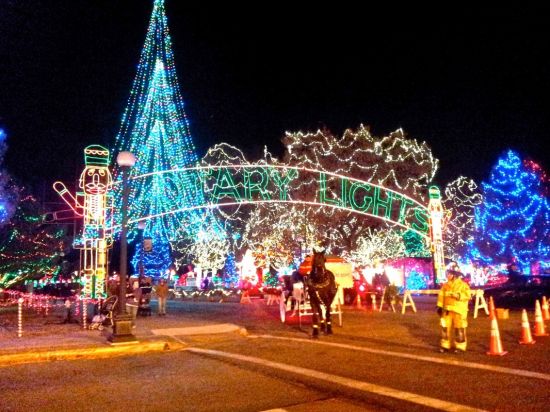 In its 25th year, Rotary Lights now boasts 3,000,000 LED lights and is considered one of the premier light displays in the Midwest.  Photo courtesy of Rotary Lights, Inc.
La Crosse resident Duane Moore is credited with igniting Rotary Lights.  In 1994, as the incoming president for Rotary East, he was searching for a project that would require collaboration among local Rotary clubs.  An idea sparked when he saw an outdoor light display sponsored by Rhame Bible Church in Tulsa, OK.  Moore talked to organizers there before bringing his spark of an idea back to La Crosse.
While some Rotary members questioned Moore's proposal for lighting up La Crosse, many supported him.  Several even took on leadership roles, including Pat Stephens, who is still involved as the president of Rotary Lights.  When Moore and Stephens presented the plan to La Crosse Mayor Pat Zielke and area business representatives, the response was positive.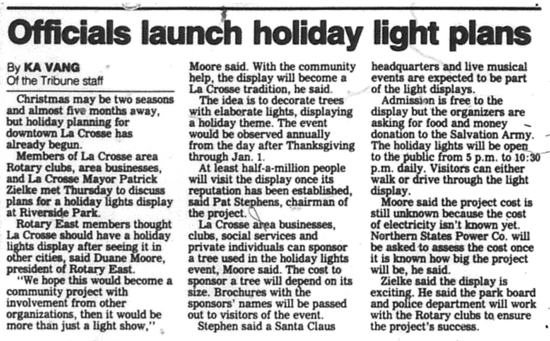 La Crosse Tribune 5 August 1995
Originally, it was thought that Rotary Lights would be staged in Myrick Park, the site of the recently completed Kids Coulee.  But, the lights dimmed on that locale due to potential traffic problems and a lack of a power sources.  The spotlight then shifted to Pettibone Park, but with the potential for flooding to damage the electrical wiring, the beam settled on Riverside Park.
The park was first illuminated on Friday, Nov. 24, 1995, when Zielke partnered with Santa Claus to throw the switch on "Rotary Lights: A Christmas Jubilee."  That night, about 500 spectators viewed the trees and structures that were lit with 250,000 lights.  Seasonal music from area choirs and other music groups could be heard from the bandstand.  At the north end gazebo, Santa and Mrs. Claus greeted young and old.  Amidst the park was the "festival of the trees"; each tree was sponsored and decorated by an area nonprofit.  The event garnered glowing reviews.
Yet, some early December visitors commented that "something" was missing.  Due to popular request, an ecumenical Christmas Eve service was added to the 1995 schedule of events.  That service, which attracted 200 people the first year, has continued along with a live nativity (diorama) that is now staged on weekends, thanks to the efforts of 19 Wisconsin and Minnesota churches.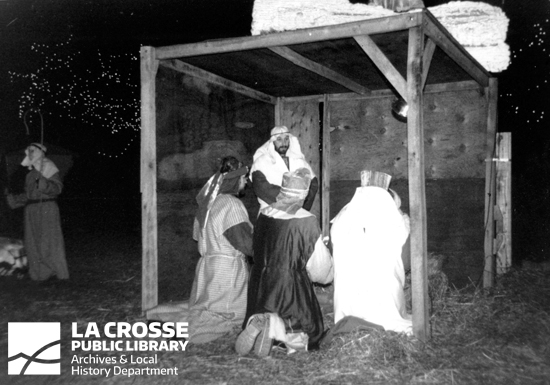 One segment of the diorama is shown in this early photo of Rotary Lights
Over the years, many other features have been added to Rotary Lights, such as live reindeer, an ice skating rink, a gift shop, carriage rides and hay rides, an ice castle for Santa, a bonfire and s'mores, and a "Will you marry me?" light display for wedding proposals.  Although no official tally has been kept of engagements and weddings, there were nine known engagements and two weddings in 2018 alone.  Other events affiliated with Rotary Lights include a 5K run, a breakfast with Santa (for underprivileged children), and an opening night parade.
Moore's 1995 prediction that Rotary Lights would shine bigger and brighter each year has, indeed, proven true.  While a numeric count was not kept on visitors in 1995, Rotary Lights now draws 140,000 to 160,000 spectators each year.  It has grown from 250,000 incandescent lights to 3,000,000 LED lights.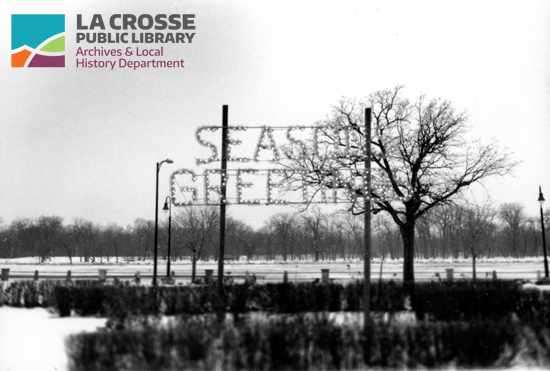 Early Rotary Lights display, date unknown
Even amidst the growth, the wiring behind Rotary Lights has remained untouched.  From the start, the display has opened the day after Thanksgiving and has continued through Dec. 31 with hours typically from 5 PM to 10 PM.  Each evening's events have always been family-friendly and free – with no attached filaments.  Financially self-powered, Rotary Lights has paid its own electrical costs, snow removal expenses, and taxes, which are not required for nonprofits, over the years.  In short, while Rotary Lights and the city of La Crosse work together to stage this once-a-year-icon, the event survives without support from city tax dollars.
And, it's likely that Rotary Lights thrives dues its altruistic mission: "to feed the hungry of the Coulee Region."  The first year, 13,000 items were collected for the Salvation Army and WAFER; in 2018, 14 pantries and food distribution centers benefited from 318,000 donated items.  It is likely that the cumulative total will exceed four million with the 2019 light display.
Rotary Lights fuels additional generosity by giving back to area nonprofits.  In 1995, Rotary Lights had a $450,000 budget, half of which came from the seven Rotary Clubs and the other half, from grants and donations.  As had been promised, none of the $33,000 that was earned was used to defray costs.  Instead, it was given to 30 deserving nonprofits.
But, organizers quickly realized that they needed some funds to keep the lights on and burning brighter.  Thanks to monetary donations and loyal sponsors, Rotary Lights has done just that – and more.  In 2018, profits from Rotary Lights helped support 21 community projects and as well as 91 nonprofits that assisted with the event.
This assistance via volunteers is the powerhouse behind Rotary Lights.  The first year, seven Rotary clubs worked together to turn on the lights; at least eighty percent of the 500 volunteers were Rotarians. Now, nine clubs are involved with 3,250 volunteers from all walks of life.  They often volunteer in cold and unpleasant weather conditions, but are rewarded with free nourishment from 38 restaurants, churches, and other groups that voluntarily provide food.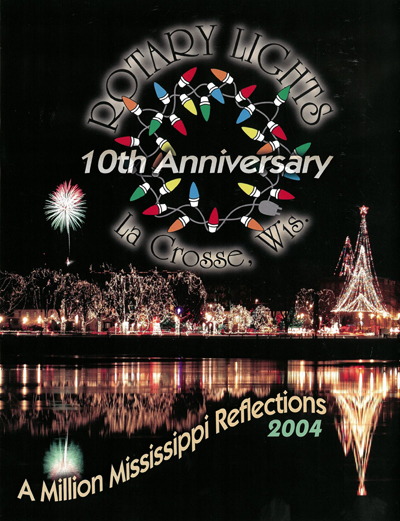 The 10th anniversary program depicts the view from the west side of the Mississippi River
Any way you view it, Rotary Lights generates "goodness" in the greater La Crosse area.  This "goodness" has also radiated to other locales.  To date, La Crosse organizers have provided informational support to 14 other communities that would like to start light displays.  But, benefactors must be willing to offer a free light display and also strive to feed the hungry.
It's likely that Rotary Lights will still be shining its light for many decades to come.  For now, its history is well-illuminated at the La Crosse Public Library Archives with photos, programs, and newspaper articles.  Much can also be learned about the 100-year-old La Crosse Rotary Club itself.  So, besides attending this year's Rotary Lights, it may be time to head "Down the road and through the snow to the Archives we go"!