1920s Stage Celebrity Promoted Community Causes
(written by David Kranz, Archives Staff)
The Roaring '20s were a time of entertainments – flappers, secret-knock speakeasies, and live jazz – and growing autonomy – the Model T Ford hit the height of its production while Packards, Buicks, and even Rolls Royces were picking up speed.  In this energetic decade, stage stars were celebrities.
One of La Crosse's favorite actresses of the early 20th century, Eloda Sitzer Beach, used her celebrity for good causes, much as film stars do today. She performed in Elk's Club holiday benefits for needy children of the Coulee Region. And, as you can see in the accompanying photo from the La Crosse Public Library Archives, she also encouraged school kids to drink their milk!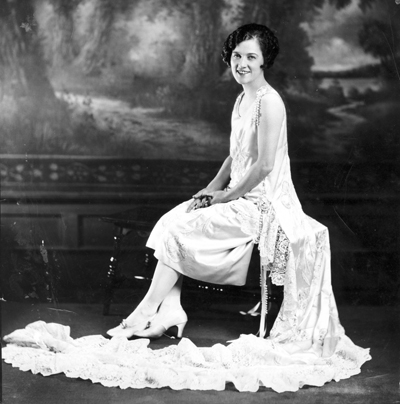 Raised in Michigan, Eloda Sitzer was born in Muir in 1890. She came to the stage from the wings, so to speak, as a teenager tagging along with her electrician brother who did work for a Muir theater.
She first visited La Crosse when she was in her 20s, acting in a traveling company. A few years later, after her husband, actor Guy Beach, returned from service in World War I, Eloda and Guy helped form the Beach-Jones Stock Company.  They brought their shows to La Crosse in their first season, performing in the La Crosse Theater at 115 S. Fifth St.  
Eloda and Guy later bought out Jones, making the regional acting company their own.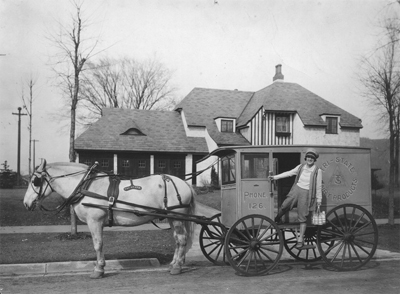 In the early 1920s the Beach Stock Company would typically spend 10 weeks a year performing in La Crosse, followed by travels to Fargo, ND, Rochester, MN, and Muskegon, MI. In La Crosse, the company usually performed in the Majestic Theater at 514 Main St.
The Beaches lived on Vine Street (924 Vine) until they built a Spanish Colonial Revival-style house at 205 Losey Blvd. North in 1926. A news snippet collected by the LPL Archives from the La Crosse Tribune of December 1926 said Eloda enjoyed walking from their new home to rehearsals downtown at the Majestic. The Beaches became known for throwing parties in their new house's rooftop garden. They adopted a daughter in 1924.
The company was known to give benefit performances for city telephone operators, who would be swamped with phone calls when the troupe came to town. In 1926 there was even a Guy-Eloda Beach baseball team, with Eloda throwing the ceremonial first ball May 6.
As the 1920s came to an end, so did the Beaches' marriage. Eloda accused Guy of being "addicted to drinking," according to a 1931 La Crosse Tribune report on the divorce proceeding. Eloda sold their house and furnishings and moved back to Michigan with her daughter. This perhaps adds ironic value to a December 1929 playbill in the LPL Archives collection for the Beach Company show "This Thing Called Love," which lists Eloda and Guy in the cast.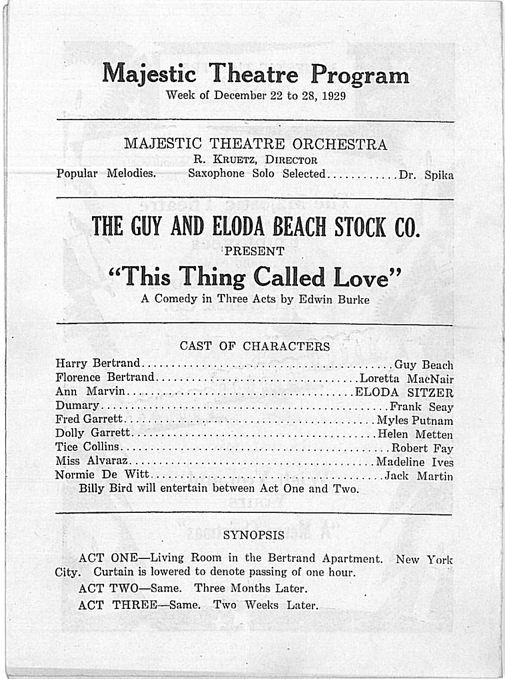 Eloda remarried a few years later, in 1935, to a Minnesota state senator named William Roepke. They moved to Rochester, MN, and the LPL Archives has a number of photos of them and the interior of their home. William died in 1946, and Eloda then worked in sales and as a caretaker for a few years before finding her calling as a recreation director for a state hospital serving mentally challenged people. She called the nine years there her most enjoyable years professionally.
A heart attack slowed her down in 1956. Near the end of her life, Eloda moved to Albuquerque, NM, to live with her daughter. Eloda died there in 1964, closing the curtain on a rich life that staged a short but significant run in La Crosse.