Homegrown Weather
(written by Carla Swerman, Archives staff, with assistance from meteorologists at La Crosse's National Weather Service)
This time of year, "Is it going to snow?" is a common question.  Unfortunately, only Mother Nature knows for certain.  Yet, here in the Coulee Region, we are fortunate to have 24-7 weather predictions made in our proximity, all due to the presence of the National Weather Service (NWS) on County Road FA north of Grandad Bluff.  One of only 122 weather offices throughout the nation, La Crosse's NWS history has been as ever-changing and unpredictable as Mother Nature.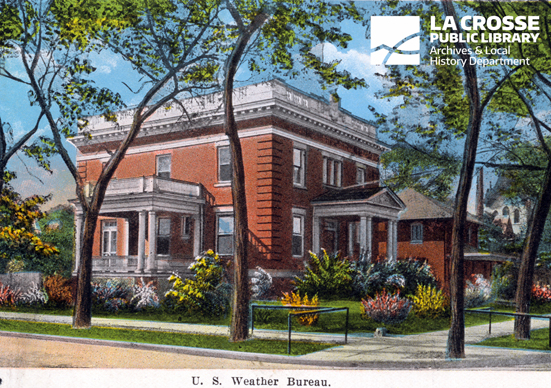 U.S. Weather Bureau Building, 432 Cass St., postcard undated
Back in 1870, the federal government established weather stations throughout the nation.  While La Crosse was not among the first, the need for an office here was evident with the booming lumber industry.  Knowledge of the Mississippi River's water stages was essential for safe navigation.  When iced over, the River was even used as a roadway.
Soon, La Crosse's first official weather observation was taken in October, 1872, from the Mons Anderson Building at Second and Main Streets.  Observations were taken three times a day and a forecast, known as a "probability," was issued once a day and communicated through the use of flags. The following June, a river gauge was installed and water levels were also measured.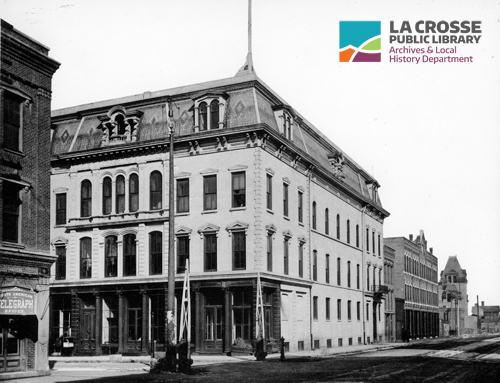 Mons Anderson building, 125-129 Main St., 1887
By the late 1870s, observations, "probabilities," and river stages were also posted at the post office and other public buildings as well as in local newspapers.  Still, this information was only available to La Crosse residents.  Soon, warnings about snow or high water were recorded on postcards in the mornings and then mailed to nearby towns so that flags could be raised in the afternoons.  In upcoming decades, when paper was used to print weather maps and "probabilities," more area residents could access the weather via mail, messenger, newspaper, flags, and/or public postings. 
In the meantime, while awaiting the opening of a new post office, the La Crosse weather station moved  to the Pomeroy Opera House, at the southwest corner of Fourth and Main.  Six years later, in 1887, operations moved "kitty corner" to the McMillan Building, the current home of State Bank.  Once the post office/federal building was completed in 1890, observations were taken at 425 State Street, the site of La Crosse's current post office.  Seventeen years later, the weather bureau finally found a long-term home (1907-1952) at 432 Cass Street in its own Department of Agriculture observatory, a building which now houses Tammy Z's Yoga Studio and Lorenz Chiropractic.  The weather observer lived on the second floor.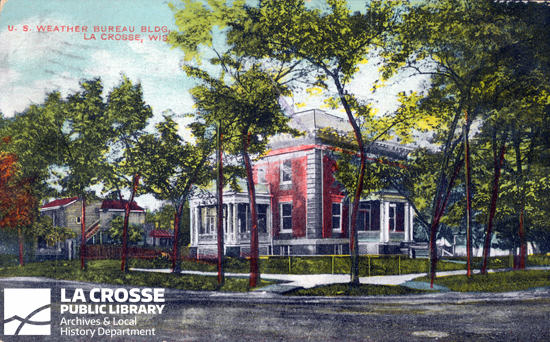 U.S. Weather Bureau building, 432 Cass St., postcard ca. 1909
Those observations could now be shared nationwide.  A 1929 La Crosse Tribune article explains that La Crosse, Madison, Milwaukee, Green Bay, and 226 other US weather stations telegraphed their 7 AM readings to one of five regional forecast centers, of which Chicago was the closest.  Within two hours, forecasts were distributed nationwide via telephone, telegraph and mail.  La Crosse's weather data submissions were based upon readings from 432 Cass as well as those from the Brice Prairie Airport.  From 1939-1950, the two sites shared observational duties. 
Starting Jan. 1, 1951, however, official readings were all taken from the La Crosse Regional Airport on French Island.  To consolidate public services, the city's weather bureau moved from Cass Street to the airport's new administrative building in 1952.  Operations remained there through 1969 when the weather office returned to its earlier post office location.  Still, outside of a four-month span in 1985-86 when the weather office had just one employee, La Crosse's official observations were made at the airport, and that is still the case today.
The cause of the four-month exception was a recurring weather pattern that plagued La Crosse from 1964 to 1988. To save money, the federal government would threaten to close the La Crosse office, but grass root efforts and/or local politicians would successfully fight the impending storm. Each time, the debris consisted of fewer office hours, a downsized staff from the typical two or three, and/or departures by employees who desired greater job security.  This all-too-frequent weather pattern was documented eight times in La Crosse Tribunes throughout the twenty-four year period.
But, the clouds started to lift in 1984 when the federal government announced that La Crosse could be part of a radar network that would span the entire nation.  In 1989, with the Madison office closure on the horizon, La Crosse was needed to fill a gap in radar coverage.  The city welcomed this sunshine!  The La Crosse Park Commissioners approved a 99-year-lease on land above Hixon Forest, and the Common Council donated three acres for a 5,000-square-foot regional weather office and a Doppler radar tower.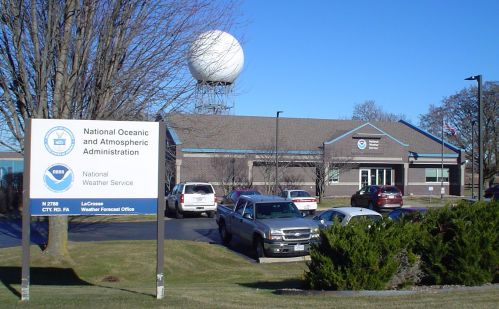 La Crosse NWS office above Hixon Forest, 2017 (photo: Carla Swerman)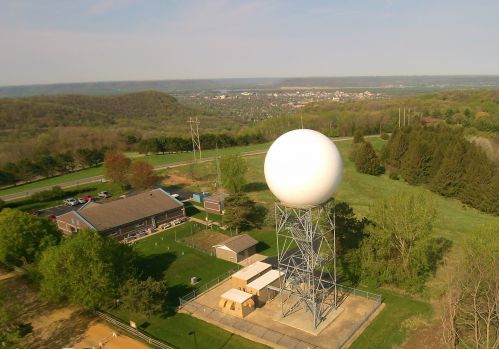 Aerial view of La Crosse NWS office (photo: National Weather Service)
This new facility opened in 1995, and the "white ball" was added in 1996.  With the radar and other state-of-the-art technology, the staff quadrupling to more than twenty, and at least two meteorologists on duty 24-7, the La Crosse NWS could now forecast, not just observe and disseminate forecasts from the Milwaukee NWS office, as had been the case since 1972. Undoubtedly, Coulee Region residents benefit from this "homegrown" weather.  With meteorologists who are familiar with area terrain and weather patterns, forecasts are more accurate and up-to-date than if they were prepared hundreds of miles away.  Still, as depicted in the coverage map below, the La Crosse NWS does service 28 counties, some that are 150 miles away.  Unfortunately, near or far, the forecasts offer no guarantees since Mother Nature often has a mind of her own.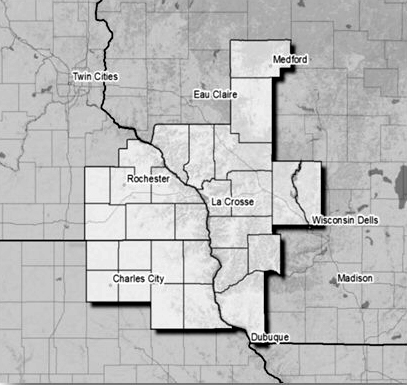 La Crosse NWS office county coverage
If you would like to know more about La Crosse weather history, visit the Archives Department at the La Crosse Public Library and/or click here to see the plethora of information that is available: Guide to the United States, Weather Bureau, La Crosse Station Records, 1872-1974.  You can also look forward to reading other weather-related blogs on this site.  Possible topics include the history of La Crosse's river gauge and area flooding; the various tools that have been used to predict La Crosse weather throughout the decades; the Armistice Day storm of 1940; and La Crosse climatological records.  For now, here is a direct link to local weather on La Crosse's NWS site.