FilmFreaks: Nicholas Ray & Joseph Losey
(written by Scott Brouwer, Archives Staff)
The FilmFreaks program at the La Crosse Public Library is proud to present a film series highlighting two directors with La Crosse roots.  The films will be screened (FREE!) at 5pm and 7:30pm on Wednesdays in August, and will feature noted public figures co-leading the discussion after each screening, including Sarah Johnson (Mental Health Therapist and Teen Center Liaison, Gundersen Health System), Jess Witkins (Feminism on Tap social group), and Jackson Jantzen (Executive Director, The Center: 7 Rivers LGBTQ Connection).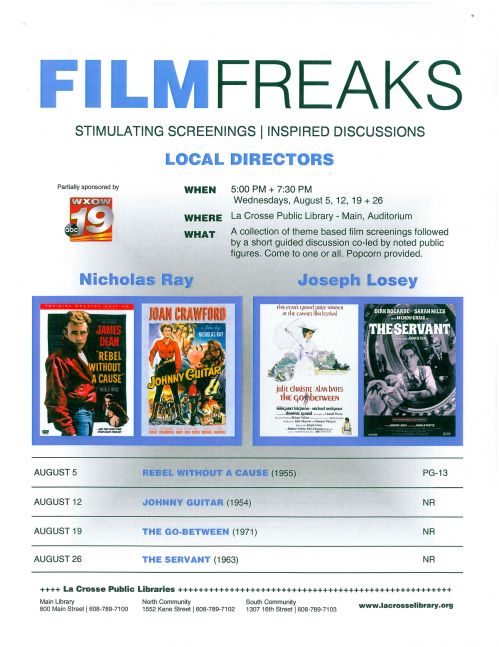 Joseph Walton Losey III was born in 1909 in La Crosse, WI.  Losey's grandfather was a prominent conservative civic leader for which Losey Blvd. and the Losey Arch in Oak Grove Cemetery are named.  He was raised in wealth and culture at 1612 Ferry St.  His aunt, Mary Losey, married into the wealthy Easton family and Losey was highly influenced by her sophistication and culture.  Though he was active in drama at Central High School, he recalled later in life being alienated as a teenager in La Crosse.   After graduating in 1929, he attended Dartmouth College and Harvard University on the East Coast and never looked back, basically disowning his family and La Crosse.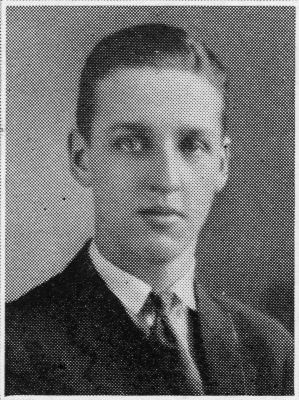 Joseph Losey, senior portrait, 1925 Central High School Booster
After several years as a major figure in New York political theater, Losey's first feature film was 1947's The Boy with Green Hair.  Due to the heavy-handed anti-war nature of this film, his extensive ties to other "radicals" investigated by the House Un-American Activities Committee, and his own membership in the Communist Party, work in the American film industry quickly dried up for Losey. He evaded HUAC, who had been tipped off to his political sensibilities, for two weeks in 1951, eventually settling in London for good in 1953. 
Starting at the bottom in the British film industry, he worked his way back to director.  Two of his best-received films will be screened during the FilmFreaks series: The Servant and The Go-Between.  Each of these films examines the politics of class and sexuality in England at the end of the end of the 19th century (The Go-Between) and in the 1960s (The Servant). In The Go-Between, a young middle class boy, the summer guest of an upper-class family, becomes the messenger for an affair between the daughter of the hosts and a working class farmer.  In The Servant, a manservant facilitates the moral and psychological degradation of his privileged and rich employer.  
---------------------------- 
Nicholas Ray was born Raymond Nicholas Kienzle, Jr. in Galesville in 1911, the youngest of four.  The family moved to La Crosse in 1920 and lived at 226 West Ave. N, now an apartment building on the SE corner of West and Vine.  Losing his father when he was 16, Ray was a delinquent teenager.  For a time, he was sent to live with his older sister in Chicago, but cleaned up his act enough to be accepted back into Central High School halfway through his senior year, graduating in 1929.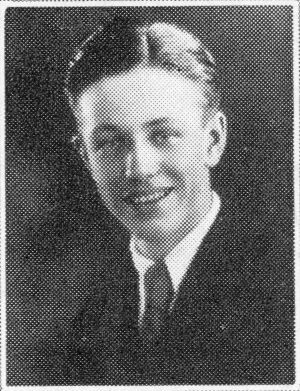 Ray Kienzle (Nicholas Ray), 1929 senior portrait, Central High School Booster
Ray's most productive and successful period as a film director was the 1950s, in which he made the two films for which he is best remembered: Johnny Guitar and Rebel Without a Cause.  Though highly eccentric in its time, Johnny Guitar was much loved by French critics and auteurs such as François Truffaut and Jean-Luc Godard, for which he was a major influence.   Rebel Without a Cause, starring James Dean in what proved to be the most famous role of his very short career, was released soon after Dean's early death in an automobile crash and is widely considered to be the film that introduced the world to the concept of the American teenager.  It would have, and continues to have, an outsized impact on youth pop culture.  
Though the two young men grew up in the same time and place and attended the same high school, the age and class differences between meant that Ray (working class) and Losey (wealthy) likely only had a nodding acquaintance in La Crosse.  To learn more about these two men and to enjoy four of their films, please join us on Wednesdays in August at 5pm or 7:30pm in the auditorium of the La Crosse Public Library.