Beautifying Oak Grove Cemetery
(written by Erika Lichtfuss, UW-L Capstone Project; edited by Jenny DeRocher, Archives Staff)
Picture this. A family pulls into the drive of a local cemetery. The car winds around a few curves in the path before slowly coming to a halt. Once stopped, all members somberly file out of the vehicle. Some may be carrying flowers or trinkets; others may have hands stuck in their pockets. In solidarity, the group shuffles to encircle a singular grave. The family has arrived at their grandfather's resting place. The parents say a few words, bringing up some of their fondest memories from his life. They spend a few moments of silence, and then get back into the car and drive away.
The most common sight in a cemetery is one similar to this. However, cemeteries have not always been only frequented once or a few times a year by relatives. In fact, starting in the early 19th century, cemeteries became common places to enjoy nature and meander through. This kind of cemetery became very popular and was known as a "rural cemetery."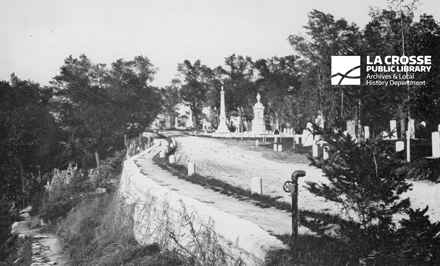 The rural cemetery movement eventually made its way to the U.S. and by 1861, Oak Grove Cemetery was La Crosse's own version of this European trend.
Rural cemeteries were typically burial grounds that were moved outside city limits. A few factors contributed to this shift. In France, there was a ban of any burials inside or next to churches after 1804. This led to using land outside of the city, which was influential globally.
Overcrowding in graveyards also limited expansion because cemeteries could not extend their borders outward anymore. This was—and still is—especially true in large cities like London and Paris, where the layout of the streets surrounding cemeteries was already well established. Therefore, cemetery grounds were built-up vertically with sometimes ten to fifteen feet of soil and bodies were buried on top of one another.
However, when the walls of the cemetery grounds were weak, erosion would sometimes dump decomposing bodies in the streets! Besides being terribly off-putting, this was also an issue because at the time, it was believed that breathing in body decay spread a disease called miasma. It was an accepted medical theory that claimed miasma caused decay inside of a living body. Creating rural cemeteries was a good solution to avoid people breathing in decomposed material.
All of these factors contributed to the rural cemetery movement beginning in Europe, which then crossed the Atlantic Ocean to American soil.
Boston's Mount Auburn Cemetery is considered the first major rural cemetery in the U.S. This cemetery was one of Boston's most popular tourist attractions, commonly used for social outings like picnics and Sunday walks. In fact, it is still used this way today. The progression of the rural cemetery movement in the U.S. started with Mt. Auburn in 1831 and progressed westward. With the creation of Oak Grove Cemetery, it reached La Crosse thirty years later in 1861.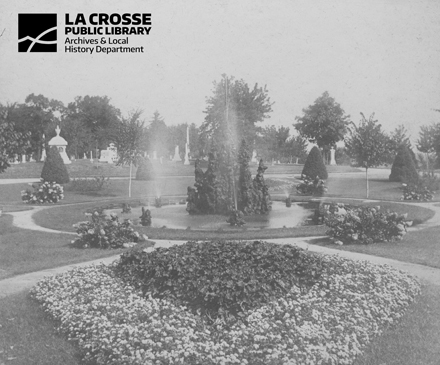 The fountain in Oak Grove, a point of pride in the Cemetery's landscape. 
La Crosse was known as a "western regional center" before the state of Wisconsin was extensively settled. The La Crosse Board of Trade Annual Reports—which were meant to emphasize La Crosse's commercial importance—were not shy about promoting the city as "the gateway to and from all of the great West." Though it is perhaps an overstatement to say La Crosse was the gateway to the West, there is truth found in the regional importance of La Crosse.
Like other cities with rural cemeteries, La Crosse used Oak Grove Cemetery to draw migrants to the area. Although probably not the biggest lure to the city, caring for people in death as well as in life certainly was attractive to migrants. A 1904 promotional pamphlet, La Crosse of To-day: The Gateway City, features images of the best characteristics of the city, including four pictures of Oak Grove cemetery. The photographs showcase the most attractive features: the fountain, tidy hedges and other foliage, the Losey Arch, and the majestic Washburn monument.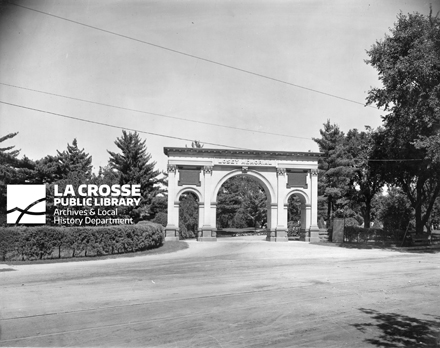 The Losey Arch in Oak Grove, another point of pride in the Cemetery's landscape.  It was named in honor of J.W. Losey, president of the Oak Grove Cemetery Association (OGCA).
Also a common tactic for cities with rural cemeteries, local leaders created a board of trustees in 1872 to oversee finances and care for Oak Grove Cemetery. A few affluent society members oversaw the new Oak Grove Cemetery Association (OGCA).These leaders employed prominent artists to work on the grounds and add improvements to rival other cemeteries regionally.
In 1884, Joseph Losey reached out to Paul Zoellner, a German immigrant and florist who had tended to Royal Gardens owned by a Prussian king when he was younger. He went on to work at Chicago's Lincoln Park Conservatory, where he ran into Losey and was convinced to go with him to La Crosse. Zoellner was superintendent of Oak Grove from 1887 to 1936.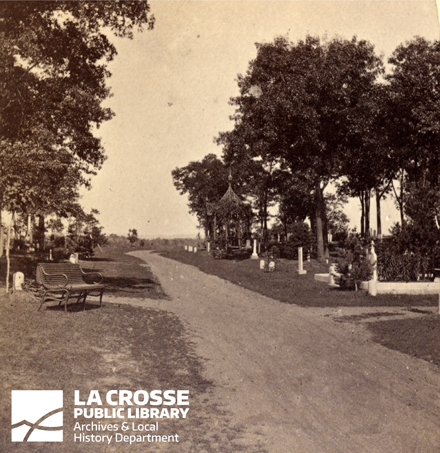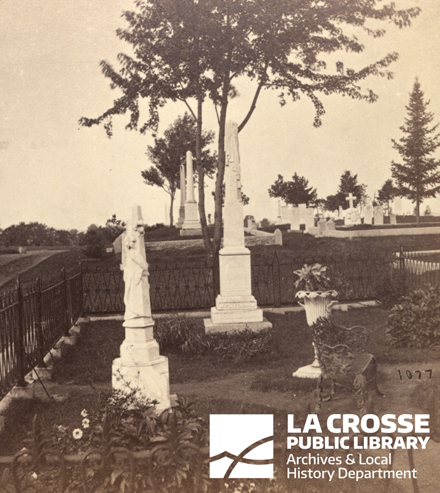 Stereo views of Oak Grove taken by photographers Elmer & Tenney, circa 1880-1881.
In other efforts to enrich the cemetery, La Crosse leaders partially modeled Oak Grove after surrounding regional cemeteries. In 1907, a La Crosse Tribune article revealed that OGCA President J. S. Medary scouted larger cemeteries. After one excursion in the Twin Cities, he argued adding a chapel in Oak Grove based off his favorite observations.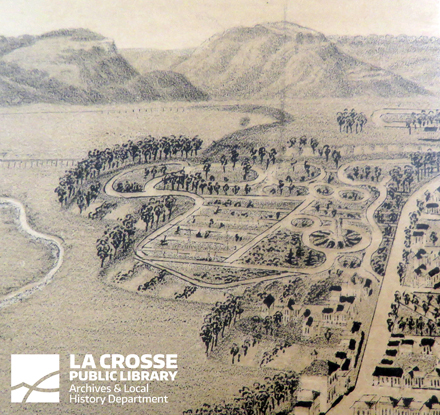 Oak Grove Cemetery in 1887 Birdseye View of La Crosse.
As an urban center, La Crosse put out multiple newspapers, which held a lot of sway regionally. The 1879 Board of Trade Annual Reports list two Norwegian papers, two German papers, and two other newspapers in La Crosse. They claimed an "aggregate business of…about $100,000, [which] all circulate generally throughout western Wisconsin, northern Iowa, and southern Minnesota." This gave La Crosse a wide audience to promote their city and call attention to issues like the cemetery's improvement via newspapers.
In 1869, two prominent newspapers, the Daily Democrat and the La Crosse Daily Republican, both lamented the neglect of the grounds. The former complained that "Every city but ours always takes great pains to beautify this sacred spot." Not until 1872, when the cemetery association was formed, did the newspapers claim the grounds were successfully embellished. Its beautification was attributed mostly to J. W. Losey, who was president of the association for some time.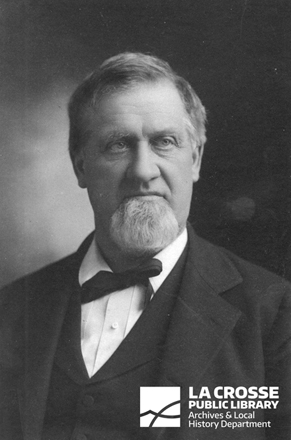 Joseph Walton Losey
After being under the supervision of the OGCA, the cemetery was again a prized feature of La Crosse. A 1910 La Crosse Tribune article boasted:
 "the work of beautifying the cemetery was actively begun about 1878…it is now one of the most attractive cemeteries in the country. Strangers who visit Oak Grove have been heard to say that while there are larger cemeteries within the borders of the nation, and very beautiful ones, there are few more beautiful than Oak Grove of La Crosse."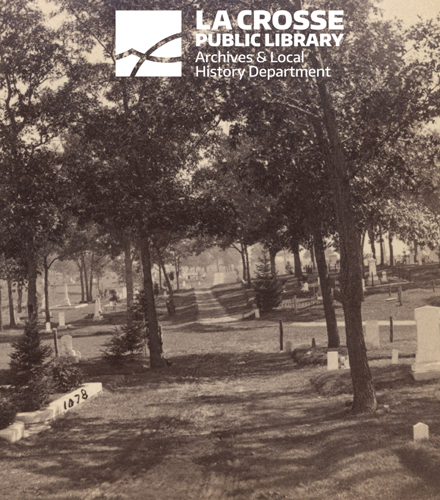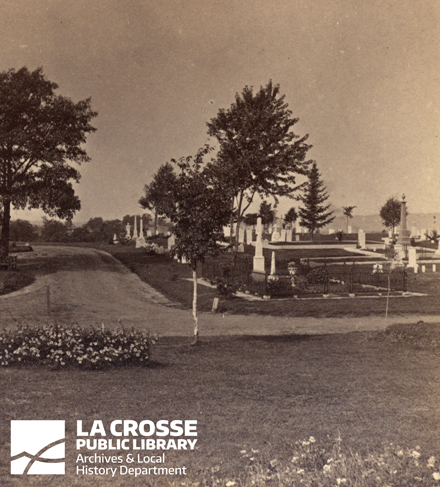 Stereo views of Oak Grove taken by photographers Elmer & Tenney, circa 1880-1881.
Today, La Crosse's Oak Grove cemetery may not be the first place citizens head for a relaxing stroll, but it used to be a popular place to visit. Major contributors to its popularity were the local newspapers that brought public awareness to the needed improvements as well as updates on finished renovations.
To learn more about the rural cemetery movement, Oak Grove Cemetery's role in it, and La Crosse's progress at the turn of the 20th century, see Oak Grove Cemetery as an Acclaimed Rural Cemetery on the "La Crosse History Unbound" webpage. Visit the La Crosse Public Library Archives (LPLA) to read more local newspaper articles and sources about Oak Grove, beautifying the city, and La Crosse as a "gateway" to the West. LPLA also has local cemeteries indexed if you'd like to find the grave of a loved one or ancestor.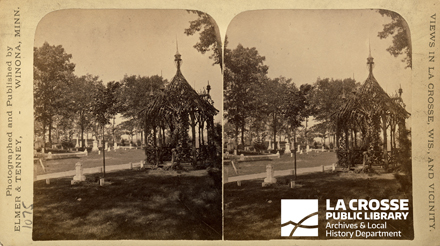 Many photographs of Oak Grove from this blog are professional stereo views (like this one here) taken by photographers Elmer & Tenney, circa 1880-1881. They were a firm from Winona, Minnesota. The originals can be found at LPLA, along with other views of La Crosse.
This blog was originally written as Erika Lichtfuss' UWL History Capstone project. To read her original, unedited writing and see the full bibliography, go here.