Marian Dorset's Family, Home, and Letters
(written by Jenny DeRocher, Archives Staff)
At her death in 1951, Marian Dorset was 82 years old. She was the daughter of Nannie Hammer Colwell Dorset and Rev. Charles P. Dorset. Her family were staunch Republicans and active civic participants. Nannie's first husband, Wilson Colwell, died at the Battle of South Mountain (1862) during the Civil War. He was Captain of the La Crosse Light Guard, and the Wilson Colwell G.A.R. Post #38 was named in memorial to him. When the two had married, he was 30-years-old and Nannie was 16.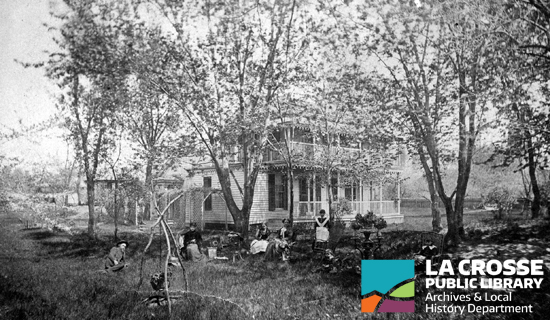 Pictured here are the Dorsets at their family home at 330 S. 6th St. Left to right is Charles, then Marian, Nannie Dorset, Nannie Colwell, Helen, and Bernard on the ground at her feet.
The Colwell-Dorset family was active in supporting President Abraham Lincoln, the Daughters of the American Revolution (DAR), Temperance, health initiatives and services, as well as local politics, arts, and education. Rev. Charles P. Dorset also had an active role in the Tomah Indian Industrial School, which is too large of a subject to talk about in this blog, but we hope to flesh this history out further in a future blog about La Crosse's connections to Native American Boarding Schools in the state of Wisconsin.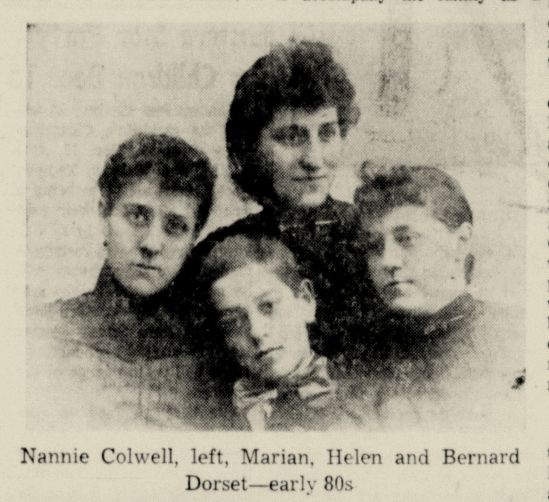 From the La Crosse Tribune, December 13, 1959, page 11.
Marian and her three siblings—Nannie Jr., Helen, and Bernard—never married. The four valued world travel, higher education, and local philanthropy work. In our collections at the LPL Archives, we hold the family correspondence for the four children and their parents, as well as some financial and genealogical family materials. The Colwell-Dorset family papers were originally donated to the La Crosse County Historical Society in 1965 with a gift of $2000, Wilson Colwell's sword, among other materials. In 1984, the family papers in this collection were transferred to the La Crosse Public Library Archives. The objects remain at the LCHS. You can read a similar blog post about the family and Colwell's sword here.
While this family were staples in the La Crosse community for the city's first 100 years, their legend has nearly been lost to our collective memory due to the fact that none of the Dorset children had any children themselves and their family home was demolished shortly after Helen, the last surviving child, died in 1965.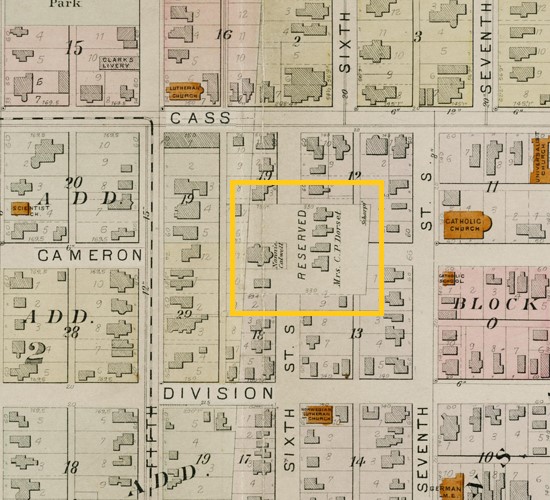 The Colwell-Dorset family home at 330 S. 6th St. was called "Stevens Reserve." It was between Cass and Division and 6th and 7th streets. It included multiple structures owned by the family. When Helen died in 1965, the estate was left to Christ Episcopal Church to use as a non-denominational home for the aged.
The family papers at LPLA include the personal correspondence for the whole Dorset-Colwell family, with the exception of Wilson Colwell. The family were extremely dedicated record-keepers. Marian Dorset even sometimes drafted out her replies to her correspondents, and saved those drafts. So, in a way, we have both sets of letters—the ones she received and the ones she sent.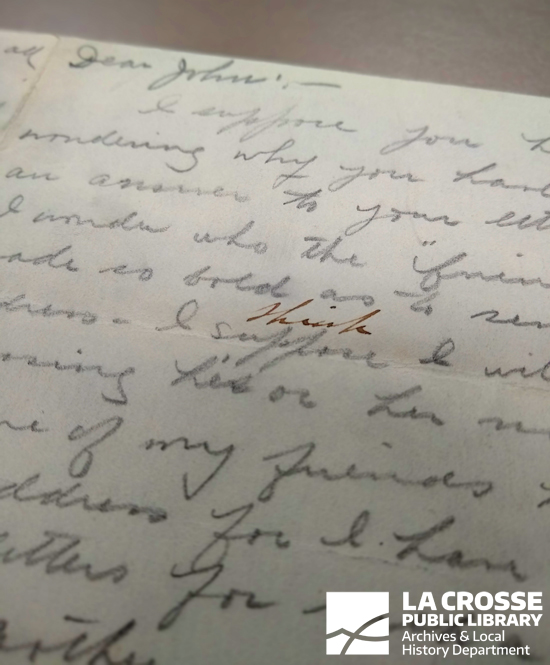 You can see here that Marian wrote with a pencil in her draft, and then later as she was writing her final draft to John with a pen, she changed the word 'suppose' to 'think.'
This is the case for a set of 1901 letters we have between Marian and a man named John A. Wood, who at one point was a love interest for Marian. It is rare for archival repositories to hold very substantial love letter collections, and it is even more rare to have both sets of letters—especially when the couple didn't ever marry or have children together. In the letters, we get a sense of Marian's values and the importance of her family. 
Marian was an educated woman by the time her and John were writing these letters. She attended the La Crosse High School before going to Kemper Hall, a private high school in Kenosha, WI. Later, she attended college in Cleveland at Anna Morgan, whichwas a physical educaiton school. According to her obituary, "For some years, she conducted classes in [La Crosse] in physical culture and kindergarten and did much work with individuals making physical adjustments." She also was a longtime member of the D.A.R. and served as ward captain for the 13th Ward here in La Crosse. She was described as an "ardent Republican" in this role in her obituary.
From the contents of these letters, it's possible to put Marian and John's story together. The two had courted 1893-1895 in La Crosse. John was a lawyer from Traverse City, Michigan, but his grandparents lived in Bangor, which is likely why he came to La Crosse. In their letters, John nor Marian ever explicitly said what happened between them, but readers can piece together the gist of it. At some point in 1895, John proved himself unsuitable in Marian's eyes. The Dorsets were a Temperance family, and John's drinking habits come up often in the letters as a sticking point for Marian. Whatever happened in 1896, alcohol was entangled with their relationship ended.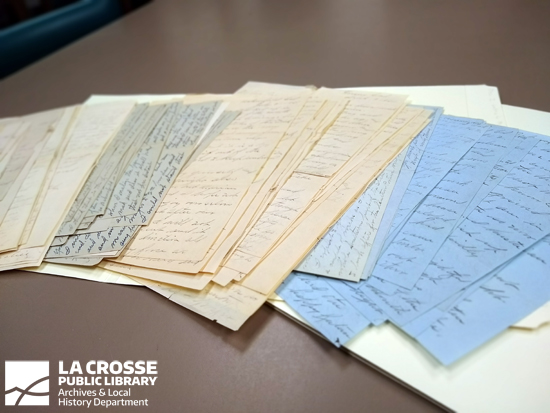 In this collection, there are nearly 50 letters from John to Marian that span from January 1893 to May 1902.
After this, John left La Crosse. John to Marian (November 1895): 
"I am going away very shortly and thought I must say good bye and as it is not your desire to have me call I take this means as I think of none better. I may never return and I hope not as I feel that my stay here has not only been a damnation to myself but to you… But Marian I did love you as much as man can love another and will always have a warm feeling in my heart for you as I know your purity as well as anyone can. And I think that I always showed myself a man while keeping your company." 
John moved to Traverse City, and joined the Army for a stint. Five years later, in January of 1901, he began mailing Marian letters again, hinting that he wanted to rekindle their relationship: 
"I was most happily surprised on the 9th [of January] to receive a communication from a "Friend" stating that "Marian still cares for you," and asking that I write you a New Year's letter. Marian I have much to say but cannot as this time not knowing your feelings for which I have the greatest consideration."
Marian, however, was guarded (undated draft, but sometime between January 13 and 27): 
"I suppose you have been wondering why you have not had an answer to your letter. I wonder who the "friend" was that made so bold as to send you my address. I suppose [think] I will keep on guessing his or her name... Well John if I should say that I still cared for you what would be the outcome of such a confession? What would be the result? Can you honestly and truly say that you still love and care for me as you once led me to believe you did? Or is it for some other reason you wish to learn the truth in regard to my feelings toward you?"
In her next letter, she wrote (undated draft, but sometime between January 27 and February 10): 
"Well John I do wish it were possible that we could sit down and talk this affair all over from the beginning to end. You say in your letter that you did care for me and do now more than I know and some day may be able to verify it. Well there is a time now for you to verify it to some extent. Also you can prove your love for me in this way also. 
And that is to make peace with the family. 
You know John that the folks were not just pleased with the match at the time. And after you acted with me as you did, after all I had gone through with for your sake. They have no kindly feelings for you at all since... Mother has gotten it in her head that you are cruel and that you would be cruel with me if I was married to you. You know at one time I thought the world of you. What I now think is best known to myself under the existing circumstances. I have dreams and wishes but not to be expressed lightly. Letters are unsatisfactory at best and I prefer to express my feelings etc. in person as I know how to talk better than to pen with words."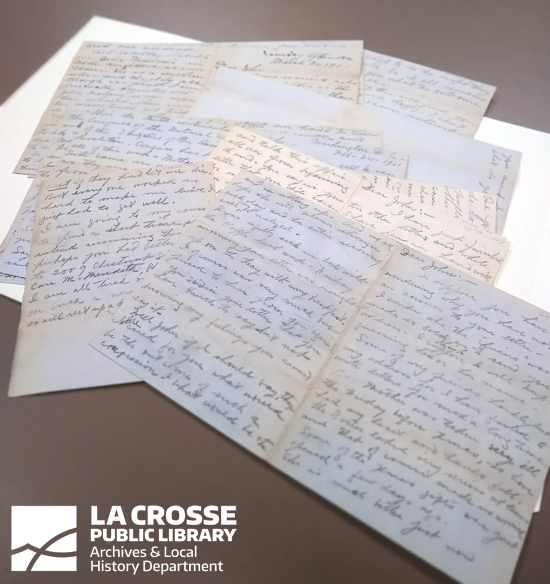 Marian's drafted letters to John.
The two continued to write back and forth for another year. Eventually, John moved to Bakersfield, California when he heard about new landowners expanding the olive oil industry, and learned there was a lucrative job market for attorneys. He wanted Marian to join him, but she didn't want to leave her family and wasn't seduced by California living. 
Marian wrote (March 24, 1901): 
"So you think you would like to live in California? … I have never had a great desire to live there. Sister and Helen both have had a good test of the climate and don't rave over it especially. Helen was there for over fourteen months and was glad to get back. She graduated from Leland Stanford University this December. I have never imagined I would care to live there. But don't let me stop you from going out there if you really know it is for the best."
In the last letter that Marian saved from John—dated May 25, 1902—he told her he was leaving Bakersfield and headed back east. He called her his "Own Precious Marian," and "sweet darling girl," in this letter, and wrote, "I saw a beautiful saying the other day, 'I will devote my life to your happiness,' which my dear Marian I hope to be able to say," which implies that the two were romantic at this point, over a year after his first letter in 1901. However, Marian didn't save her drafts, if she even wrote drafts, and we have no way to know how their story ended.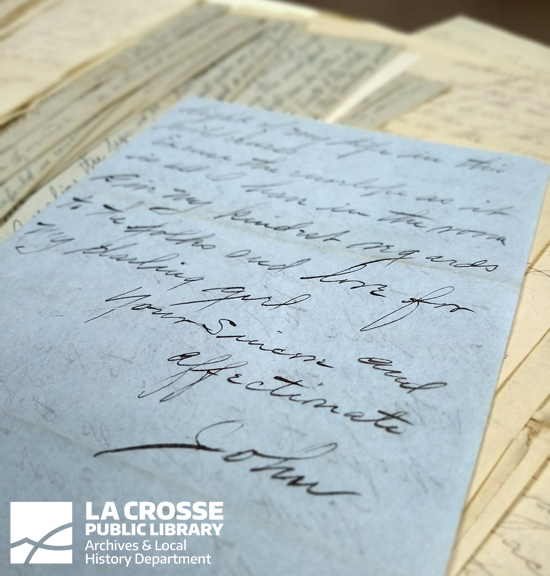 John's last letter to Marian, signed "Your Sincere and Affectionate John."
But it did end. We know this because Marian never married. Perhaps somewhere else in this large collection of family papers is an answer, but it will have to remain a mysetery until a researcher comes to the archives and sifts through the collection.