Uncle Sam is Using the Telephone a Lot Now
(written by Scott Brouwer, Archives Staff)
With all the different cell phone service options and many people moving away from land line phone service entirely, it is sometimes hard to believe that choice of phone service is a relatively new development.  La Crosse's first telephone exchange was installed in 1881 by the Wisconsin Telephone Co., only the fifth switchboard in the state after Milwaukee, Racine, Oshkosh, and Appleton.  The La Crosse Telephone Co. was incorporated in 1893 and, after several years of competition with the Wisconsin Telephone Co., purchased its competitor's outside wire plant in 1919.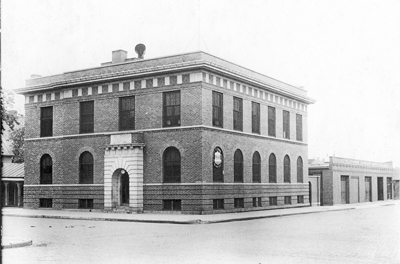 The building that still stands on the southwest corner of 4th and Jay in downtown La Crosse was built in 1912 as the new home for the La Crosse Telephone Co.  Though additions, remodeling and a re-facing of the original building have completely changed the exterior of the building, the original 1912 structure, seen in the ca. 1915 picture above, is still there.   The period of 1946-1950 saw great changes in telephone service in La Crosse as the La Crosse Telephone Co. expanded its existing structure to accommodate the rotary dial equipment.  The conversion from manual to dial service, which occurred at midnight on Sunday April 30, 1950, was well documented in the La Crosse Tribune over the course of several years. These articles, along with many others charting the history of the La Crosse Telephone Co., can conveniently be found in the clippings file in the La Crosse Public Library Archives.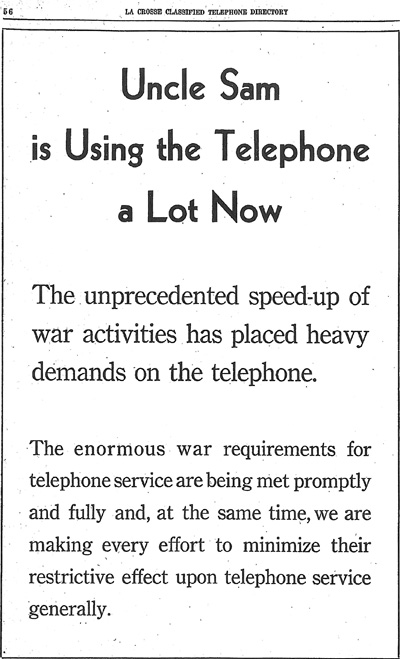 The La Crosse Telephone Co. service monopoly is illustrated with this public service announcement in the 1944 La Crosse Telephone Directory.  While it is well-known that those on the home-front during World War II sacrificed for the war effort every day, it is interesting to think about the varied demands of the local telephone service in war-time.  Local telephone directories (1928-present) and La Crosse city directories (1866-present) can also be found in the La Crosse Public Library Archives.