Presidential Visits: Theodore Roosevelt in 1903
(written by Scott Brouwer, Archives staff)
In 1903, President Theodore Roosevelt embarked on a now-unthinkable trip: 14,000+ miles across 25 states by train, taking more than 9 weeks.  He spent most of his time in Western states with high-profile stops for hiking/camping trips in Yellowstone National Park with naturalist and essayist John Burroughs and in Yosemite National Park with conservationist John Muir.  Departing from Washington D.C. on April 1, he made a stop in La Crosse to give a speech on Saturday, April 4.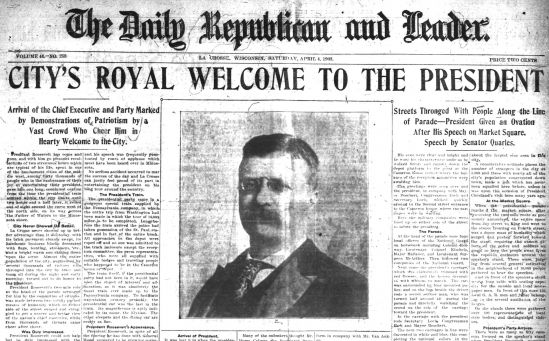 This was not Roosevelt's first visit to La Crosse; he made a campaign stop in September of 1900 as a vice president candidate on the Republican ticket with William McKinley.  McKinley's first vice president Garret Hobart had died in 1899, and then-Governor of New York Roosevelt was selected as his running mate for the 1900 election.  According to newspaper reports, Roosevelt made two speeches with nearly 8,000 spectators combined. 
His 1903 visit as President was a much grander affair.  The train arrived at 8:30am at the Milwaukee Road downtown passenger depot at the Cameron House hotel, on the SW corner of Vine and 2nd Streets.  With the streets around blocked off, citizens were requested not to congregate around the depot as a parade formed.  All school children were asked to avoid going into downtown at all; instead they were invited to congregate in the "Main Street Park" (Burns Park) and the residential streets around to watch the parade.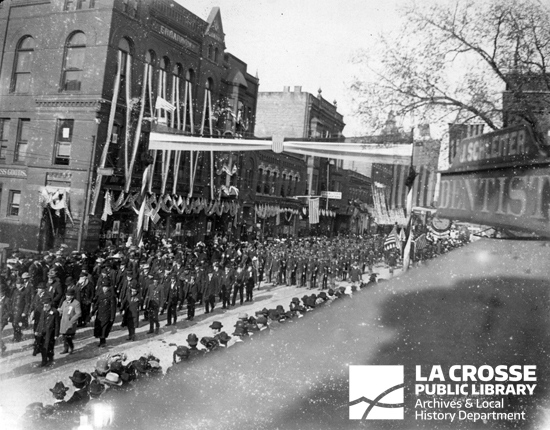 Main Street looking west from 5th Avenue.  The E.R. Barron building (now City Square), prominently featured on the left side of this photo, still stands as do the next three buildings pictured on the block.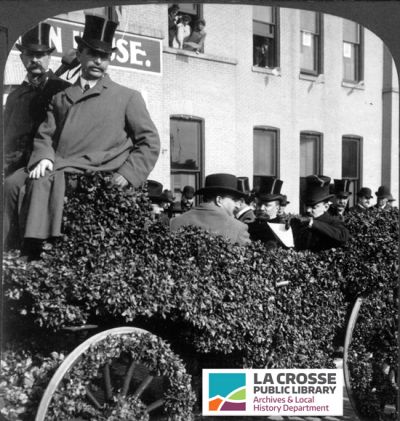 The parade proceeded south on 2nd Street to State Street, west on State to Front Street (now Riverside Park entrance), south on Front to Main Street (Main no longer intersects with Front), east on Main all the way to West Avenue, south on West Ave. to Cass Street, west on Cass to 10th Street, north on 10th to King Street, west on King Street to what was then known as Market Square on 4th Street between King and Jay Streets.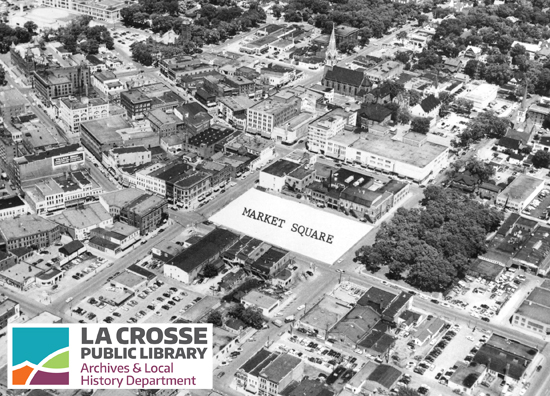 Ca. 1960 aerial of downtown La Crosse, highlighting the former site of Market Square, which occupied the western half of the block bordered by (clockwise from foreground) 4th Street, Jay Street, 5th Avenue, and King Street.  The site is now occupied by Market Square city parking ramp and its 4th St. street-level businesses.  Cameron Park is the tree-covered area to the right.
Market Square was the site of the President Roosevelt's speech, with roofs all around the square making for great sight lines for those who braved them.  It was reported that between 7,000 and 10,000 spectators were present for the speech, by far the largest crowd for an open-air address in the city's history.  Many visitors were in town from up to 100 miles away in all directions, as well.  There were over 100 state and local dignitaries on the platform from which Roosevelt gave his speech, including Senator Joseph V. Quarles, Congressman John J. Esch, and Mayor Joseph Boschert.  Mayor Boschert had the great honor of introducing President Roosevelt.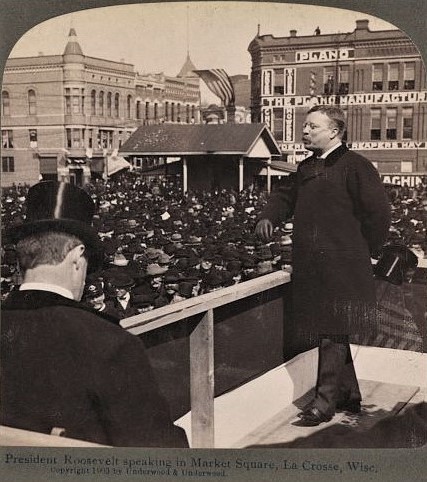 President Roosevelt on Market Square platform; camera is facing northwest to the corner of 4th and Jay Streets.  All pictured buildings still stand, though both visible turrets (NW corner of 4th and Jay and SW corner of 4th and Pearl) have been removed.  Photo from Library of Congress digital collections, accessed here.
Roosevelt began his speech by thanking the Civil War veterans in attendance, favorably comparing their military experience to that of the recently ended Spanish-American War, in which he himself had participated.  He said, "We in that war suffered from a complaint that you did not suffer from at all… there was not enough war to go round!"  He went on to discuss character, citizenship, common sense, honesty, and fairness, relating those themes to international relations and foreign policy.  A digital copy of the actual speech can be found by clicking here.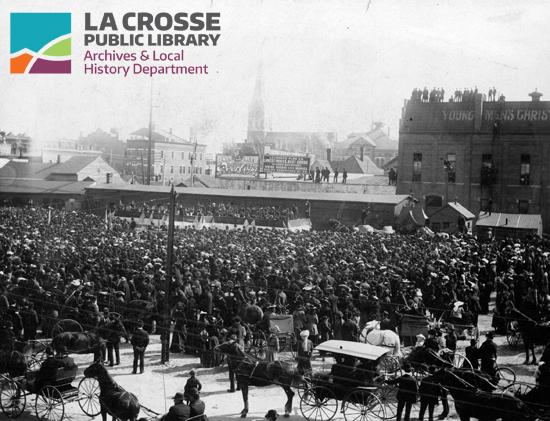 Market Square during President Roosevelt's speech; camera facing northeast with original St. Joseph the Workman Cathedral in the deep distance.
The parade continued after the speech, heading north on 4th Street to Pearl Street, west on Pearl to 3rd Street, and then north to Vine Street.  While the President's carriage was almost certainly ready to take him right to the waiting train back at the Milwaukee Road passenger depot, President Roosevelt stepped out of his carriage at Vine Street and walked the remaining 1½ blocks west.  More than one of the local papers noted the speed of his gait, with one paper reporting, "it was amusing to see the presidential party and local notables stepping along behind the president, trying hard to hide the fact that they were running."
For further reading on this presidential visit to La Crosse and a national magazine cover story about it, check out another blog post on this site by clicking here.